JEI Learning Centers
Auburndale 347-408-4098
Forest Hills 718-268-2890
Fresh Meadows 718-740-7888
Great Neck 516-482-2234
Rego Park 718-441-3762
Whitestone 718-819-8813

Welcome to JEI Learning Centers
With two locations in Queens:
(Auburndale-Whitestone)
200-13 32nd Ave Bayside
and
(Floral Park-Little Neck)
256-10 Union Turnpike Glen Oaks

Call 347-408-4098 for information on both locations!
JEI: For Grades Pre K - 9
JEI has a scientific computer diagnostic system. It pinpoints the missing links in learning, and prescribes an individual study program based on specific needs.
Its purpose is to maximize the student's potential, improve academic achievement, and build confidence.
The JEI Self-Learning Method Will:
Find a comfortable starting point for each child.
Help students learn at an individual pace.
Promote self-learning within the individual's concentration span.
Aid students to learn daily.
Help students build confidence in Math and English (ELA).
JEI Learning Center provides supplemental education, and enrichment learning and tutoring for children ages 3-14 in English (ELA), Math, Problem Solving Math, Reading & Writing and Lil' Genius for children ages 3-5.

Lil' Genius is an early childhood education program for age groups that range from 3 to 5 years old. This program is designed to help improve creativity, critical thinking and communication skills while preparing your children for school and life. The program utilizes SMART technology to reinforce a child's communication, creativity and critical thinking skills that will carry over into the home and school settings.
In addition, we also offer the following programs:
Multi-Day Preschool Alternative, Gifted & Talented Test Prep., Afterschool, Summer Camp, Private Tutoring, and New York State Wide Mathematcis and English Language Arts Preparation (Common Core Learning Standards)
Are JEI programs aligned with the Common Core?
JEI Math is more than 90% aligned with the Common Core
JEI English and Reading & Writing together is aligned with the Common Core English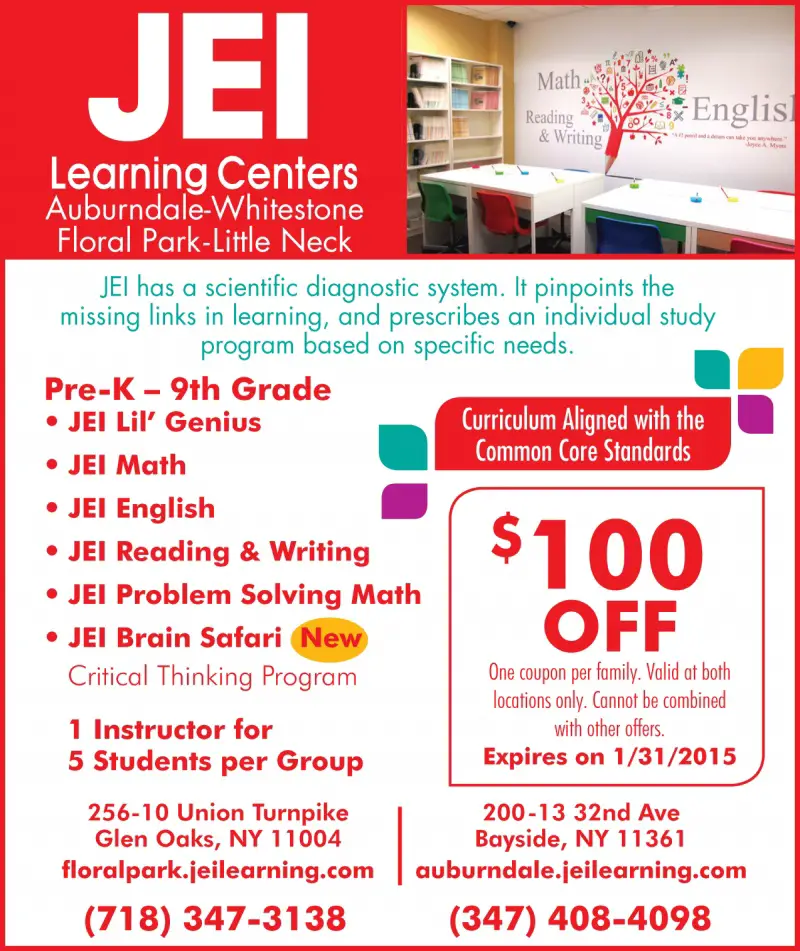 Contact Us About JEI Learning Centers
Find More
Read More
EDUCATION - TUTORS & TEST PREP

JEI Learning Centers have helped children achieve academic success around the world since 1977. We offer a variety of academic enrichment and tutoring programs for children in pre-K through ninth grade, including math, problem-solving, English, reading, and writing. Our program is designed to elevate each student's abilities to the next level.
Be the first to know!
Get the most exciting updates from NYMetroParents