Online Art Classes
Our online classes are live and interactive -
with real instructors and real students!
VISIT OUR WEBSITE FOR CLASS SCHEDULE


Private Live Virtual Art Sessions for all groups including but not limited to:
Birthday Parties Paint Parties Girl Scouts Boy Scouts School groups
Meet ups Fundraisers Bachelor/Bachelorette Parties Bridal Showers
Baby Showers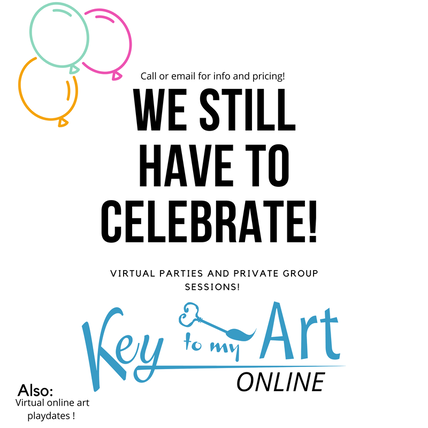 Key to My Art is an art studio located in Amityville Village. The studio is owned and operated by a New York State Certified art teacher who believes that anyone can create art if they want to. We teach your child how to work with different materials and mediums, while using a variety of techniques and styles. Your child will learn to give critiques and look at the work of their peers, as well as expand on their skills.
Our classes will encourage your child to develop and foster their love for art making in a positive environment.
We split our classes into age groups so that your child will be among peers their age. We currently have classes for Preschoolers, School Age 6-9, Tweens 10-13 and High School 13-18.
In the summer, we offer creative, fun art themed camps for children in two sessions: 5-7 year olds and 8+ year olds!
Key to My Art is also a great place to hold a party, fundraiser or group event. We have studio space available for private paint sessions, and we can also come to your home or venue!
Meet the Owner:
Riesa Fischer earned a BA in Psychology from Hofstra University and a Masters in Fine Arts from the College of New Rochelle. She also attended classes at the School of Visual arts in NYC. She is a certified K-12 art teacher who taught Visual Art, Digital Video Editing, and Digital Photography/Editing for the City of New York. She is a mom and teacher, who loves working with children of all ages. In 2014, She founded Key to My Art in Amityville Village as a place where kids could come to express themselves creatively, while learning how to use new materials and build on their artistic skills. Riesa believes that all children can make art, and every child should be encouraged to create!
Art Parties:
Art Birthday Parties-At Key to My Art Studio
Create your child's perfect party with a painting party at Key to My Art! Our parties include a painting on canvas with step-by-step instruction from our talented artists here at the studio. Your child gets to choose the painting and children leave with their own masterpiece! Parties must be booked in advance. Please call the studio for prices and booking! (631) 608 - 9048
Key to My Art on Wheels-We Come to You!!
Key to My Art can bring the painting party to you! We travel to your home or venue with all the necessary supplies to create a painting on canvas with your group! From aprons to easels, we set up your own personal art studio and give step-by-step instruction! You get to choose what we paint! For larger groups, the host paints for free! Must be booked in advance. Please call the studio for prices and booking! (631) 608 - 9048.
Girl Scouts-All ages, levels and interests
Girl scouts and boy scouts alike are very welcome in our studio - we can also come to you! We work with you to come up with a painting that suits your troops needs. Sometimes working toward a specific badge, sometimes just for a fun patch. We also cater to end of year and holiday troop parties!
Adult Paint & Sip
Key to My Art offers adult paint nights! Check our calender to see what we will be painting, easily sign up online and join us to paint! We take you step by step through your painting so that you leave with something to be proud of! You do not need experience to participate! It's a fun night out with friends or family!
Private Sessions
Private Sessions in our studio or at your venue with Key to My Art on Wheels! All sessions Include - canvas, paint, all supplies needed for painting, set-up, clean-up, party instructor & assistant, step-by-step instructions for the painting of YOUR choice! Great for fundraisers, private parties, birthdays, mom's groups, dates night, family reunion, paint & sip nights and more!
Art Classes:
Pre-School Art Classes-Ages – 3-5 yr old
STORYBOOK ART - We'll read a fun, interactive story, talk about the characters, plot and illustration, and then get creative - making a project to go with the story! Your child will use different mediums and techniques in this multi-curriculum class. Each week, your child will be introduced to a new book, and will come home with a new project! This class is specifically for 3-5 year olds. Children under 3 can join our My Grownup & Me class! ART EXPLORERS - This is a drop off class for ages 3, 4 and 5 year olds. Your child will use different mediums and techniques in this class, such as collage, painting, drawing and working with clay. This class is specifically for 3-5 year olds.
Children's Art Classes-Ages – 6–9 yr old
From drawing and painting to sculpture and collage, Key to My Art has a class for everyone! Our classes are broken into age groups so that your child will be creating with peers around their own age. We will work with your children to create interesting and fun projects, while developing their skills and teaching them how to use art materials properly and safely. At Key to My Art, we use positive critique methods to encourage your child to create more. It is our goal to have every child leave the studio feeling good about the work they have created!
Tweens Art Classes-Ages – 10 – 13 yr old
We have several options for Tweens here at the studio. We offer Painting, Drawing & Painting, Fashion Illustration and Studio Art. Our Tween classes encourage your child to express themselves through their artwork. We incorporate creativity with personal goals and needs to make meaningful work. As each child has a different skill level, we work with them on their level to advance them to the next, by providing positive critique and feedback. Our goal is for your child to leave the studio feeling proud of their work, and inspired to create more.
Teen Art Classes-Ages – 13-18 yr old
In our High School class we explore new mediums and techniques in a laid back high school studio type setting. Artists will use their own creative ideas to create works of art based on mediums and themes introduced. This class is ideal for the high school student looking to spend more time in an art studio setting, with freedom to create amongst their peers. We use typical art materials as well as explore new materials and techniques such as Suminagashi, balsa foam carving, mosaics, wire sculptures and more.
Art Summer Camp
Summer Art Camp is so much fun at Key to My Art! Every week is a new theme and we base all of our projects each day on that theme! We work in all mediums: from painting and drawing to collage and sculpture, and we never repeat the same project, so you can sign your child up for whatever days you like, without committing to a full week! It makes summer vacation a lot easier when you don't have to commit to full weeks or even months! The more days you book, the more you save! Easily register online via our website and handpick the days you want! Our camps are broken into 2 sessions each day. 5-7 year olds from 10-12noon and 8+ year olds from 1-3pm. Children may bring a peanut/treenut free snack.
Special Events:
Holiday Workshops
We have special paint events for holidays and vacations so that your kids always have somewhere to go on their days off from school! Our holiday paint events include Back to School, Halloween, Thanksgiving, Christmas, New Years, etc. Our days off from school include such days as Columbus Day, Presidents Week, and all school vacations! Holiday paint events usually have a painting theme based on the holiday - and during school breaks we have lots of fun paint events from Shopkins to Minecraft! It's always a blast when school is out at Key to My Art! For kids who like to come to many of our events, we offer parents the option to purchase a virtual Punch Card, which enables you to save on our special events!
Special Events
We offer private events for: playdates, fundraisers, homeschool enrichment , social gatherings, girl scout badges, birthday parties, bridal or baby showers, mom's night out, dad's night out, holidays & more!
Contact Us About Key to My Art, Inc.
Never Hear "I'm Bored!"
Activities Sent Weekly