Kiddie Academy of Williamsburg
Please reach out to me
288 S. 5th St.


718-599-5437
Kiddie Academy Teachers: Partners in Raising Your Child
One day your baby can't roll over. Fast forward a few months, and he's sitting up, all smiles. Children, especially the very young, master new tasks at a rapid-fire pace—though some developmental phases are fraught with challenges. At Kiddie Academy, our seasoned childhood education experts anticipate and expertly guide their young charges through these learning processes.
While each phase of childhood is new to you and your children, the teachers at Kiddie Academy have seen it all before—from picky eaters to toilet-shy toddlers. Fortunately, the structure and routine at Kiddie Academy gives children more than just a safe and nurturing place to spend the day: It allows them to meet each new trial in a familiar environment, surrounded by positive enforcement, guidance and peers.
Take napping, for instance. Many parents tell us they can't get their little ones to nap at home, and wonder how we do it here. There's no secret, really; it's just routine. While we at Kiddie Academy do allow some flexibility for individualized napping plans for infants, typically nap time takes place daily at the same time. Our young charges thrive on this regularity. We encourage parents to follow through with these regular nap routines at home on the weekends.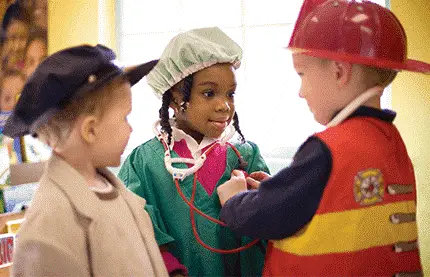 Toilet training presents another headache for scores of parents. Not so at Kiddie Academy. Howard Chen, owner at Kiddie Academy of Williamsburg, shares the academy's philosophy on this significant developmental milestone. "We don't force children to become potty trained. We don't hold children back, either," he says. At Kiddie Academy, explains Chen, teachers start potty training earlier than most parents do. They're typically successful, she adds, because seeing other toddlers try it makes most 2-year-olds curious to follow suit.
Then there are those behaviors we hope aren't contagious—like biting. While it's not welcome anywhere, Chen emphasizes that it is not abnormal for children between the ages of 18 and 24 months to bite. When teachers witness the behavior, they address both the biter and the bitten.
"We work with both sides. We tell the child [being bitten] it's okay to say 'no' and, give her permission to move away from the biter," Chen says. As for the biter, teachers work quickly to remove the child from the situation, encourage the child to use words to express what he or she wants, and model appropriate behavior. In repeat cases, teachers will shadow the child to determine what's happening to provoke the biting. "We work with families to find out why, and to resolve it," Chen says.
Even under the best of circumstances, questions and concerns about your child's behavior and development will likely arise from time to time. That's why we at Kiddie Academy of Williamsburg espouse an open-door policy. In addition to our twice-a-year parent conferences, we encourage all parents who want to discuss additional issues to call and schedule an appointment.
For more information on Kiddie Academy of Williamsburg, go to www.kiddieacademy.com/williamsburg . Once online, you can schedule a visit and even take a video tour. You can also call 718-599-5437 for more information, or send an email to [email protected] Look for Kiddie Academy of Williamsburg, now enrolling!
CAMPS -- DAY CAMPS -
Kiddie Academy, the leading provider of comprehensive education-based childcare programs in the Brooklyn area. For more than 30 years the company has been successful in combining learning with childcare, preparing young children for school and for life. The new, two-story Kiddie Academy of Williamsburg will offer more than 8,000-square-feet of learning space, with a capacity to serve 99 young children ages 6 weeks to 12 years. The Williamsburg location utilizes the Kiddie Academy Life Essentials® curriculum created to promote each child's intellectual, social, physical and emotional growth. For more information, visit kiddieacademy.com/williamsburg.
Contact Me About Kiddie Academy of Williamsburg
Find More
Read More About Kiddie Academy of Williamsburg
Get NYMetroParents via Email