Kumon Math and Reading Centers - Rockland
Click here to get more info
170 South Main Street
Door 19 & 20
New City, NY 10956
845-638-1014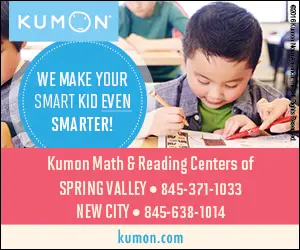 Kumon, the world's largest after-school math and reading enrichment program, helps pre-school to high school age students' master fundamental concepts vital to success inside and outside of the classroom. In 1989, noticing a need for an enrichment program in Rockland County, local business owner Jay Raghunath was determined to bring a Kumon Center to the New City, NY community. Several years later, in 2003, Jay opened her second Kumon center in Spring Valley, NY in order to help even more local children. "I am very fortunate to have been one of the pioneers in bringing Kumon to Rockland County," Jay said.
Jay has a Master's Degree in Biochemistry, and has worked for several years at the Rockefeller University as a Research Fellow. She is an active participant in many of Kumon's developmental projects and pilot tests. She also assists the company on various advisory councils and contributes to Kumon's best practices. Jay continues to develop a strong knowledge of Kumon worksheets and the Kumon Method which enables her to guide her students through the program with greater ease. She also takes a keen interest in developing a strong relationship with each child and his/ her parents during their Kumon journey and tailors the program based on every individual's specific needs.
"I truly believe at Kumon that children have unlimited potential to succeed," said Jay. "My greatest passion is to see my students achieve success on their own." Jay's goal is to help each child develop strong academic skills, a love of learning and the confidence to excel beyond the classroom. The curriculum is designed to foster independent learning skills that allow students to progress through the work, eventually studying above their grade level.
Jay's centers have grown over the last 26 years. Jay has worked with children of different backgrounds and abilities and has mentored more than 4,000 local students. Kumon's personalized approach helps children learn math and reading concepts based on their ability rather than age or grade. Jay is just as passionate and excited today as she was when she opened her first center.
With 26,000 centers in 48 countries and regions and more than four million students studying worldwide, Kumon has a global presence. Its first center in the United States opened in 1974. The company's North American headquarters is in Teaneck, NJ.
Kumon of New City class hours are: Mondays and Thursdays from 4.00 to 7.30p.m.
Students study for approximately a half-hour per subject at the center and have short assignments to complete at home. For more information, or to schedule a free placement test, please call phone number or email kumon email address. Visit www.kumon.com to learn more.
CLASSES - ACADEMIC ENRICHMENT/LANGUAGE
Kumon is an after-school math and reading program that unlocks the potential of children to achieve more on their own. Jay Raghunath has been a certified Kumon instructor for more than 20 years. She uses Kumon's individualized approach to help children develop a solid command of math and reading. Through daily practice and mastery of materials, students increase confidence, improve concentration, and develop better study skills.
Contact Me About Kumon Math and Reading Centers - Rockland
Find More
Get NYMetroParents via Email