Life's WORC The Family Center for Autism
1517 Franklin Ave.
Garden City
516-355-9400
Welcome to the Family Center for Autism
The Family Center for Autism (FCA) is an inclusive environment where people of all ages can explore a variety of fun activities, classes, and programs. Our mission is guided by our genuine compassion and vocation for the people we support and is amplified by our expertise in the field of autism. The FCA offers families support and expert guidance in a flexible, engaging atmosphere where you and your loved ones can truly feel at home and at ease while having fun and immersing themselves in new activities and skills.
We're Here for Your Family
We offer a wide variety of activities and services for people with autism, their families, and the community at large. From culinary classes to the visual arts, from music & movement to technological exploration - even birthday parties and salon services - Discover what the Family Center for Autism can offer your family.
Have any questions? Call us to learn more and register for our classes.
What We Offer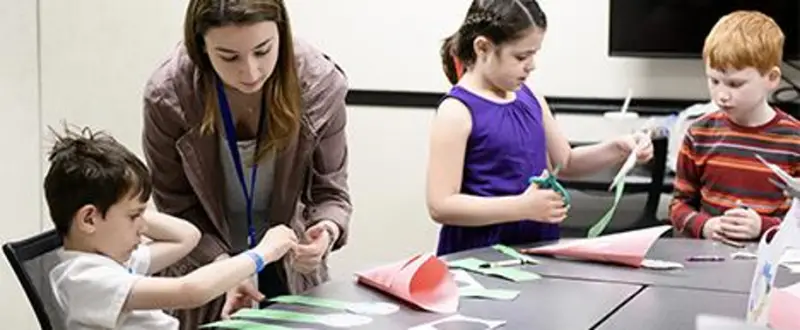 New at The Family Center for Autism: Social Skills Training
The new Social Skills Training program at the Family Center for Autism provides a safe environment where children and adolescents with autism can learn how to socialize with their peers and enhance their social competency.
Group classes will focus on conversational skills, understanding the use of humor, electronic/social media safety, identifying and sustaining friendships, problem solving, developing coping mechanisms and fostering teamwork and cooperation.
Classes for younger participants will also include play skills, such as sharing, taking turns and game-playing etiquette.
Group classes are held on Saturday mornings, facilitated by a NYS Licensed Board Certified Behavior Analyst.
Many Insurance Carriers Accepted!

Our Other Offerings Include:
[Art Classes]
Explore your creative side with the FCA's art classes. We use a variety of artistic media and methods that help promote your self-expression.
[Music & Movement]
Stimulate your imagination and creativity through our fun-filled music and movement classes.
[Culinary Classes]
Learn important cooking skills, kitchen safety, and eat your delicious creations in the FCA's state of the art kitchen.
[Recreational & Social]
Have a great time and meet new friends in our recreational and social skills offerings.
[Science & Technology]
Explore our exciting science and computer-based programs that can teach you important technological skills like building, problem-solving, programming & coding - all while having fun.
[Sports & Fitness]
Stay active and healthy with our sports and fitness classes. We have a group and 1:1 classes that will challenge you physically & mentally while building your strength and coordination.
[Camp & School Breaks]
The FCA is open for fun during Summer Camp & School Breaks - find out more about these recreational programs.
[Salon & Spa Services]
This service provides a safe, autism-friendly environment for individuals to get their hair cut & styled by specially-trained hair professionals.
[Trade Skills]
Our new Teaching Trades series of classes introduce craftsmanship as a hands-on, practical skill that can be used well after the class has been completed.
We also offer:
* Parent Seminars & Social Events
* Recreational & Social Events
* Sibling Support Groups
* Special Events
* Sensory Gym
And more!
Learn More About Our Programs & See Our Schedule

Special Event:
Chefs of Long Island
Monday, October 5, 2020
6:30 - 10:00 pm
The Carltun at Eisenhower Park
1899 Hempstead Turnpike
East Meadow, NY 11554

Chefs of Long Island is a food and beverage tasting event featuring over 50 of the area's most prestigious restaurants and beverage providers. Chefs of Long Island is pleased to announce that this year's honorees are Investors Bank and Vanessa Rogan Life's WORC parent and Board Member. Enjoy signature dishes, vineyard & brewery tastings, live music, prize raffles, and more. Silent auction proceeds benefit Life's WORC, a non-profit agency supporting individuals with intellectual challenges, developmental disabilities, and autism.
Please send me information about Life's WORC The Family Center for Autism
Find More
Get the Best Family Activities
Sent to You Weekly!