Little Gym - New York (The)
Send me info
2121 Broadway, 2nd Floor (between 74th and 75th streets), Upper West Side
212-799-1225
tlgupperwestsideny.com
207 E. 94th St. (between Second and Third avenues), Upper East Side
212-787-1124
tlguppereastsideny.com
777 White Plains Road, Scarsdale
914-722-0072
tlgscarsdaleny.com
28 Franklin Turnpike, Waldwick, NJ
201-445-4444
tlgwaldwicknj.com

You can see it in their eyes the first time they run into your arms after class. The new found look of glorious, sparkling confidence. Confidence that will build a foundation to succeed in whatever they may try today, and for the rest of their lives. For over 25 years, The Little Gym® has provided that foundation in our non-competitive motor skill development programs, such as gymnastics, sports skills and karate, all taught in a fun, safe and nurturing environment. We encourage children to develop at their own pace, building the self-esteem they need for fulfilling and successful lives.
A Positive Progression
For every stage of your child?s development—from four months to 12 years—The Little Gym of Upper Westside offers a diverse line-up of Core Season and Summer Session programs filled with movement, music, learning and laughter. From week to week and from year to year, our age-appropriate curriculum is designed to facilitate ongoing skill development and maximum fun. New York children progress at their own pace, developing their confidence as they develop their skills.
Explore the program offerings to find the one that?s just right for your child. Then, please join us for a free introductory class to see how The Little Gym of Upper Westside can inject some Serious Fun into your child?s life and into your own.
Parent / Child 4 Months - 3 Years

Get a Leg Up on Learning - Parent and Child Classes
From infant to toddler, The Little Gym of Upper Westside's Parent and Child classes promote early development and provide a strong foundation for your child?s critical first three years. Weekly New York classes will help your child achieve new milestones and prepare for more advanced challenges during each stage of growth. And since you?re along for the ride, you?ll be right there to celebrate every discovery with smiles, hugs and the occasional adult-sized giggle.
Three-Dimensional Learning

Get Moving! Increased physical strength and muscle control, fine and gross motor skill development, coordination, balance

Brain Boost! Spatial and perceptual awareness, introduction to colors, language development and self-expression, knowledge of numbers and letters, initial problem solving

Citizen Kid! Developing independence and feeling comfortable away from parents, early socialization, sharing and taking turns, accepting new environments, following directions and cooperating
We offer four fun classes for parent and child activities:
Bugs: infants 4 – 10 months
Birds: infants/toddlers 10 – 19 months
Beasts: toddlers 19 months – 2 1/2 years
Super Beasts: toddlers 2 1/2 – 3 years
Gymnastics 3 - 6 Years

From Cartwheels to Confidence
Practically overnight, your little one changes from an unsteady toddler into a rambunctious child. At The Little Gym of Upper Westside, our gymnastics program for preschoolers and kindergarteners has been specially designed to help your child channel all that energy and reach developmental milestones. Independent enough to attend classes without parents, children in this age group still learn best in a structured environment where gymnastics activities for kids are combined with a healthy dose of fun.
Three-Dimensional Learning

Get Moving! Greater strength, flexibility and coordination through gymnastics and early sports skills

Brain Boost! Spatial and perceptual awareness, mastery of colors and numbers, kindergarten prep, imagination development

Citizen Kid! Increasing confidence, integration into groups, willingness to try new things and initiate play, listening skills, sense of pride in achievements
We offer five co-ed gymnastics classes for children in this age group:
Funny Bugs: 3 – 4 years
Giggle Worms: 4 – 5 years
Good Friends: 5 – 6 years
Mini Flips: 3 – 4 years, advanced
Mini Jets: 5 – 6 years, advanced
Gymnastics 6 - 12 Years

A Springboard to Success
Kids of this age are still growing like crazy, but now each is developing at a unique pace. That?s why The Little Gym of Upper Westside's gymnastics program for grade school boys and girls is a little different than that of our younger members. Classes have been segmented to allow for gender-specific disciplines and varying developmental abilities, giving New York students the chance to tackle new challenges at their own skill level. Celebrated with cheers and high-fives, each new achievement leads to newfound confidence, determination and a desire to continue improving.
Three-Dimensional Learning

Get Moving! Advanced balance, flexibility and power through gymnastics training, endurance, agility and rhythm, specific gymnastics skill proficiency

Brain Boost! Maintaining attention and sustained concentration, increased problem-solving and the ability to follow more complex directions

Citizen Kid! Improved confidence in social settings, active group participation, learning to manage emotions, increasing willingness to take on leadership roles
We offer six challenging gymnastics classes for kids in grade school:
GIRLS
Flips: 6 – 12 years, beginning girls
Twisters: 6 – 12 years, intermediate girls
Aerials: 6 – 12 years, intermediate/advanced girls
Jets: 6 – 12 years, advanced girls
BOYS
Hot Shots: 6 – 12 years, beginning/intermediate boys
Flic Flacs: 6 – 12 years, advanced boys
Sports Skills 3 - 6 Years

From Coordination to Cooperation
Whether your child grows up to become an active team player, a weekend athlete or an enthusiastic fan, The Little Gym of Upper Westside Sports Skills Development classes pave the way for a lifetime of positive sports experiences by offering a solid grounding in the expertise, rules and strategies of team sports. Throughout the Core Season and Summer Session, our trained coaches run drills and simulated games for many popular sports including soccer, baseball, basketball, football, hockey and golf. Through fun and creative lesson plans, your child will also gain an understanding of teamwork and sportsmanship. And that?s a home run in any parent?s playbook.
Three-Dimensional Learning

Get Moving! Understanding of fundamental skills for a range of team sports, increased hand-eye and eye-foot coordination, improved strength and agility

Brain Boost! Understanding complex games and multi-step processes to achieve a goal, listening skills as prep for preschool and kindergarten

Citizen Kid! Active group participation and teamwork, expressing and managing emotions, learning the concept of sportsmanship, developing self-confidence
We offer two energetic classes to develop sports skills for kids:
Mini Jacks: 3 – 4 years
Cracker Jacks: 4 – 6 year
Dance 3 - 12 Years

Plies, Pirouettes, and Poise
For living room leapers, bedroom ballerinas, and front yard frolickers, The Little Gym offers the perfect program to harness all that toe-tapping energy. The Little Gym of Upper Westside Dance program introduces children to ballet, tap, and hip-hop techniques, while allowing them to express themselves through creative movement. New York children spend a good part of class time refining their techniques in the studio space. Adding a unique twist to the program, dancers also spend part of each class working on complementary gymnastics skills in the gym in order to emphasize poise and balance. The best part? Each new burst of confidence will have you on your toes, too--with a proud standing ovation.
Three-Dimensional Learning

Get Moving! Increased flexibility, coordination and strength, specific techniques for ballet, tap and gymnastics, improved balance, posture and grace, development of rhythm and creative movement

Brain Boost! Increased retention and comprehension of complex instructions, creative expression, music appreciation

Citizen Kid! Improved self-control, group cooperation, developing poise and self-confidence, respect for others? abilities and boundaries
We offer seven toe-tapping dance classes for children:
Ballet & Tap
Jazzy Bugs: 3 – 4 years
Giggle Toes: 4 – 5 years
Good Leaps: 5 – 6 years
Jazzy Jets: 6 – 12 years
Pirouettes: 6 – 12 years, advanced
Hip-Hop
Hip Hoppers: 4 – 6 years
Hip Hop Steppers: 6 – 12 years
Karate 4 - 12 Years

A Kick in the Right Direction
The most important self-defense technique is self-confidence—and that?s exactly what your child will gain through The Little Gym of Upper Westside Karate Classes for kids. New York students learn fundamental karate blocks, punches and kicks in a positive, noncompetitive environment, with the addition of gymnastics techniques for a fun twist on the ancient martial art. Obstacle courses, high-energy music, skill-based activities and games create fun learning opportunities to help kids gain the focus needed to excel in the gym, in the classroom and everywhere else they go in life.
Three-Dimensional Learning

Get Moving! Increased flexibility, coordination and balance, specific martial arts and gymnastics techniques, enhanced agility and athleticism

Brain Boost! Improved concentration and memory retention, learning through visualization, increased focus

Citizen Kid! Improved self-control and respect for others, developing self-assurance and confidence
We offer two non-contact/huge-impact kids karate classes:
Chopsticks: 4 – 6 years
Choppers: 6 – 12 years
Wonder Kids Club 3 & 4 years

Think your little one is wonderful? Join the club!
WonderKids Club™ is an enrichment program that extends The Little Gym experience for New York children ages 3 and 4. Self-expression and imagination are at the heart of this engaging program that celebrates the awe of learning. Each three-hour WonderKids Club session combines a Funny Bugs or Giggle Worms gymnastics-based class with active learning and instructor-led, immersive play in the Multi-Purpose Room. Arts and crafts projects, creative songs and story time all reinforce the week's Learning Unit and theme.
For WonderKids, the Club offers a three-hour interactive learning experience, a three-hour structured play session and a three-hour exploration of their innate sense of wonder. For parents, WonderKids Club provides three hours of much-needed grown-up time and the confidence that their children are happy and growing in a safe, structured, familiar environment.
Joining WonderKids Club doesn't require a special password or a long-term commitment. All children ages 3 and 4 may join, regardless if they also participate in another program at The Little Gym of Upper Westside. WonderKids can enroll for as little as one session at a time, or as much as the entire Season. Call (212) 799-1225 to speak with a team member about joining WonderKids Club today!
Awesome Birthday Bash!

Just What You Wished For!
1–12 years old
Fantabulous. Splendiforous. There just aren?t enough synonyms to describe how awesome an Awesome Birthday Bash truly is. So, let?s see if this sums it up: Parents magazine named The Little Gym the #1 place to host children?s birthday parties. Your group will have the whole place to yourselves with games, music and fun activities created especially for your birthday kid. Our trained instructors will lead all the fun and The Little Gym of Upper Westside team will handle everything from setup to cleanup, which means you get to go home to a clean, quiet house when all the fun is done. It?s no surprise that many parents tell us an Awesome Birthday Bash is a big wish come true for them, too.
Camps

Where the Giggles and the Growing Keep on Going
3 - 8 years
Forget the bug spray and the week-long commitment. Day camp for kids at The Little Gym of Upper Westside is as great as you?d imagine. Held during vacation times when school?s not in session, our New York seasonal camps provide kids with giggle-filled relief from the winter doldrums or summer heat. The Little Gym camps combine physical activity and games with arts, crafts and special events. Each week offers an interactive learning theme and each day brings a different, creative lesson plan. Plus, flexible scheduling options allow you to sign up for several weeks, a single week or even just a day at a time. Sound like fun? Of course it is! This is The Little Gym, after all.
Parents Survival Night

It's like Recess for Moms and Dads
3 -12 years
Parents call it a break from the kids. Kids call it a break from their parents. That sounds like a win-win situation to us. The Little Gym of Upper Westside Parents? Survival Nights let you enjoy some adult time to see a movie, catch up with friends or enjoy a meal without—ahem—your pint-sized food critics in tow. Meanwhile, your children get some quality "kid time" in a safe, fun, familiar place with trained instructors who lead them through games and music-filled activities. We schedule Parents? Survival Nights for select Friday and Saturday evenings. Spots fill quickly, so call (212) 799-1225 to book your win-win parents' night out.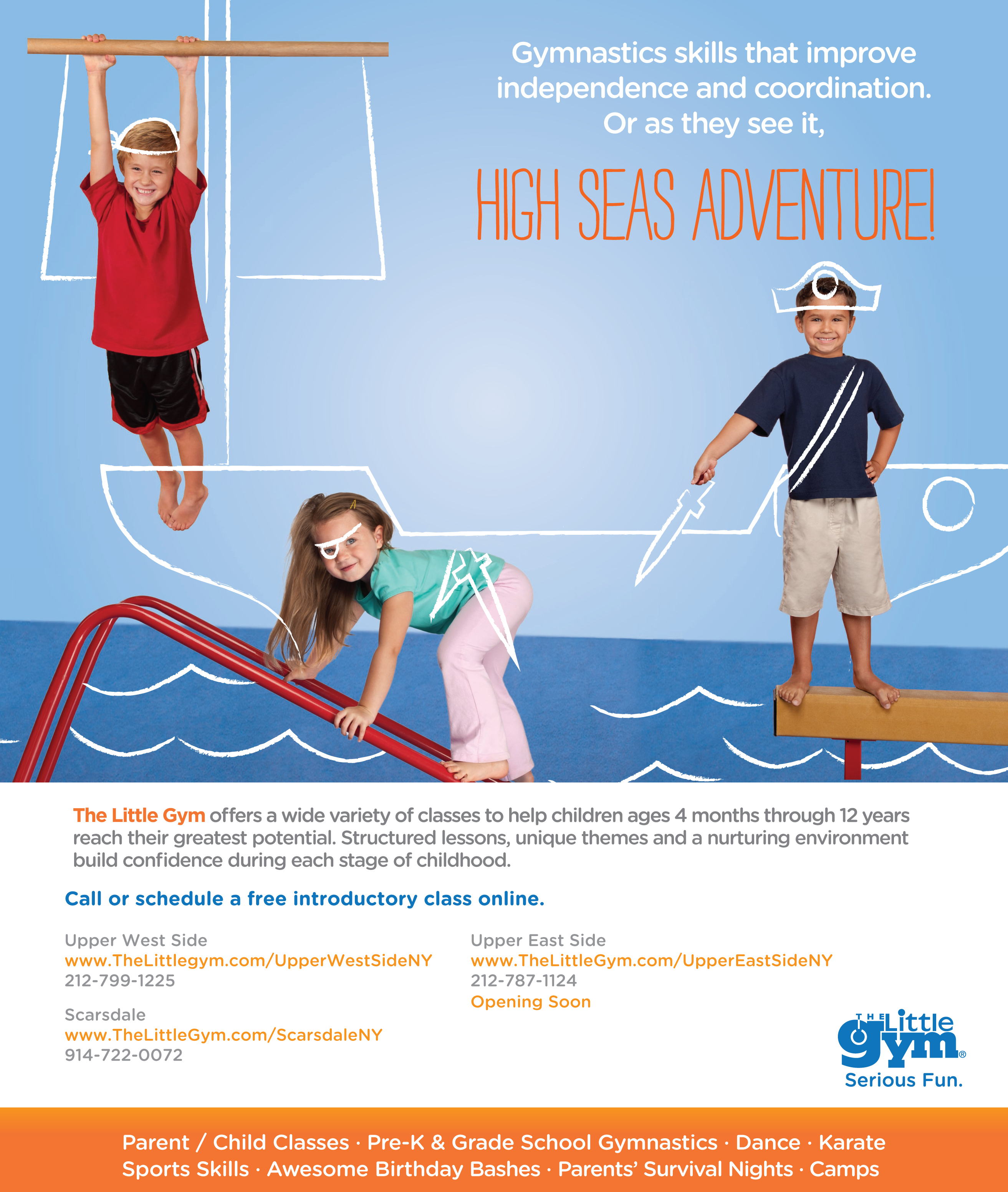 WINTER BREAK ACTIVITIES PRINT GUIDE
This holiday season, busy parents can sign up their spirited little ones for holiday camp days at The Little Gym. Each camp is centered around an interactive and fun theme such as Winter Extravaganza "Slumber Party," Ice Cave Pirate Adventure, and Fun with Winter Sports and Speed Skating. Kids have fun playing while building confidence and developing motor skills under the supervision of trained professionals who facilitate in a friendly, non-competitive environment. Each camp day is three hours, designed for ages 3-8, and includes obstacle courses, group activities, movement challenges, arts and crafts, and snacks.
Meet the Director

It was a love of fitness and children that led Jeff Freeman and Ian Axelrod to open several The Little Gym locations throughout New York and New Jersey. Jeff's love of sports shows through his own athleticism as well as his career choices. For nearly two decades, he and The Little Gym have been helping children develop socially and physically while having fun, teaching them that the key to a healthy lifestyle is an active lifestyle.
Contact Me About Little Gym - New York (The)
Find More
Get NYMetroParents via Email