Long Island Science Center
Please reach out to me
11 W. Main St.
Riverhead , NY

631-208-8000
Birthday Parties for Age Groups!!
CHOOSE ONE OF OUR GREAT PROGRAMS TO CELEBRATE YOUR BIRTHDAY!

Dinosaurs! Dinosaurs! If you love Dinosaurs, this is the party for you. Children learn about the fascinating world of Paleontology. Observe and feel fossil replicas, jump into some foot prints and make a T-Rex tooth to take home.

Fly Away with Rocket Science Blast off into space! Children will be able to build their very own Straw Rocket and launch them from our special launch pads. Rockets not your speed, try planes. Taxi down the runway and into the air! Children will build different types of airplanes and see what flies best. Watch out for flying objects!!!!

Egyptian Treasure Archeologists have discovered an ancient tomb! Guests use science techniques to break the curse of the mummy... They will solve puzzles, overcome challenges and explore the treasure of the tomb. Birthday party child can dress as a Pharaoh and all party guests create Egyptian jewelry to take home.

Wacky World of Chemistry It's Alive! Put on your goggles and apron and create PHLUBBER. We don't need soil or magic to grow these CRYSTALS . How do molecules combine to form all sorts of wacky concoctions? Please note: crystals or phlubber $275.00 (members $250.00) Both crystals & phlubber $300.00 (members $275.00)

Ice Cream Science Here's your chance to explore the science, fun and taste of ice cream. Participants make their own ice cream and discover why this frozen concoction is light and fluffy instead of rock solid like an ice cube.
Spa Science Be a cosmetic scientist! Learn about skin care, chemical reactions, and laboratory skills as you make your choice of 2 of the following: Soaps, Bath Fizz or Lip Balm. Includes all materials, use of lab equipment and lab coats, and tote bag to take home you spa "experiments". $300/20 children.

Chocolate Science What's more festive than chocolate? Learn the science behind great tasting chocolate. Children will handle cocoa beans, taste cocoa powder and cocoa butter and mold chocolate treats. Each guest receives a bag of their treats to take home.
Party Includes:
• Exclusive use of museum for 2 hours - including exhibit area
• 2 Adult Educators
• Program of your choice including hands-on project
• Birthday T-Shirt for 1 birthday child ($15 for extra birthday child)
• 25 invitations with directions
• 6 adults free ($5 each additional)
• Table covers and table decorations (LISC discourages the use of latex balloons to protect the environment)

*Food, drinks and paper good not included but may be brought in.
NO ALCOHOL PERMITTED

Fee: $275.00 for 20 children or less ($10 each additional child, max 25) Members: $25.00 discount
Goodie Bags: Gifts bought from our Science Store will be bagged for free ($3.00 min. total per bag) Member: 10% discount
$150 Deposit required: Non-refundable if cancellation is less than one week in advance.
Science Saturdays! Open to the public every Saturday from 11am-4pm! Play and explore over 30 hands on exhibits! Only $5 per person for all day adm
Math & Science Homework Help! Saturday drop off from 11am-1pm 1st-8th grade: $15 per student. No pre-registration required! Click to bring forms or fill out upon arrival.
NEW: Bubble Blast What is the science behind all sorts of bubbles? Why can soap and other materials trap moving air? Children will get to experiment with bubbles, try to make giant human sized bubbles, and make a bubble solution to take home!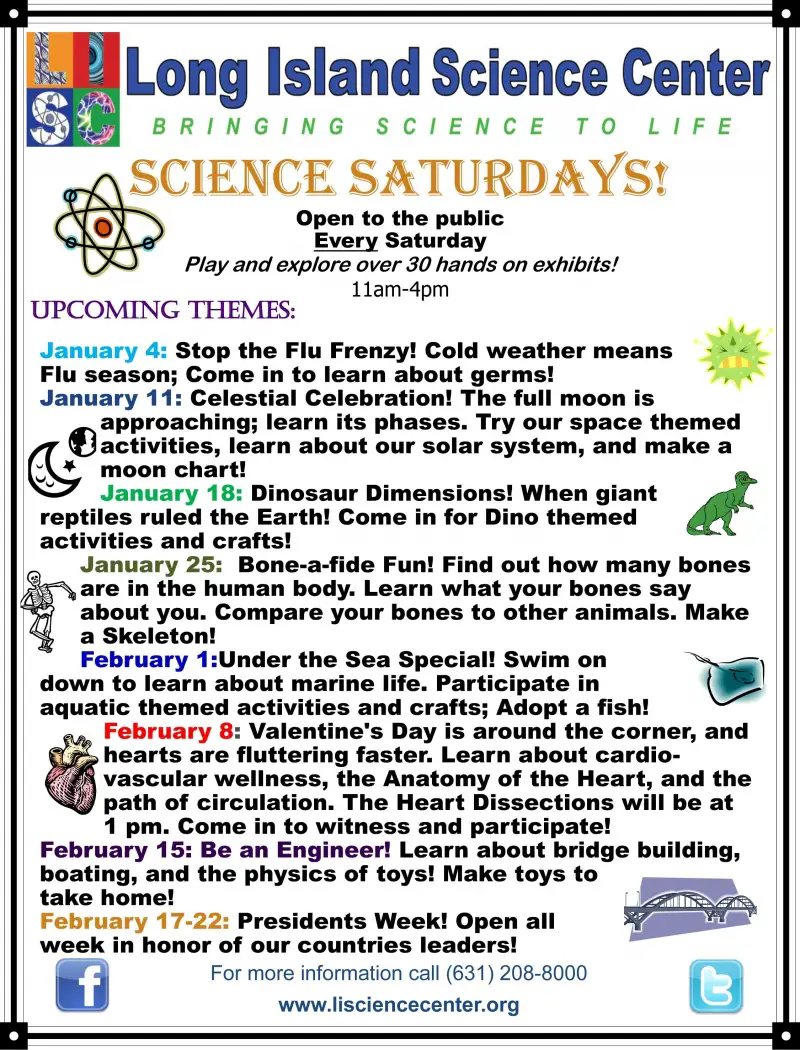 BIRTHDAY PARTIES
LI Science Center has so many customized party packages to choose from such as Dinosaurs! Dinosaurs!, Fly Away with Rocket Science, Egyptian Treasure, Wacky World of Chemistry, Ice Cream Science, Spa Science, Chocolate Science, and new Bubble Blast! Every package includes exclusive use of museum for two hours, including an exhibit area which comes with two adult educators, 25 party invitations with directions, table covers and table decorations, and a hands-on project of your choice. A basic party package starts at $300. The birthday child receives a birthday T-shirt!
Meet the Director

Michelle Pelletier, executive director of the Long Island Science Center, grew up on the east end of Long Island, and returned after graduating from Cornell University. Her life on Long Island, from spending time on farms and the rich marine life has brought her to science. Through volunteering in India, Africa, Haiti, and the Dominican Republic, she gained valuable experiences in global society. Michelle has built an educational belief system based on the importance of showing how science is not only available to us all, but everyone is capable of doing science.
Contact Me About Long Island Science Center
Find More
Get NYMetroParents via Email