Long Island Voyager's Day Camp
516-238-4586
Wantagh pool and park, Wantagh
Seaman's Neck Park, Seaford



Long Island Voyagers Day Camp is unique in that it offers your child a full range of specialties as well as a fun-filled day of recreation. We are a co-ed camp that accommodates a range of children, from those entering Kindergarten to those 14 years of age.
Open House Saturday March 6th and Saturday, April 17th between 12-3 At Massapequa Bowl (virtual Tours also available)
Attend our open house and receive $300 off for new campers! free bowling for registered campers !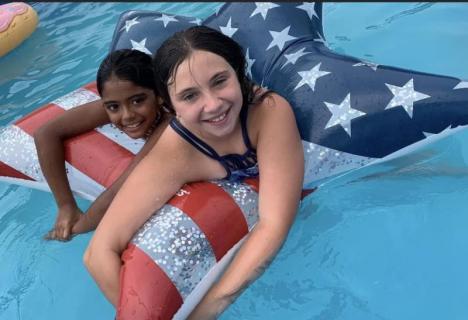 At L.I. Voyager's Day Camp we offer a program that is both enriching and fun, an excellent opportunity for children to broaden their horizons, develop self-confidence, use their imagination, find adventure and develop lifelong friends. Campers find themselves on an exciting adventure every day. Children will explore museums, swim in one of the best pools on Long Island, visit beaches, go to baseball games and amusement parks and much more.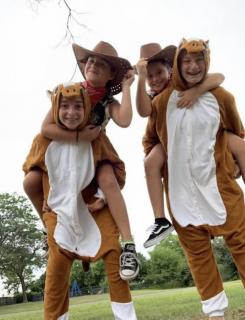 We are an 8 week program, however you can pick and choose your weeks. The minimum amount of weeks is two consecutive weeks and the maximum is eight.
Our campers are 4-14 years of age. They are placed in groups pending on age and/or gender. All our counselors are 21 years and older. They hold CPR, First Aid and AED Certified. Our counselors are mixture of teachers, coaches or college students. We also provide two lifeguards and a nurse on site at all times.
We do not charge extra for transportation, it is included in the tuition. Pick up is between 8-9am and drop off is between 4-5pm. pending upon weather and destination. We also require a late drop off which will be posted on our schedule for certain trips.
Our destination sight is Wantagh Pool and Park. This is where we swim, do sports and arts & crafts. At our location, our campers also enjoy, BBQ's, Italian Ice Fests, Smore's Day, Talent Shows, Hoola Hoop Contests, and much more. We are at our sight a few times a week and the rest of the days we are traveling to some amazing locations.
We offer early bird registration, sibling and returning camper discounts. When you register for camp you can pay in full, or send in a $300 deposit to hold your child's spot and make payments. REGISTER NOW!
All campers need to bring their lunch on a daily basis. We do provide plenty of bottled water throughout the day. The camper's lunches are placed in coolers to stay cool on their bus daily.
We do provide these accommodations; please contact our director Dina Maria for further arrangements.
Our pool is an outdoor pool with swim instruction if needed.
Our program follows a buddy system throughout the day. Each camper has a buddy and needs to stay with their buddy at all times.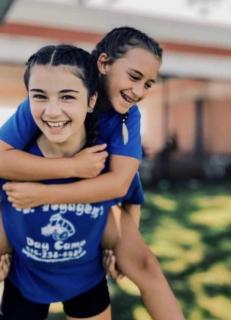 S

AFETY PROTOCOLS:
Health Assessment
A staff member will approach your car, open the door, take your child's temperature, and ask the parent/guardian a series of health assessment questions. Once campers are cleared by staff, they will be escorted to wash their hands, and then proceed to the area designated for morning arrival. A face covering must be worn during arrival, until the camper is in their designated area.
Groups
Campers will be placed into their small groups, with their counselor and will remain together throughout the day.
Physical Distance
A physical distance of 6 feet or more and/or wearing of face coverings will be maintained in all shared spaces if necessary.
Face Covering
Campers must be provided with an appropriate face covering and a sealable bag or container to store the covering when not in use. Please label the container with your child's name and age. Campers must wear face covering during drop off and pick up.
Temperature Screening
Record your child's temperature once a day, beginning 14 days before your child's first day of camp or at the earliest on our Pre-Camp screening form. Camper's temperature will be given before entering and exiting camp. This will be documented twice a day.
Signs and Symptoms of COVID-19
Familiar signs and symptoms of COVID-19 are cough, temperature of 100.4 or higher, shortness of breath, and fatigue.
Camper Medical Forms
If you cannot make an appointment with your child's physician prior to camp season, please obtain the latest medical record on file, update any information yourself, and sign and date the form indicating that the information is current and accurate to the best of your knowledge. All immunizations must be up to date as of the last physical exam.
Contact Us About Long Island Voyager's Day Camp
Find More
OPEN HOUSES--PRINT GUIDE

Join us for free bowling at a camp open house on March 21 from 1-3pm at Massapequa Bowl. Receive a discount on camp registration.
Meet the Director

Dina Marie Marrazzo received her bachelors degree in elementary education from Dowling College and her masters degree in literacy studies from Hofstra University. She is an author, and published a children's book, Holiday Fun For Cody, Bailey and Lexy Rose. She teaches elementary school children, and owns and operates Long Island Voyager's Day Camp. She holds her CPR, first aid, AED, epi pen, and life guard certifications. She dedicates her summers to providing children with the most exciting experience in the camping industry.

Get Great Family Activities!!
Arriving weekly