My Gym - Nanuet
Please reach out to me
249 W. Route 59
Nanuet, NY

845-624-0811
Why My Gym?
We are the experts in children's fitness.
We keep children healthy by making fitness fun!
We improve the lives of children throughout the world.
Call about BIRTHDAY PARTIES, CLASSES, CAMPS – offering year round programs.
My Gym has developed an extraordinary program and facility devised to help children 6 weeks thru 10 years of age develop physically, cognitively and emotionally. We have hundreds of locations in more than 30 countries offering structured, age-appropriate, weekly classes that incorporate music, dance, relays, games, special rides, gymnastics, sports and more. Children have loads of fun as they gain strength, balance, coordination, agility and flexibility while developing social skills, confidence and self-esteem. Our state-of-the-art facility, extensively trained staff, award-winning class programs, and excellent student/teacher ratio have earned My Gym the reputation as the best early learning program of its kind.
Every day in My Gyms throughout the world, children have loads of fun as they develop physically, cognitively, and emotionally. Our programs focus on growth in all three categories because we view each step of development in these areas as an essential "building block" toward becoming a happy, healthy, well-adjusted human being. The Building Blocks program is designed to acknowledge My Gym Kids for their efforts and achievements. It is an interactive skill and development tracking and recognition system that provides specific opportunities for our students, teachers, and parents to enjoy and celebrate the attainment of key milestones together.
The philosophy that guides My Gym's programming and breakdown for classes has been developed through intensive physiological, psychological and sociological research, along with decades of hands-on experience by hundreds of My Gym child and fitness experts.
Our carefully constructed programs are constantly analyzed and adjusted according to up-to-the-minute advances in medical and psychological research. My Gym's main objectives are to ensure that program ingredients are safe, age-appropriate and optimal for building self-esteem.
My Gym locations worldwide offer perfectly planned celebrations, created specifically for each birthday child with special song and game requests made prior to the party. Our experienced and lively party specialists will design a unique and personal celebration for your child, jam-packed with exhilarating activities, games, puppets, songs, special rides and more! It will be an occasion long remembered, and we handle everything!

We cater to your budget with our Premier, Deluxe, and Grand Celebration packages, and we are equipped to provide nonstop party fun for a wide range of group sizes.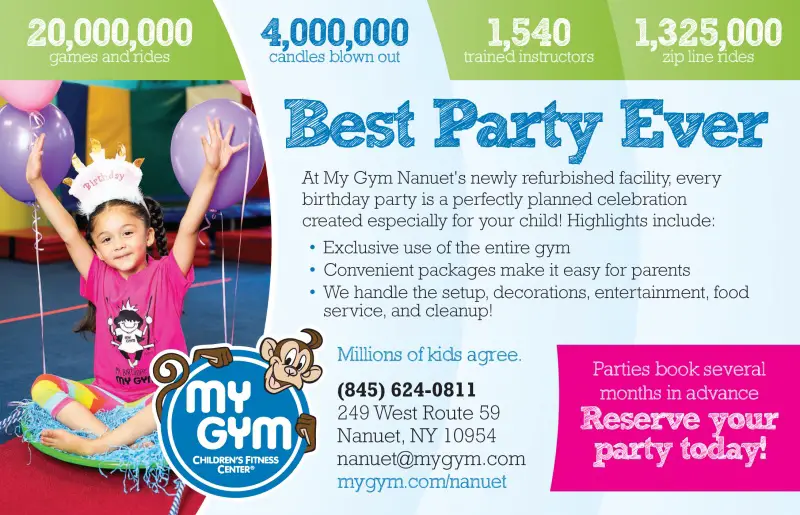 BIRTHDAY PARTIES
At My Gym Nanuet's fully renovated facility, every birthday party is a perfectly planned celebration created especially for your child, with activity, music and game requests made prior to the party. Our entire facility will be dedicated solely to your family. Our amazing party specialists will make your birthday party unique and special. All of our parties feature nonstop action-packed activities, gymnastics, games, puppets, songs, and more! New themed packages make it easier than ever for parents to enjoy. We now offer Gaga and Sports themed parties.
Contact Me About My Gym - Nanuet
Find More
Get NYMetroParents via Email