Ohman School of Ballet
60 Calvert Ave.
Commack, NY
631-462-6266

Now in its 40th year, the Ohman School of Ballet was founded by Frank Ohman, former soloist of New York City Ballet and is one of the few remaining direct links to the legendary
George Balanchine. The school opens its doors to all students who wish to study classical ballet and also serves as a training ground for promising young dancers. It is a not-for-profit, non-recital, state-of-the-art facility with 3 spacious studios with convenient location and ample parking. The school, together with its company New York Dance Theatre, presents the largest Nutcracker production on Long Island annually at Hofstra University, as well as spring/summer performance opportunities. For the very young student (beginning age 3) classes are taught by our early childhood dance education specialist. Formal ballet classes are offered at 5 levels from beginner to advanced in a nurturing atmosphere with an expert teaching staff headed up by Frank Ohman. While instilling joy and appreciation for this art form, it also builds confidence and focus in children that stays with them into adulthood. The primary goal of the Ohman School of Ballet teachers is to make each child the best dancer that he/she can be.
Curriculum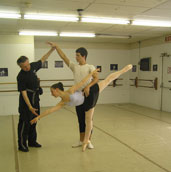 Registration is ongoing throughout the school year. New students are placed in levels according to an initial placement class. A one-time registration fee of $50 is required of all new students. Tuition fees are paid at the start of each semester (fall, spring, summer) and are pro-rated for a student enrolling after a semester has started. Early registration is recommended since class size is limited. Please contact the school in advance to schedule a placement class.
Creative Movement classes for ages 3 – 5 Designed to take advantage of the natural freedom of movement and musicality, which young children demonstrate.
Introduction to Ballet for ages 5 – 6 Children will learn proper ballet movement, terminology and body positions.
Beginner, Intermediate, Advanced and Professional level technique classes:
Division 1 – Students master basic classical ballet steps and positions with a focus on proper vocabulary and technique
Division 2 – Students learn to combine mastered steps and turns are introduced
Division 3 – Students are exposed to the full demands of classical ballet technique
Division 4 – This level emphasizes line, speed, control of adagio, multiple turns and increasingly complex combinations
Division 5 – A pre-professional level for dancers striving for perfection
Pointe classes (div 3, 4, 5) – Students may enroll in pointe classes only after they have achieved appropriate physical maturity and have mastered proper basic ballet technique. (Teacher recommendations)
Men's and Boys' Class must be taken in combination with division class. Guest Faculty Program featuring artists from New York City's leading ballet companies
Beginner ballet classes for Teens and Adults
FACULITY, DANCE INSTUCTORS & STAFF
The Early Childhood Program at the Ohman School of Ballet is geared towards instilling creativity, discipline and a love for ballet in our young students. The Ohman School offers classes in Creative Movement for tots and Introduction to Ballet for ages 4-6. (Ages are only a general guideline. Class placement is determined on an individual basis through input from parents, teachers and staff.)
Class size is limited in the early childhood program, ensuring one-on-one attention. Our tiny dancers explore the characters and music of various classical ballets, are introduced to classical ballet steps, learn to create their own movements, practice in costume, and "perform" for their parents and teachers.
August 1st – August 12th: 2 week Comprehensive Ballet Workshop (Intensive camp)
July 5th – August 12th: 6 week program summer evening classes for all levels, as well as Wednesday daytime Creative Movement and Thursday daytime Introduction to Ballet
Detailed information on all summer classes available at www.ohmanballet.org

For more information, CONTACT US HERE or please contact the school office (631-462-6266) for additional information.
Master Classes Dates & Times: To Be Announced
The Frank Ohman School of Ballet was founded in 1979 by Frank Ohman, former soloist at New York City Ballet (NYCB) and is one of the few remaining direct links to the teaching of George Balanchine.
Currently located in Commack, the school serves as a training ground for promising young dancers and offers aspiring students the opportunity to learn classical ballet in the tradition of George Balanchine. The Frank Ohman School of Ballet will guide your child from first steps to advanced technique, while instilling a true appreciation and love for this timeless art form. The school is a non-competition, non-recital school, focusing on proper classical ballet technique.
Our students have been accepted into some of the most prestigious summer training programs in the country including American Ballet Theater, San Francisco Ballet, Boston Ballet, Chautauqua, Miami City Ballet, Orlando Ballet, New York State Summer School of the Arts, The Rock School, Walnut Hill School, Joffrey Ballet and Ballet Academy East. Alumni have gone on to dance professionally with companies including New York City Ballet, Pittsburg Ballet, Pacific Northwest Ballet, National Ballet of Canada, Ballet Austin, Ballet Hispanico and MOMIX. Others have gone on to ballet related positions such as director of marketing for Pittsburgh Ballet Theatre and some have opened their own ballet schools. Whatever our students' futures hold in store for them, they leave here with an understanding of discipline, dedication and self-awareness which helps them in any endeavors. A division of the New York Dance Theatre, Inc., the Ohman School has become an integral part of the company, and is one of the very few not-for-profit ballet schools in the region. It offers three studios with state-of-the art flooring to Balanchine specifications and a highly qualified teaching staff headed up by artistic director Frank Ohman.
Contact Us About Ohman School of Ballet
Read More
CAMPS - CAMPS FOR OLDER KIDS - PRINT GUIDE

The Ohman School of Ballet was founded in 1979 by former NYC Ballet soloist Frank Ohman. The school is a non-competition, non-recital school, focusing on proper classical ballet technique. Offering a two-week summer intensive as well as summer evening classes for children through age 17, and Ballet Barre Fitness classes.
Meet the Director

Frank Ohman is an internationally known dance professional, choreographer, and teacher. After three years with San Francisco Ballet, he joined the New York City Ballet in 1962. During his 22 years as a soloist with NYCB, he danced many leading roles and worked with famous choreographers. His other interests include painting and most recently he co-authored a book with Emily Berkowitz; a biography entitled, Balanchine's Dancing Cowboy. The Frank Ohman School of Ballet located in Commack is celebrating its 36th year in teaching and its 33rd Nutcracker.
Be the first to know!
Get the most exciting updates from NYMetroParents