Our Lady of Mercy
520 S. Oyster Bay Road
Hicksville, NY
516-433-7040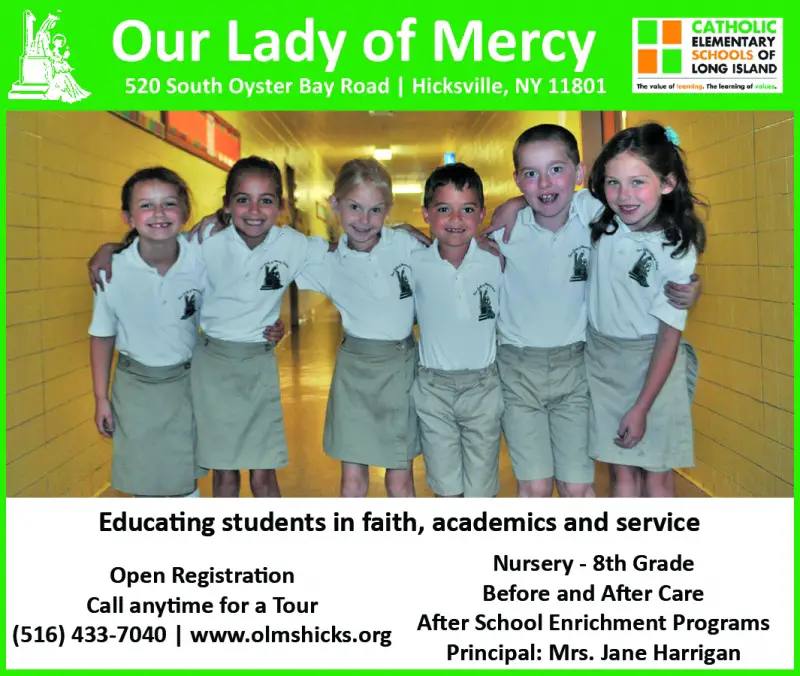 Our Lady of Mercy is a school where academic excellence is encouraged and accomplished. We offer a wide range of activities both during and after school. Glee Club, Band, CYO sports programs, Continental Math League, Thinking Cap Quiz Bowl, Scouting, and various community service projects. The Before and After-care program assists working parents in their need to find a safe and loving environment for their children.Our Lady of Mercy School, serving the Hicksville community for over 50 years, provides students from Nursery through Eighth Grade a program integrating strong academics with the learning and living of faith and values. Our Lady of Mercy follows the guidelines of the New York State Education Department as well as those set forth by the Diocese of Rockville Centre to deliver a program that inspires each child to grow spiritually, academically and socially. Our Lady of Mercy admits students of all races, nationalities, ethnicities and religious beliefs and currently welcomes students from over 20 parishes and over 20 local school districts.
Our school places a high priority on keeping up to date with the latest technology for both teachers and students. In addition to a Computer Lab, most classrooms are equipped with SMART Boards; classes have access to school ipads and laptops. We also have a large Gym, Library, Art Room, Music Room, Resource Room and Health Office-staffed by the Hicksville School District. Transportation is available to qualified K-8 students. The Tomorrow's Hope Foundation offers tuition assistance to qualified families who would otherwise be unable to give their children the gift of a Catholic elementary school education.
Our Lady of Mercy School is committed to supporting the individuality of each child. Each one is encouraged to develop his/her creativity, critical thinking and leadership skills. Our school is a recipient of The Middle States Commission on Elementary Schools Accreditation.
Contact Us About Our Lady of Mercy
Find More
OPEN HOUSES--PRINT GUIDE

Join us for an open house on Sunday, Jan. 27 from 11:45am-2pm, Wednesday, Jan. 30 from 9:30-10:30am and 1:15-2pm. Additional tours available, call 516-433-7040.
Tired of Hearing "I'm Bored"?
Activities Sent Weekly