Progressive Martial Arts
Send me info
175-25 Horace Harding Expressway
Fresh Meadows, NY

718-461-0700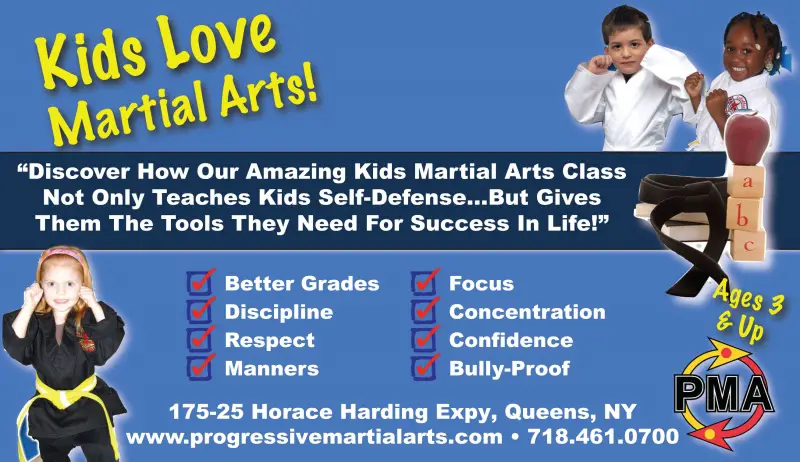 Progressive Martial Arts offers classes for youth - ages 3 and up - in age specific programs appropriate for kids' developmental and emotional stages. While we teach important self defense and martial arts skills, fitness and health are key components to our curriculum. Youth enjoy fitness drills, obstacle courses, circuit training as well as running in our fun, but disciplined classes. Our youth program is like none other, offering character development, discipline, and self defense techniques that give each child a strong start in life!

Little Dragons (3-6 Years)
Give your Child a strong start on Life!
Our Little Dragons Classes are fast-paced, fun filled, educational and motivational. Kids love Karate and parents love watching their kids learn and grow in a positive, well disciplined and encouraging atmosphere. Each class is filled with exciting, hi-energy drills that are carefully designed to develop important life skills. Classes start simple and gradually become more challenging based on each child's individual pace and readiness for new material. All lessons are based on positive recognition, reward and reinforcement for effort, skill, manners, sportsmanship and respectful treatment of others. Self-confidence and Self Esteem are built in a gradual step-by-step fashion. Martial Arts training builds a strong foundation that can easily be applied in academics, sports, arts and social settings outside the dojo.
Little Dragons Success Formula
Our Little Dragons program is an excellent choice for giving your child a strong start in life. These early years are so vital in developing the habits that lead to a healthier, happier and more confident child.
We teach and instill basic developmental skills that will show up in many aspects of life such as: showing proper manners, how to look someone in the eyes, shake their hand andgive a polite greeting, improved listening skills, longer periods of focus and attention span, self control of one's actions and attitudes, learning to participate in group activities and getting along well with others. It's no magic pill and it doesn't happen in one class. However, for many parents, our program is the perfect alliance and is one of the most valued investments for their child. For over 10 years, we've had outstanding success teaching kids how to become goal-oriented, athletic and academic achievers. We believe that every child has the potential to become an achiever and a success in life!
Benefits of Our Program
Increased Attention Span
Improved Hand-Eye Coordination and Motor Skills
Improved Listening and Concentration Skills
Higher levels of Respect and Obedient Behavior
Decrease in Parent Separation Anxiety
Improved Self-Confidence & Self Esteem
Greater overall Health & Fitness
Better direction and use of their energy
Development of a Non-Quitting Spirit
"Yes I Can" Attitude
Highly Trained Nationally Certified Instructors
Juniors (7-14 years)
Martial Arts Begins and Ends With Respect
Our Juniors Program is based on the core values of Martial Arts training. "Martial Arts Begins and Ends With Respect." From this basic premise, we develop your child's awareness and skills in three primary areas - Respect, Discipline and Self Control. Our core curriculum includes high-energy drills and skills designed to build and condition each child's attitude, behavior and overall character development. Our training helps children develop greater self-control and self-discipline in everything they do. It also instills confidence through positive coaching, lots of encouragement and a powerful mentoring relationship with role model leaders. We also teach valuable life skills that focus on Goal-Setting, positive attitude, relationship building, communication skills and leadership.
Practical Self-Defense & Safety Awareness
Safe kids make for happy parents. Kids tend to listen to people they like, trust and respect. Our highly trained teaching staff will share vital safety tips and teach your child practical self-defense. Most important is that your child understands some simple rules of safety. They will learn tips such as safety in numbers and learning to practice safe habits in their daily routine. Knowledge is power; we provide an explanation of common abduction lures and teach kids to be cautiously aware of their surroundings. No parent wants their child to live in fear, yet they want to know that their child is safe. We believe strongly in helping your child become confident and capable young adults who understand right from wrong and will know when to stand their ground and when to run-yell-tell. We also stress non-violent conflict resolution, how to avoid dangerous situations and practical techniques for getting away from a range of situations - being cornered, being grabbed and being tackled to the ground. Our practical self-defense skills include kickboxing and on the ground grappling defense. Your child will be trained when and when not to use their self defense skills, and our students have a clear understanding of being responsible for their actions and attitudes.
Champions are always Victors and never Victims...
Kids who learn to defend themselves usually will never have to. They have learned to walk with confidence and they are less apt to be a prime target for bullies and/or abductors. Studies prove that anyone who wants to harm a child or has ill intent is more likely to go for the weakest looking kid they can find. Kids that are aware and act in a more confident manner are the greatest deterrent to bullies and dangerous adults. Kids who train in the Martial Arts become more assertive and less aggressive. Just like Adults, if they have a healthy outlet for their energy, they will let go of stress and frustrations. Watch the level of energy our kids exert in a class and you'll understand why they sleep well at night. Kids with a high level of self-confidence are also better able to deal with negative peer pressure and "Say No" to dangerous situations and threatening adults.
Healthy, Wealthy, Happy & Fit...with a Fighting Spirit that will Never Quit!
Television, video games and fast foods present significant temptations and challenges to our young people today. We strive every day to deliver a program that builds a sense of balance for your child. Our Juniors Program inspires kids with specific instruction on how to live healthier, how to exercise and how to build energy and a dynamic spirit. We want your child to be better prepared to face life's challenges and be successful in everything they do. Statistics tell us that 1/3 of all kids are obese and that fully 2/3 are overweight and at risk of preventable health challenges that could lead to early death. Most kids are less active than previous generations and spend too much time on the computer or playing video games. They barely even have a structured gym class in school. Combine the lack of activity with the ease of fast foods and the junk that kids can easily become addicted to, and it's easy to see why our nation is creating kids at risk. Our program will get your child in the best shape of their young lives. We'll increase their flexibility, strengthen and tone their muscles and give them greater endurance. All while they are having fun and learning valuable life skills that will carry over to becoming successful adults. Our instructors are experts at motivating kids and bringing out the best in them. We love to team up with families to instill a non-quitting spirit in kids and help them become Black Belt Champions in life.
Habits we Train...are Habits we Gain!
We take our job as Instructors and success coaches very seriously. We know that we can make a difference and we have been developing innovative and successful systems for over 10 years. All of our classes are taught in a safe, fun, upbeat and energizing environment. Your child is developing habits everyday; anything they do over and over again is becoming habit. Good habits are easy to live with, however, they can be tough to develop on your own. Most people need a coach and that's where we come in. Unfortunately, bad habits are easy to develop and are very tough to live with. Our teaching style is based on positive coaching, goal setting and lot's of encouragement. We never give up on kids; we always team up and we have plenty of success stories to keep us committed to instilling habits of excellence in the lives of children. The vast majority of our Junior Black Belt Leaders are high-academic achievers, great kids and highly athletic. The majority don't start that way, with time, training and teamwork, we have seen thousands of kids become highly successful in every aspect of their life.
Respect for self and others
Academic Achievement
Goal Oriented
Healthy/Happy/Fit
Increased Self Confidence & Self Esteem
Leadership Skills
How do you get your child started?
It's easy to start. We start by scheduling a FREE PRIVATE LESSON for your child with one of our highly trained and Nationally Certified Instructors. We require a parent or legal guardian to be present so that we can get to know you and your child better. At the same time, we will give you a tour of our training facility; educate you about our school, our staff and the programs we offer. You will have the chance to see if our program is right for you and your family. There is no cost or obligation for the evaluation. Our tuition rates are reasonable, competitive and affordable.
HEALTH-FITNESS
Progressive Martial Arts offers classes every day of the week for kids ages 3 and older, in age-specific programs appropriate for kids' developmental and emotional stages. We teach important self-defense and martial arts skills, and fitness and health are key components to our curriculum. Our youth program is like no other, offering character development, discipline, and self-defense techniques that give each child a strong start in life. Call to find out more about our programs throughout the year.
Contact Me About Progressive Martial Arts
Find More
Get NYMetroParents via Email