Reproductive Medicine Associates of Connecticut
Click Here to Get More Info
Locations in Norwalk, Danbury, Trumbull, Stamford, and Poughkeepsie, NY
761 Main Ave. Suite 200, Norwalk
103 Newtown Road Suite 1A, Danbury
115 Technology Drive Suite C200, Trumbull
1290 Summer St. Suite 3200, Stamford
68 W. Cedar St., Poughkeepsie, NY
203-286-4254



203-286-4254
Patient care at Reproductive Medicine Associates of Connecticut begins with an award-winning team of fertility doctors with the opportunity for adjunct services from acupuncturists, counselors, nutritionists and others. Based on individual patient needs, fertility treatment plans may include In Vitro Fertilization (IVF), Intracytoplasmic Sperm Injection (ICSI), Intra-Uterine Insemination (IUI), Egg Donation and Preimplantation Genetic Diagnosis (PGD).
Fertility Centers of Excellence:
RMACT is one of just 11 leading In Vitro Fertilization (IVF) centers nationwide chosen by In Vitro Sciences to participate in its Centers of Excellence program. To learn more about this program and why RMACT was chosen a Center of Excellence, click here.
Our Fertility Doctors:
RMACT's board-certified fertility specialists are extensively trained in reproductive medicine and are eager to help you start or expand your family. Click here to learn more about our team of infertility doctors.
Our Team:
Along with our doctors, RMACT also employs a highly trained staff of nurses, assistants, laboratory technicians, and others to make your every visit as comfortable as possible. See the RMACT team here.
Assisted Reproductive Technology Research:
As an affiliate to RMACT, the ART (Assisted Reproductive Technology Research) lab has conducted a clinical study involving 24-Chromosome Aneuploidy Screening, which can help increase your chances of getting pregnant. Click here to read about the study.
Our Complementary Care Team:
The complementary care team at RMACT is dedicated to helping couples maintain their emotional, marital, and physical balance while traveling the path to fertility. Learn more about these programs and our amazing staff who make it all possible by clicking here.
Fertility Success Stories/Testimonials:
Click here to read what some of our patients have to say about our fertility doctors, staff, and their experiences at RMACT.
IVF Pregnancy Success Rates:
Click here for our Clinical Pregnancy Rates.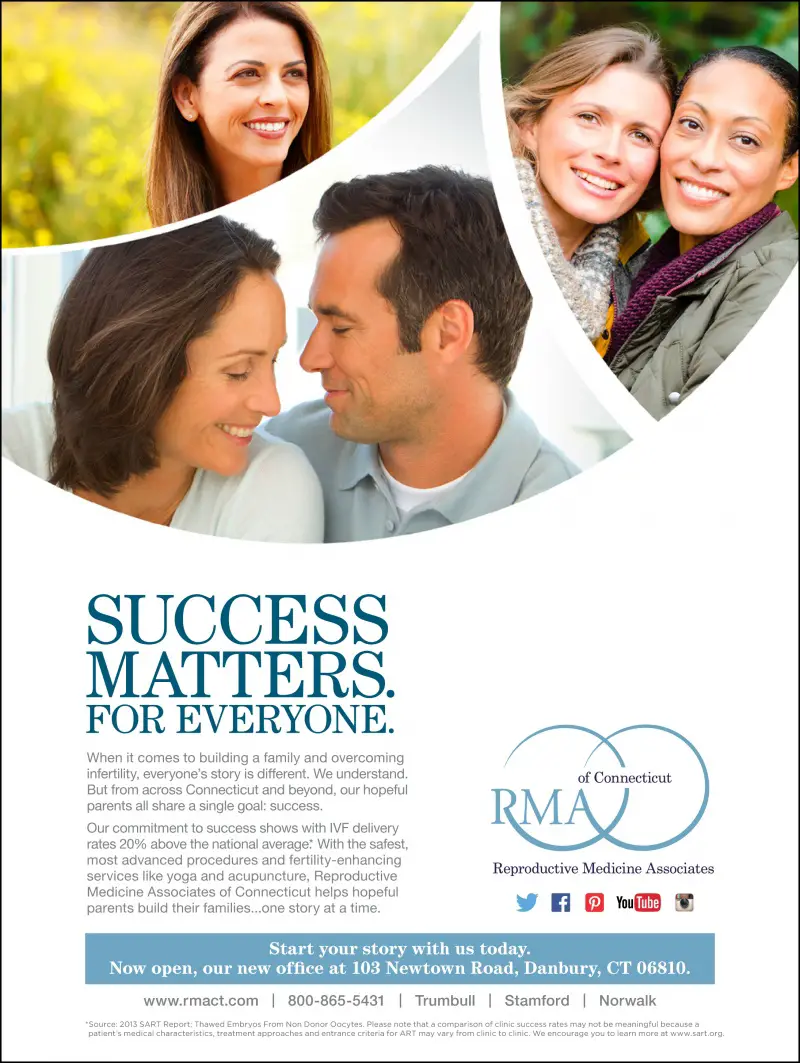 FOOD & HEALTH - DOCTORS & MEDICAL PROVIDERS
At Reproductive Medicine Associates of Connecticut (RMACT), we have one goal: to help our patients succeed in building the families they desire. Every day, our physicians, nurses, and team work towards accomplishing this goal with all of our patients who entrust us with their family building dreams. Outstanding care begins with a partnership between patients and an award-winning team of board-certified fertility doctors. Patients are offered comprehensive services including acupuncture, nutrition counseling, and therapy. We are proud to offer world-class personalized fertility treatment services that include in vitro fertilization (IVF), intra-uterine insemination (IUI), egg donation, and genetic embryo screening (PGS).
Contact Me About Reproductive Medicine Associates of Connecticut
Find More
Get NYMetroParents via Email