Main Street Pediatric Dentistry
115 Main St., suite 302
Tuckahoe, NY
914-633-4440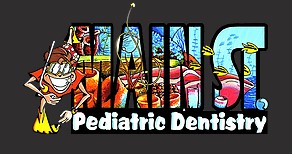 Welcome!
to the specially designed pediatric dental "world" of Dr. Penny Resnick-Graulich. Located in Tuckahoe, NY, we have one of the most innovative and modern dental offices around! Swim over and become part of our exciting Dental World! Infants, children, teenagers and their parents just love coming here. We pride ourselves on making the entire dental experience a positive one for all involved – while promoting optimal oral health care for our patients. Our goal is to educate your child to be an expert in his or her own preventative dentistry – hence a healthy smile for everyone!
Our Practice
Dr. Penny has been practicing children's dentistry in Westchester for more than 20 years. Our amazing staff is trained to help anxious children feel secure, confident, comfortable, and calm. Children with medical, physical, emotional and mental disabilities deserve special attention and find our dental experience particularly wonderful. We take pride in our individual capabilities which include hygienists, dental assistants and office personnel, all of whom insure that every aspect of your experience is  done efficiently. Everyone here loves kids, and that is why we do what we do so well.
Dr. Penny
Dr. Penny has become synonymous with high quality, loving children's dentistry in Westchester County, NY. She established her pediatric dental practice in 1984 after graduating from the University of Pennsylvania Dental School and New York University Dental School with a specialty in pediatric dentistry. 
Pediatrics
Our Pediatric Dental Office is designed for infants, children, adolescents and young adults. Dr. Penny and her staff have been trained in a variety of methods to help your child feel comfortable with dental treatment and the responsibilities associated with taking care of their oral hygiene (teeth, gums, etc.) The dental visit should be an education for your child, giving them the tools and reinforcement necessary to continue to care for their health. We eat and speak with our mouths. The teeth and mouth play a key role in our appearance. Good oral hygiene is a key component to becoming a healthy successful adult.
Contact Us About Main Street Pediatric Dentistry
Find More
PROFESSIONALS -- DENTISTS & DENTAL PROVIDERS -- PRINT GUIDE

For more than 25 years, Dr. Penny and her staff have been making the dental experience a positive one, helping children feel secure, calm, and confident during treatment. They have also taken additional measures to keep patients safe such as HEPA air filtration, external high-speed suction machines, de-fogging machines, and additional PPE.
Tired of Hearing "I'm Bored"?
Activities Sent Weekly