St. Peter of Alcantara
Click here to get more info
1321 Port Washington Blvd.
Port Washington, NY

516-944-3772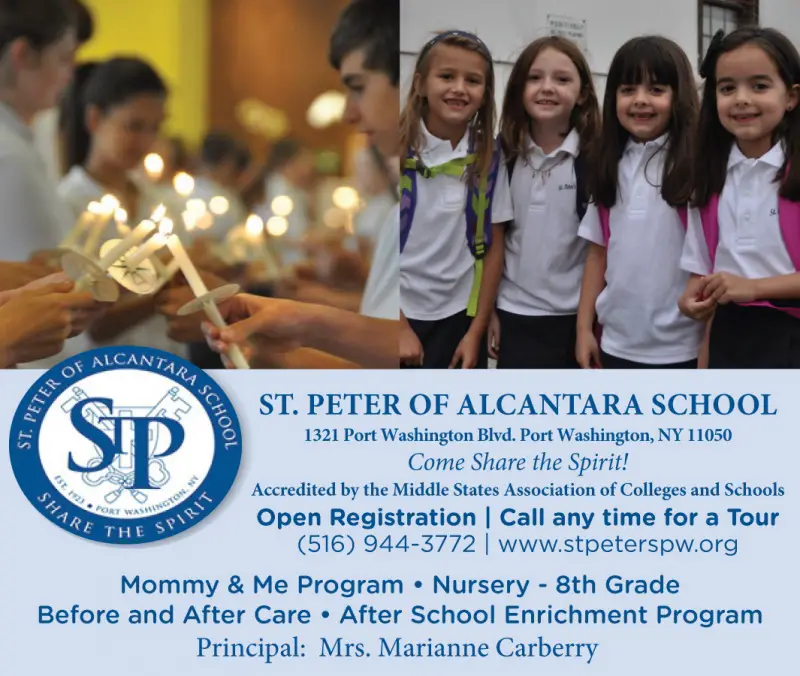 MISSION STATEMENT
St. Peter of Alcantara School provides a Roman Catholic education dedicated to preparing students for the future within a supportive, safe, and caring environment. We teach:
The Gospel message of Jesus as taught by the Church as involved citizens of the 21st

century.

Our students to live their faith through service to others.
Intellectual curiosity through vibrant and balanced curriculum.
Faith-based leadership skills that will instill a life-long commitment and devotion to the Church.
We will continue to build upon the past, utilizing the resources of the present, to prepare our students for the future.
PHILOSOPHY OF CATHOLIC EDUCATION
As we move forward in designing our future as a Catholic elementary school, we recommit ourselves to the Gospel of Jesus Christ. With sincere hope and promise, we have high expectations and opportunities for growth for our students and the school community. We instill in our students the importance of faith within a sound educational environment.
Led by our Pastor, and supported by our parishioners and school families, the principal, faculty, and staff nurture a spiritual environment where we guide and instruct our children to be followers of Christ.
The school recognizes the sanctity of life and that we are all children of God.
Teachers challenge students academically to make connections to their future.
2017 OPEN HOUSES--PRINT GUIDE
Join us for an open house during Catholic Schools Week, Jan. 29–Feb. 4. Please call for times.
Contact Me About St. Peter of Alcantara
Find More
Get NYMetroParents via Email