Village East Gifted Summer Program
Village East Gifted of Huntington, 33 Walt Whitman Road
Huntington Station, NY
631-549-2313
Village East Gifted of Roslyn, 216 Willis Ave., Roslyn Heights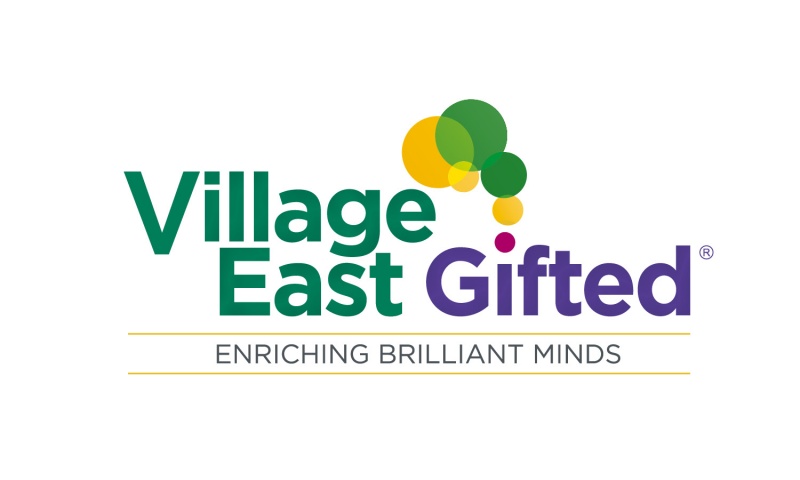 Village East Gifted is an enrichment program designed for those students
who yearn for more challenging and creative enrichment experiences
outside the classroom.
Our program provides gifted students with a place to go where they can be themselves. The dynamics of each age grouping establishes the pace, teaching approach and scope of classroom lessons and cooperative projects. Our students learn about the world around them from their perspective, at their pace and in as much depth as their minds determine.
Village East Gifted Grades 3-4 Singing the ASAP Periodic Table Song
The

Gifted Child


Is your child gifted? Click Here to learn more.
Our Programs
Summer Enrichment For Young Scholars
Camp ThinkTank offers its participants a radically different curriculum from what is implemented during the after school enrichment program. CTT enables gifted and talented campers in nursery through sixth grade to be a part of a think tank or "meeting of the minds" with the sole purpose of making positive changes on local, national and global levels. The participants identify and analyze societal problems and partake in the process of deriving innovative solutions. This has proven to be an invaluable experience for these future young leaders. Village East Gifted (VEG) is a place where individuality trumps normalcy celebrating the differences of its students and their unique ways of thinking.
Camp ThinkTank Schedule 2018
The following workshops are offered this summer:
Practical Mathematics//Engineering/Structural Design; BioMedical Studies/Culinary Science and Design; Underwater Archaeology/The Art of Saponification; Gemology: Earthly Elements of Magic/Jeweled Artifacts
Program Facility
Camp ThinkTank is held in VEG's Suffolk new, state-of-the-art, air-conditioned facility is located at the Village East Gifted of Huntington Enrichment Center. There are interactive whiteboards in every classroom as well as MacBook Pro laptops, iPad Airs, desktop PCs, Apple TVs, ultra-high speed internet and laser/inkjet printers. A fully equipped science lab is open to all grades with professional grade, high-power compound digital microscopes and high school science curriculum materials. A 3,000 book digital-lending library is free for all students and their families along with a student lounge and Family Café.
Drinks, snacks and frozen treats are provided to every camper during each workshop. Village East Gifted provides nut-free, gluten-free, soy-free, sugar-free, dairy-free, vegan and organic snacks to all campers with food allergies.
CLICK HERE for Camp ThinkTank schedule and details
"Very Young Accelerated Learners Program"
Village East Gifted will be offering a class for "very young accelerated learners" who demonstrate an academically high aptitude and constant yearning to learn more than what their preschools can provide. This is a "100% Academic" program. This class will cover writing skills, grammar, linguistics, Latin, social studies, SAT vocabulary, orthography, reading comprehension, global studies, science, mathematics, geography, public speaking, creative problem-solving and American Sign Language. The VEG curriculum is always modified appropriately for each grade level.
Parallel Program for High Achievers (not classified as gifted)
Village East Gifted's new "Parallel Program" offers classes to motivated, bright students that are performing above grade level but not classified as a gifted learner. The participants are taught the same VEG CORE curriculum as in the gifted program but the depth of content is modified and the instructional pace is adapted to meet the needs of each class. .
Enrollment is now open for Fall 2018. Click Here to register
Gifted Kindergarten
Phillips RBM Approach®?("Reawakening Brilliant Minds")
Program Overview
The Gifted Kindergarten is an intellectually and creatively rigorous program that is "100% Academic". Students can attend up to five half days a week; each day consisting of three hours of instruction. The program is held in both the Huntington and Roslyn locations. Through the utilization of the Phillips RBM Approach®, an accelerated gifted curriculum is presented covering all academic subjects.
For additional information about our gifted Kindergarten Program CLICK HERE
Village East Gifted holds enrichment classes after-school, evenings, over school vacations, weekends and throughout the summer. There are two semesters per academic year and a summer program offering enrichment topics and special courses. The school year sessions begin in September and end in June. The summer program runs from June through September. All age groupings (classes) run for two-three hours once a week. Writing workshops are offered after many classes. Class-size and schedule permitting, two classes per semester can be "made up" by attending another same age grouping during the same session.
VEG implements a challenging, writing-based, continuous, after-school enrichment curriculum for gifted and talented students ages 4-18. All VEG students are required to actively engage in the continuous Village East Gifted Core Curriculum in writing, grammar and syntax, which are creatively integrated into every academic subject.
Utilizing the Phillips RBM Approach, new CORE curriculum is continuously presented in the follow curriculum units: Latin, World Geography, Global History, Creative Writing, Advanced Grammar/Syntax, Essay Writing and Editing, Digital Microbiology, Living Science, Earth Science, Molecular Biology, Cyber-Research Methodologies, Anatomy/Pre-Med Ed, Advanced Mathematics, SAT ASAP, Public Speaking, AP Study Skills, Computer Programming, Creative Problem-Solving Lateral Thinking Activities and American Sign Language.
The VEG program offers the following enrichment classes:
CORE: writing, grammar, linguistics, Latin, social studies, SAT vocabulary, orthography, global studies, geography, public speaking, creative problem-solving, essay writing, idea sequencing, research and study skills, and American sign language.
STEM: advanced mathematics, technology, engineering, astronomy, spaceflight, microbiology, robotics, environmental studies, filmmaking and earth science.
ART: art history, ceramics, drawing, painting, batik techniques and printmaking.
WRITING WORKSHOP: grammar, syntax, individualized instruction in essay writing, data research and collection, fine editing, outlines, journalism, creative writing, research reports.
| | |
| --- | --- |
| | |
The VEG STEM workshops encourage the students to draw on the "natural connections between scientific and engineering methods to engage them in a more technical exploration of traditional science lessons. Using the iterative process, "decisions or desired results are derived by repeating rounds of analysis or operations bring the result closer to the discovery with each repetition".
Multicultural Symbolism: 2D/3D Art Mediums
This accelerated, multicultural art curriculum offers the opportunity for gifted young artists, in grades K-2 and 3-5, to analyze the symbolism and techniques of famous artists and the cultural and personal connections reflected in their works. The students engage in a variety of art forms including ceramics, drawing, painting, batik techniques and printmaking to creatively communicate their thoughts and opinions about the world in which they live. Most of the curriculum and lessons are currently taught on the high school level. Accordingly, differentiated instruction is implemented utilizing VEG's trademarked Phillips RBM Approach® allowing gifted young artists to study art history, theory and practice at their highest level of comprehension and performance.
Village East Gifted Phrontistery now open!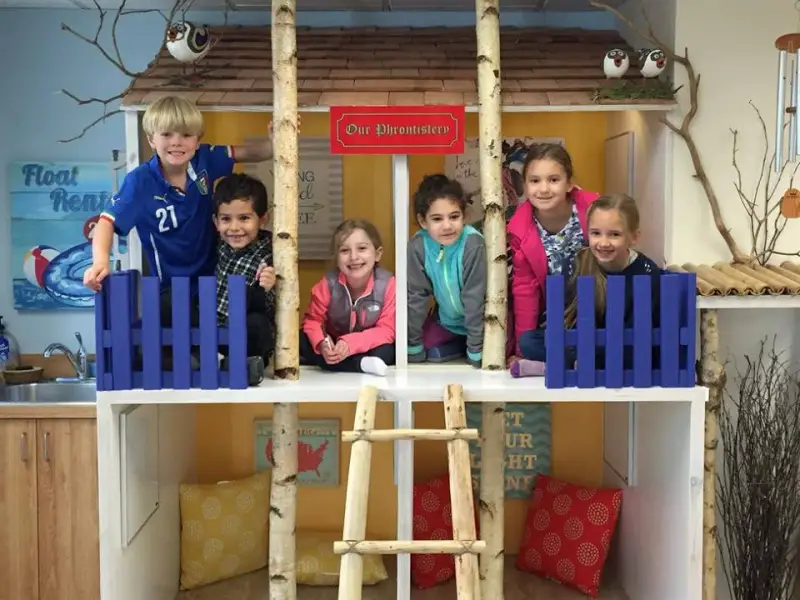 Our students now have a creative and inspiring place "in the woods" within their own classroom. Yes...nestled within an indoor forest of beautiful birch trees is a serene "place of study" in the form of a tree house made from reclaimed wood that can hold up to ten students. Check out the pictures of our students posing for a shot of their first visit and then working in their own little "rooms." The Phrontistery is not intended for "play" but rather used for cooperative projects, laptop computer research or independent writing assignments. Students of all ages can climb in and submerse themselves in their work. The only problem is, our students don't want to stop working because they would have to leave their special place. Not a bad problem to have...
Weekend Enrichment
Village East Gifted provides after-school enrichment and private tutoring on weekends. Saturday and Sunday are considered "VEG School Days". Most grade groupings have the opportunity to attend classes on weekends and/or weekdays. Village East Gifted's mission is to enrich every qualified, gifted child that comes our way. Working parents often prefer that their children attend classes on weekends so they can be a part of their child's enrichment experience
Our Educators
Village East Gifted has exceptional educators who have been teaching gifted and talented students for up to thirty-five years. Each teacher implements the VEG Core Curriculum as well as their own curriculum areas of expertise. Many classes have VEG Mentors that work with the teachers in the classroom. Our Mentors are VEG Alumni that are hired staff and serve as invaluable role models for the students.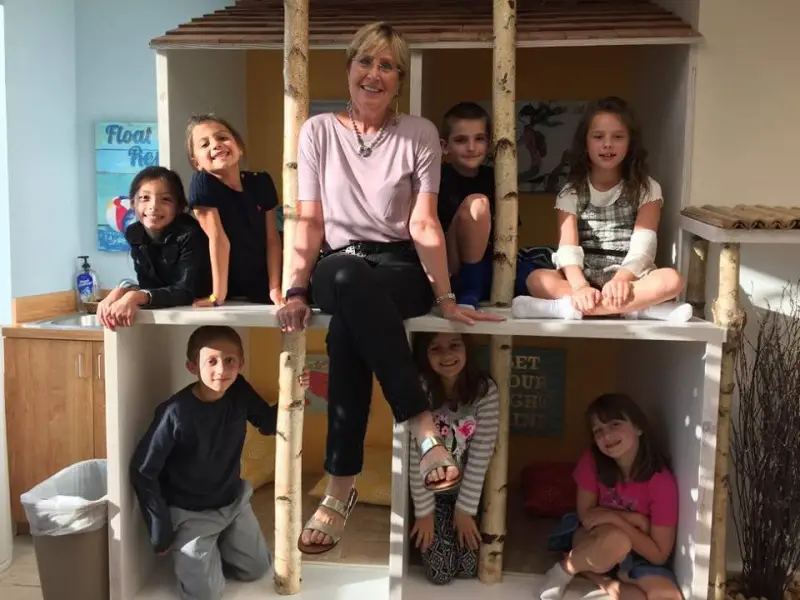 Tobi J. Phillips,
Ed. D. (cert), Headmaster, Founder of Village East Gifted, Inc.
Contact Us About Village East Gifted Summer Program
Find More
Read More
CAMPS -- SPECIALTY CAMPS -

Village East Gifted (VEG), located in both Nassau and Suffolk counties, offers 20 three- or four-day science workshops in its Summer STREAM Program (STEM and Art and Research) for gifted students in grades first-sixth. Workshops are held during the day and in the evenings (after camp).
Meet the Director

Tobi J. Phillips, Ed.D. (certified), is the founder and director of Village East Gifted, Inc., an after-school enrichment program for gifted and talented students ages 4-16. The teachers utilize Ms. Phillips' trademarked RBM teaching approach to engage its students in advanced studies in all academic subjects. Since its inception in 2007, more than 400 students have enrolled in VEG programs. Ms. Phillips enjoys sharing her diverse skills, interests, and life experiences with her students through her teaching styles, challenging and unique curriculum ideas, and her creative approach to learning.
Handpicked Spring Family Activities in Your Inbox!
Sent every weekend