WML Aquatics
Click here to get more info
PO Box 128
Mahopac , NY

917-334-8512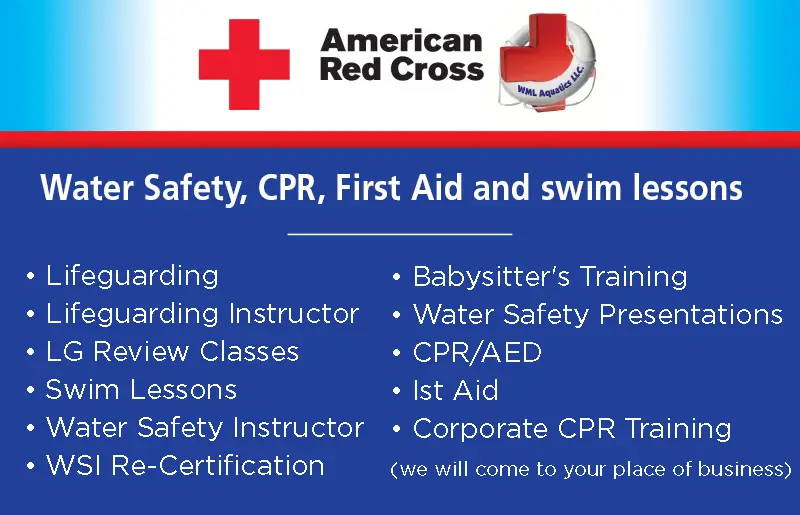 WML Aquatics LLC specializes in Instructor level classes as well as base level American Red Cross Classes. If you are already certified in base level, lifeguarding, CPR, 1st Aid etc. and now want to teach those classes, we offer the instructor class that will enable you to teach.
We offer classes for both first time certification and re-certification in aquatics as well as land classes ie. CPR and 1st Aid.
If your office is looking to certify their staff in CPR, we would be glad to come to your office and conduct a training course.
Take a look at our "class schedules" page, all our classes are listed there for the entire school year. We run multiple classes at a time to accommodate everyone's schedule. Click on the link at the top of the "class schedules" page to download a registration form. Register today to start working as a professional lifeguard and/or swim instructor. If there is an American Red Cross class you would like to take and it is not listed on our "class schedules" page, contact us and we will create a class for your specific needs.
We teach private and group swimming lessons as well as water aerobics. Classes are offered either at our Montrose location or we will come to your home.
Once students have successfully completed certification through WML Aquatics LLC, we will periodically send out emails alerting students when we hear of employment opportunities with various facilities. WML Aquatics LLC is also hiring for instructor level positions and seasonally for lifeguarding positions.
Whether you want to work as a lifeguard or get certified in CPR for your own knowledge, becoming certified in lifesaving skills will change the way you look at life.
Servicing Westchester, Rockland, Putnam, Orange, Dutchess, Ulster, Connecticut and NYC
Contact Me About WML Aquatics
Find More
Get NYMetroParents via Email