Young at Art Studio Inc.
Contact me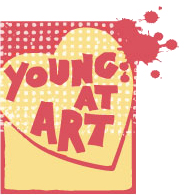 SUMMER FUN PROGRAMS & CLASSES PRINT GUIDE
Half-day weekly art camps for children ages 3-10 are centered on fun projects with a different theme each week. Children experiment with various media and nurture their creativity. Experienced, caring teachers provide a safe space for children to build self-esteem through self-expression. Small class sizes offer individual attention and a supportive group of peers. Camps run in June and the full month of August. In July, we offer workshops on Tuesdays and Thursdays, and Mommy and Me classes for children ages 18 months to 4 years.



Contact Me About Young at Art Studio Inc.
Find More
Get NYMetroParents via Email