East Woods School
Click Here to Get More Info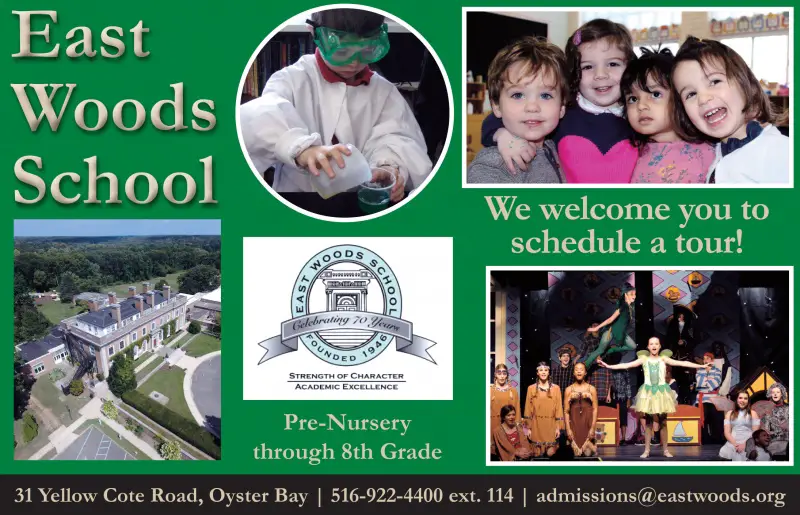 For 70 years, East Woods has been committed to fostering strength of character and academic excellence. We pride ourselves on developing and encouraging creativity, intellectual curiosity, and a lifelong passion for learning.

Our nurturing community is made up of 230 students in Pre-Nursery through Eighth Grade from more than 25 local communities. At East Woods, we celebrate the differences among us, and we are committed to lead through citizenship and service to others.
An East Woods education begins the moment our students walk up the front steps of the school and are greeted with a handshake and a smile by our Head of School. This small but vital interaction not only warmly welcomes our students into our school, but also teaches them the importance of making connections with those around them.
We are a small school by design.
Our low student-to-teacher ratio allows for individualized attention and differentiated instruction. Our size allows each student to have the opportunity to lead, to contribute and to "stand out" in one way or another. We have a clear understanding of who we are and our teachers and administrators truly understand who your child is…and could become.


We are a supportive, family-centered learning community that is as nurturing as it is rigorous.
The East Woods School is housed in a former private residence, and that sense of home permeates everything we do, from our family-style lunches that blend students and faculty across grades, to our weekly all-school Friday Morning Assemblies.

Our curriculum is created to challenge our students, and the benefits of our demanding programs are evident not only in our student test scores – which are well above the national average – but in the ease with which our students transition from East Woods to their secondary school of choice.
We are committed to developing the whole child.
Character development and community service are heavily stressed in all grades. Our students actively participate in community service projects throughout the year. Through literature, class discussions, and hands on activities, the children are able to grasp the meaning of these concepts and incorporate them into their lives.

While we are proud of our rigorous core academic curriculum, we are equally as proud of our enhanced curriculum, which provides our students with consistent and meaningful exposure to visual arts, performing arts, music, technology and physical education.
We believe in the journey and the destination.
The journey from Pre-Nursery through the Eighth Grade provides our students with a foundation of essential learning skills, a life of community involvement and good character development. Our students learn to independently follow their passion. They discover their own answers, and to become true citizens of the world.

Our graduates enter secondary school as curious, confident and conscientious students who are equipped to excel in the classroom and are eager to contribute as caring citizens of their school and broader communities.
Come visit our campus and experience East Woods for yourself. Tours may be scheduled by email.
Saturday, February 6th 9:30am
East Woods Open Saturday- A morning of free classes for kids of all ages
Space is limited and RSVPs are required
Friday, March 11th 9:00am
East Woods Open House


EDUCATION - PRIVATE SCHOOLS
East Woods mission is to foster strength of character and academic excellence while developing and encouraging creativity, intellectual curiosity, and a lifelong passion for learning. We are a nurturing community that celebrates the differences among us and leads by example through citizenship and service to others. Located on 46 acres in Oyster Bay, NY, East Woods is a co-educational independent school for children in pre-nursery (two years) through eighth grade serving 230 students from 25 school districts across Long Island and Manhattan. Financial aid is available starting in kindergarten.
Meet the Director

Matthew Bradley is in his third year as head of East Woods School. Prior to East Woods, Matt was head of school at West Chester Friends School in Pennsylvania for twelve years. He began his career in elementary and middle school education at Friends Academy in Locust Valley, NY. He earned his B.A. from the University of Notre Dame and a masters of arts in curriculum and teaching from Teachers College, Columbia University.

Contact Me About East Woods School
Read More About East Woods School
Get NYMetroParents via Email