Ehrenman & Khan Pediatric Dentistry
Click Here to Get More Info
959 Brush Hollow Road, Suite #101
Westbury, NY

516-333-3033
Long Island's Choice for Pediatric Dentistry



Putting Kids First
Welcome to Ehrenman and Khan Pediatric Dentistry, where your child's smile is our first priority. Our preventive and restorative dentistry is delivered with a gentle touch and a compassionate attitude. We know how to keep children relaxed, and we even manage to make dentistry a fun experience.
Dentistry Designed for Children
Our care is not just a toned-down version of adult dentistry. This is dentistry designed and tailored to meet the specific needs of children and patients with special needs.
We Offer:
-Preventive Dentistry
-Care For The Special Needs Child
-Sealants
-Early Intervention Orthodontics
-Restorative Dentistry
-Sedation/Hospital Dentistry
-A Colorful Environment, Video Games, Chair-Side TV Monitors and Toy Chest Digital Radiography, Advanced Technology and Careful Sterilization We always involve parents in their child's care and treatment and welcome parents to stay with their children during treatment. And, of course, every child receives the one-on-one time, praise and attention he or she needs.
This is the kind of dentistry your child deserves.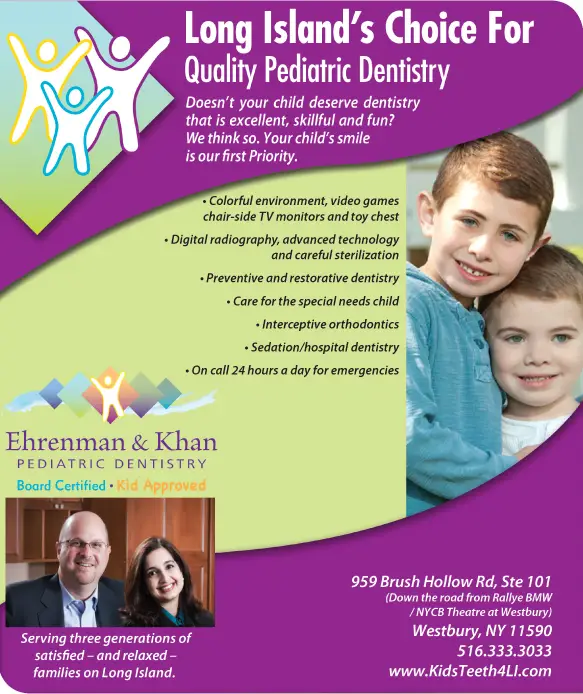 BACK TO SCHOOL
Your child's dental health is truly important to us! The most common childhood disease is tooth decay, but most cases are preventable with early dental care. Drs. Ehrenman and Khan have two years of pediatric specialty training including care for the child with special needs, behavior management, sedation, and hospital dentistry. Our expert care, gentle touch, and fun office environment make us the dentists of choice for your precious child. Call us today and discover why we were voted 2016 Best Pediatric Dental Practice on Long Island!
Meet the Health Care Professional

Ehrenman & Khan Pediatric Dentistry cares for all of your child's oral health needs in a fun, kid-friendly environment that includes iPads and chairside TV monitors. Drs. Ehrenman and Khan are dedicated and trained to ease dental anxieties for young children as well as patients with special needs. Their years of advanced training include hospital and sedation dentistry. Please visit kidsteeth4li.com to learn more about what Ehrenman & Khan Pediatric Dentistry has to offer!
Contact Me About Ehrenman & Khan Pediatric Dentistry
Read More About Ehrenman & Khan Pediatric Dentistry
Get NYMetroParents via Email