KIDZHITZ
Contact me
304 Main St.
Huntington, NY

631-470-9788

Kids of all ages LOVE our KIDZHITZ ROCKSTAR BIRTHDAY PARTIES! We create a one-of-a-kind birthday party experience that makes for a rockin' good time. Our ROCK AND RECORDING Birthday Parties magically transform any young music enthusiast into a recording superstar!
KIDZHITZ ROCKSTAR BIRTHDAY PARTIES
At KidzHitz we offer the most amazing RockStar Parties where children record their own CD, they perform karaoke and also design their own CD cover
RockStar parties are like no other we have our own DJ lights disco ball and state of the art 24 track recording studio built just for children. Party video can be uploaded instantly to YouTube, Instagram or any of your social media!
Let your child be the next YouTube sensation right now!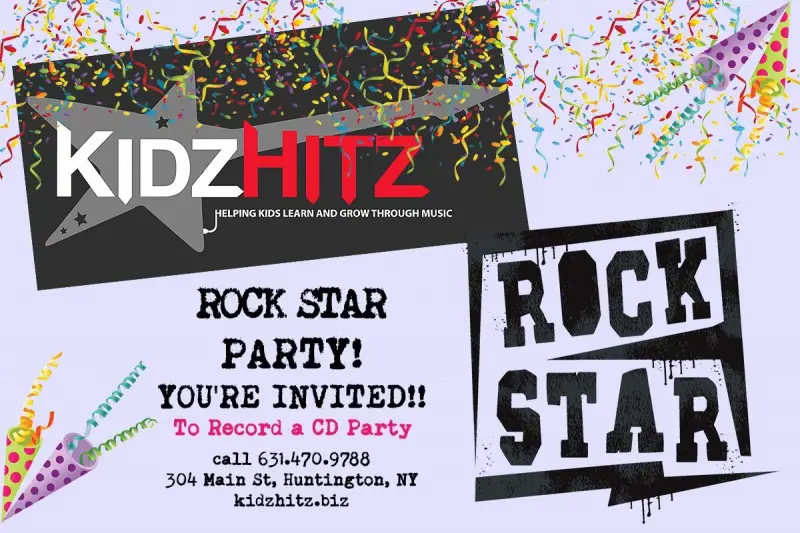 KIDZHITZ trains a new generation of music-minded students who get to balance education with all the fun and awesomeness of great jam and recording sessions. Students learn from professional musicians in an interactive environment combining weekly private lessons and group rehearsals with the ultimate goal of performing live in front of real crowds. Areas of instruction include: music lessons for every instrument at every level and vocal lessons. KIDZHITZ provides for seriously fun & lasting music education!
At KidzHitz we offer music lessons for every instrument at every level. Our teachers are all certified New York State Department of Education, with degrees in music education. Our mission is to help build their confidence in a fun and nourishing environment where we support their growth and musical endeavors. We perform live throughout the year so encourage our students to participate in our weekly group band rehearsals.

MUSIC INSTRUMENT LESSONS
As a published singer songwriter through BMG music Patrizia, the owner of KidzHitz, has a true appreciation for children who want to sing and be heard! KidzHitz offers a complete 24 track recording studio along with private music educators who themselves have performed throughout theirs lives. Our studio helps to support the children who's aspirations are to perform in their school play or local theatre group. We help to build their vocal strength and confidence along with their ability to project their voice in whatever forum they choose.
MEET THE DIRECTOR:
Patrizia the owner of KidzHitz is a publish singer songwriter through BMG music. Having performed throughout the New York metropolitan area for most of her adult life Patrizia understands the importance of helping children to learn and grow through music. The mission statement at KidzHitz is to empower children to greater levels of musical competency in a fun and nourishing environment ranging from music education to music publishing. As a singer songwriter she has accomplished notoriety in her field. Having topped the charts at WBLI radio with a hit single written and produced by her.
Contact Me About KIDZHITZ
Find More
Get NYMetroParents via Email