Pediatric Dentistry @ Westport Dental Associates
Click Here to Get More Info

Little Teeth Truths: Is thumb sucking hurting my child's teeth?
Question: My 8-year-old is still working to break her thumb sucking habit. Is this hurting her teeth and any advice to help her stop?
Answer: Sucking on a thumb or finger is normal for infants and young children and most children stop on their own. However, if a child doesn't stop on their own, we do advise parents to discourage the habit ideally after age 3. Prolonged thumb sucking can lead to crooked teeth and bite problems affecting both baby teeth and permanent teeth that are developing, causing upper front teeth to tip outward and upper jaw to narrow in the back.
Be sure to use a positive approach and focus on praising your child when they are not thumb sucking. Initially, you could try limiting the time and location thumb sucking occurs, for example only at home or only while the child is in their bedroom to help them ease out of the habit. Be sure to speak with your pediatric dentist about specific tips to help your child stop her thumb sucking habit. Your pediatric dentist can offer advice and make recommendations based on your child's demeanor and explain the effects on teeth to your child in an appropriate manner during your regular check-ups. Often, this advice, along with support from parents, enables many children to quit.
Content Credit: aapd.org
If you have any question about your child's teeth that we can help answer, please contact us on Facebook or email us at info@pediatricdentistryofwestport.com
HELPFUL TIPS FOR DENTAL EMERGENCIES TO KEEP ON THE REFRIGERATOR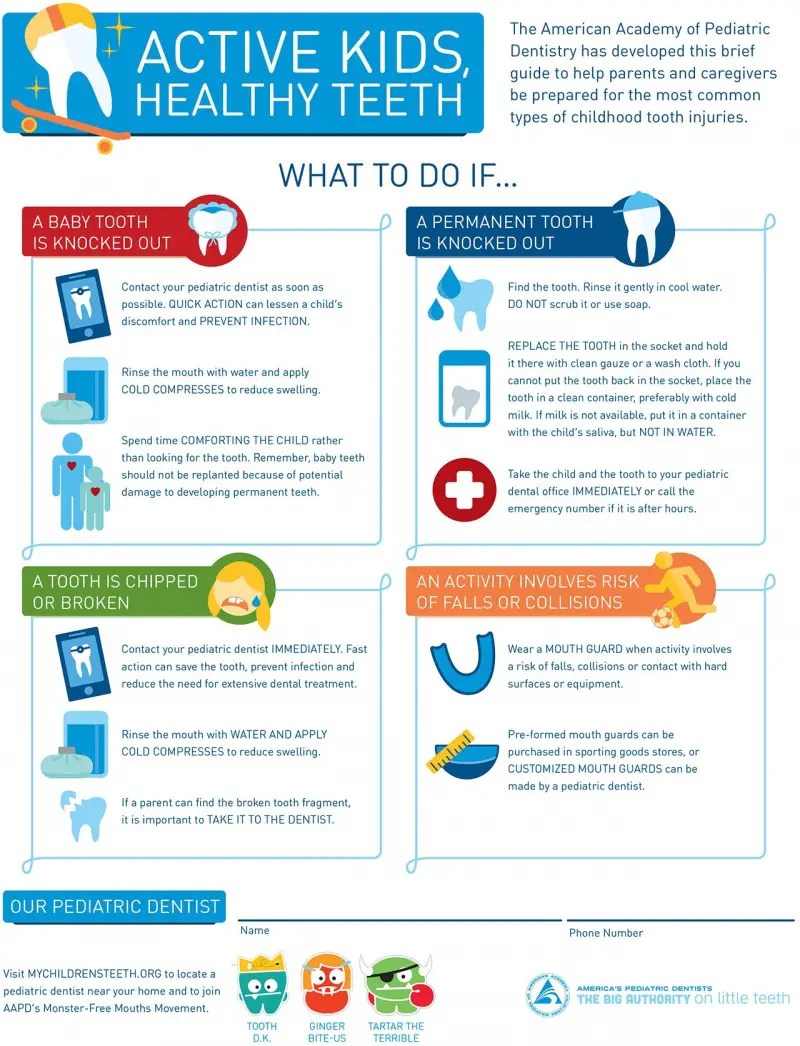 Don't forget to have regular dental visits!
Regular dental visits with your dentist should be twice every year. If you have not made your dental cleaning appointment, making one before the school starts will help alleviate additional stress that comes with busy school schedules.
When shopping for school supplies, add toothbrushes and flossers that your child can take to school. This way they can remember to brush and floss after lunch if possible.
Remember to communicate with teachers so that your child can have a designated "bathroom break" where he or she can brush and floss. Having teachers encourage their oral hygiene will help your child understand the responsibility of maintaining good oral hygiene.
Parents should also have specific reminders for their children, whether it is a sticky note on their bathroom mirror, in their lunch box, or just verbal reminders. During the school year your child has so many things to think about. They are focused on homework, sports, and friends and your reminders will help their oral hygiene become a habit and not a task.
Oral Hygiene plays a huge role in children's self-esteem and confidence. Let's work together to make sure we are involved in that process!
To find out more, visit Aapd.org and Ada.org.
Fun Facts!
HEALTH
We are now open at our new state-of-the-art office! Dr. Hannah Ahn emphasizes the importance of the age 1 visit and feels strongly that starting early helps create a lifetime of healthy habits. We have created a kid friendly environment that includes a fun photo wall with props, a TV on the ceiling, a prize station, and other fun elements. Our goal is to provide the best dental care while keeping the experience fun and memorable for everyone. Feel free to contact us for a tour!
Meet the Health Care Professional

Dr. Ahn graduated from Columbia University College of Dental Medicine and completed her pediatric specialty training at Columbia University Medical Center/New York Presbyterian Hospital. As a board-certified pediatric dentist, Dr. Ahn's goal is to provide exceptional and professional dental care in a fun, friendly environment. She believes that a lifetime of healthy, bright smiles starts at an early age and encourages parents to start their children's dental care at the age of one. She is excited to become a part of the Westport community and is looking forward to meeting your children's dental needs.

Contact Me About Pediatric Dentistry @ Westport Dental Associates
Read More About Pediatric Dentistry @ Westport Dental Associates
Get NYMetroParents via Email