Rockin' Jump-Trumbull
Click Here to Get More Info
25 Trefoil Drive
Trumbull, CT
Rockin' Jump – Mt. Kisco
333 North Bedford Road
Mt. Kisco
914-743-5730
mtk.rockinjump.com
info@mtk.rockinjump.com


203-880-5577
Rockin' Jump Trampoline Park is a safe, clean, family friendly environment for all ages and abilities. At Rockin' Jump you can soar in open jump arenas, play trampoline dodgeball, do flips and somersaults, battle it out on the x-beam, and enjoy nothing but net in a slam dunk zone! Admission includes the use of everything in the park. Also enjoy food and drink from the cafe while socializing in the generous lounge area with free wifi.
As far as your next birthday party or celebration, fundraiser, or team building event you need not look any further. Rockin' Jump offers a private party room, private games, a party host, paper goods, trampoline socks for your guests and much more. Our 2 hour parties include 90 minutes of fun time in all arenas. Each party includes a pizza and beverages. We have additional food options available as well. Just show up and let us do all the work- our parties ROCK for a reason.
Got little ones? We offer Tot Times 5 days a week for children 6 and under. Tuesday-Friday 9-12pm and Saturdays 8-10am. On any one of these days, one parent and one child jump for $15.00 for the entire time period. Each additional child is $3.00.
Looking for specials? The best way to find our about our specials and all the programs we have to offer is to follow us on Facebook, Twitter or Instagram. Check us out online at one of our two great locations:
Trumbull: http://trumbull.rockinjump.com or East Haven Opening Soon: http://easthaven.rockinjump.com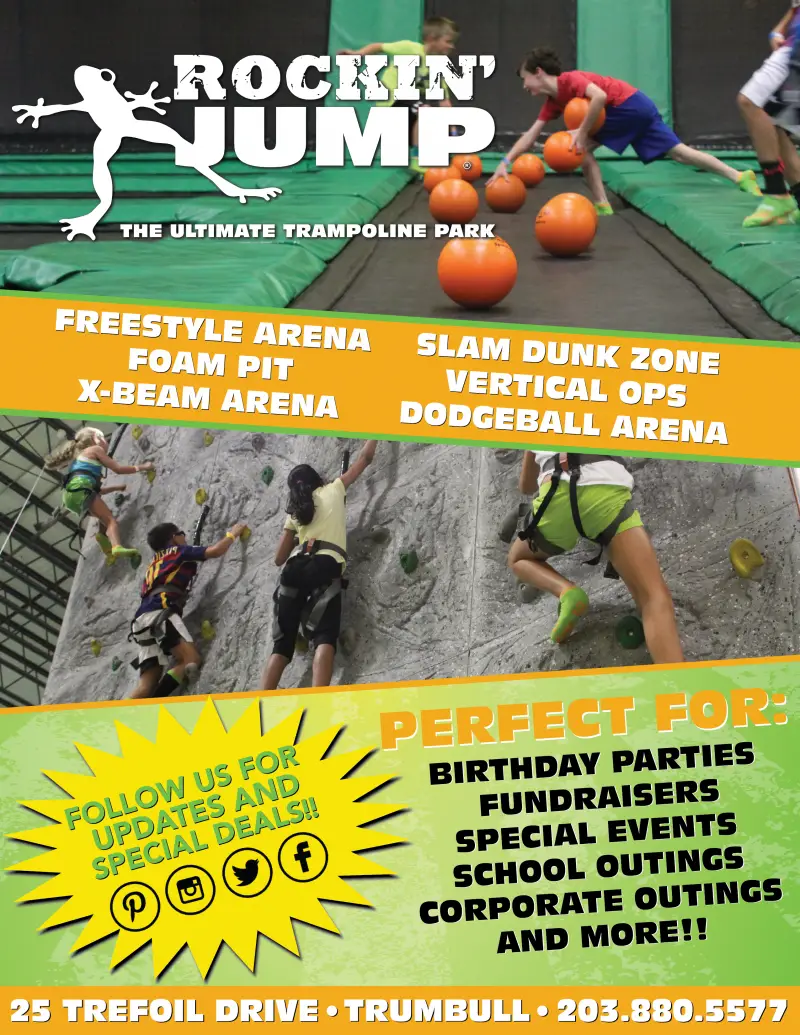 WINTER BREAK ACTIVITIES PRINT GUIDE
Ready to soar in open jump arenas, play trampoline dodgeball, do flips and somersaults, climb with friends, and do fitness challenges? Want a new alternative in the area for birthday parties and family gatherings, where quality food and private party rooms are guaranteed, and fun for the whole family? Rockin' Jump is the place to be! From kids' parties to corporate retreats, youth groups to family reunions, you can find everything you want. No arcades here-just fitness disguised as fun for all ages. Check location websites for special winter school break hours.
Contact Me About Rockin' Jump-Trumbull
Read More About Rockin' Jump-Trumbull