Susan Katz would agree that she has seen some changes since she began her family theater company, Westco Productions, 27 years ago.  These days, she's welcoming a second generation of young theatergoers. "Parents come up to me with their kids and say, 'I used to come to your shows when I was little. I'm so glad you're still here!'  They tell me how they remember coming to Westco's shows and how much of an impact it made on them. We were their introduction to the theater."

   But producing top-notch professional entertainment for an increasingly sophisticated young audience is not without its challenges.  It's not other theaters that are the competition, Katz explains, but soccer, softball and other sports and activities.  Westco's shows, which are one-hour adaptations of children's classic literature, fairytales, folktales and legends, are aimed at ages 3-8.  "I still love attending the performances and watching the children totally engaged in the production," says Katz.  "They are the toughest critics a cast could have."  

   Dan Visconti, an actor with Westco, agrees.  He has played many characters, including Winnie the Pooh in the company's original production of Frosty The Snowman (now in its 18th year as their annual holiday extravaganza).  He says, "Performing in front of children can be challenging — but ultimately rewarding. On the one hand, kids can be very receptive and appreciative of live performances.  Often you get to meet one or two of them after the show, and they'll look up at you like you're a movie star! On the other hand, kids are a tough audience and it can be difficult to determine what is going to be humorous and what is going to get an indifferent reaction. Sometimes it's a letdown if the joke doesn't land the way you want it to." So, depending on the script, he will camp up the humor by adding goofy qualities to his characters. "Performing for kids is a particular skill," he believes. "A lot of people I work with at Westco are great character actors; they just have that zany gift."

   It's this kind of quality that Susan Katz seeks in the actors she hires — all professionals. Part of the criteria is that they have to love children.  And then she tries to keep current, constantly thinking about what will appeal to today's kids, and attending dress rehearsals to analyze the performances from a child-like perspective.

   Katz started Westco at a time when there wasn't much out there in the way of cultural entertainment for young audiences.  She had been involved in producing and promoting concerts and theatrical productions for several years.  During the 1980s, she served as the Cultural Programming Coordinator for the City of White Plains' Department of Recreation & Parks, working on such programs as the Noonday Festival of Live Music, and the Pops In The Parks concerts.

    Westco Productions was launched in 1979 and began presenting family productions at the Westchester County Center Little Theater in collaboration with Westchester County Department of Parks, Recreation & Conservation.  What started as a summer theater program has expanded to a full complement of performing arts programs.  Their Theater For Young Audiences offers 12 to 14 fully-staged musicals for children ages 3-8; Broadway Babes offers Creative Theater Workshops for children ages 5-12, introducing kids to the performing arts.  The Magic To Do Players is a workshop for children with developmental disabilities.  All workshops culminate in performances.  Westco's community outreach programs include Tickets For Tots, which allows young children from low-income households in Head Start programs to attend a series of musical theater productions at no charge.  Bedside Buddies brings costumed storybook characters to bedridden terminally and critically ill children in 15 area hospitals, as well as schoolchildren with special needs.  Healing Walls brings creative murals painted on the walls of children's medical facilities, and the new Sonny Katz Scholarship Fund provides scholarships to college-bound students majoring in the performing arts.  Westco recently started their new concert series at the Irvington Town Hall Theater presenting such renowned artists as Judy Collins and Livingston Taylor this past fall.

   The non-profit Westco entertains more than 30,000 children and families annually at such venues as the Rochambeau Theater in White Plains, the Irvington Town Hall Theater, the Westchester Broadway Theatre in Elmsford, and the Antrim Playhouse in Suffern.  In recognition of their outstanding work and community service, Westco was the recipient of the Westchester Arts Council's 2006 Arts Organization of the Year award.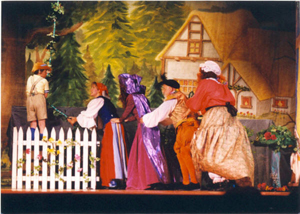 Upcoming shows are as follows:

FROSTY THE SNOWMAN: November 28-30, and December 1-2, 2006.

THE VERY HUNGRY CATERPILLAR & OTHER FAVORITES: December 4-9, 2006. Recommended for preK-2nd graders.

THE WIZARD OF OZ:  December 14-16, 2006.

ALL ABOUT ABE: February 13-15, 2007. Recommended for 2nd-4th graders.

All seats are $14 (with the exception of Wizard of Oz, where tickets are $20). For tix/info: (914) 761-7463; www.westcoprods.com.
 
Pictured: Scenes from Westco's productions of CINDERELLA and JACK & THE BEANSTALK.