1. EXFOLIATE, EXFOLIATE, EXFOLIATE . . . your face and your body! Dead, rough, dry skin acts like a barrier between your healthy skin and the rest of the world. Moisturizers, sunscreen and self-tanners cannot penetrate through that dead dry skin either. For your face, exfoliate about three times a week using an exfoliant containing rounded spheres. They will lift off the dead skin but won't scratch the healthy skin underneath. Gently massage the beads around your face (don't "scrub" hard). Some of my favorites are Skin Milk Facial Scrub, Origins Swept Away, and Creme de La Mer The Refining Facial. If you are pregnant, try using Basq's Rebalancing Facial Cleanser. If you want to give your face a little extra pampering, The Miano Viel Salon and Spa (16 East 52nd Street, 212-980-3222) offers a Sun Facial, which focuses on exfoliation and essential oils that prepare the face for warmer weather and the Oasis Day Spa (two Manhattan locations and one at the JFK airport terminal) offers a Rejuvenation Peel which exfoliates the skin and helps remove previous sun damage. For your body, exfoliate, in the shower, about once a week. I adore Fresh Brown Sugar Body Polish; if you are pregnant, use Basq Citrus Sugar Body Polish. Both of these products use sugar and not salt (which can sting after shaving) to exfoliate and are loaded with yummy-smelling essential oils that also feel delicious on your skin. The Miano Viel Salon and Spa also offers a wonderful Body Polish Gommage, and Bliss Spas has Scrub and Color treatments where the technician not only exfoliates your body but applies your self-tanner as well!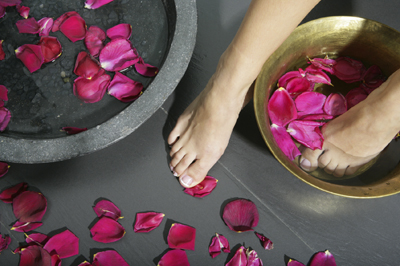 2. GET A GOOD MOISTURIZER WITH A HIGH SPF . . . and start using it immediately. The more hydrated your face and body, the better. Hydrated skin looks healthier and smoother, and your self-tanner will be easier to apply and will last longer. And the high SPF in the moisturizer will protect your skin against the sun's damaging rays throughout the summer and all year long. For your face, try Eucerin Extra Protective Moisture Lotion, SPF 30. It's oil-free, fragrance-free, ideal for sensitive skins, and best of all, costs about $9! Another great facial lotion is Peter Thomas Roth's Max Sheer All Day Defense Moisture Lotion-SPF 30; this contains ceramides, ginkgo biloba, and antioxidant micellized vitamins A and E. For your body, try Olay Body Age Transform Intensive UV Defensive Serum, Somme Institute Double Defense Face and Body SPF 30, or DDF Organic Sunblock, SPF 30. All of these are very moisturizing so there is no need to apply a separate body moisturizer — making them great time savers.

3. FIND A GOOD SELF-TANNER FOR YOUR SKIN. Ahhhh, self-tanners! They give us the look of having sunbathed on some exotic, tropical beach without the harmful rays from the sun. However, not all self-tanners are created equal.  And the results may vary depending on your body chemistry, so sometimes trial and error is the way to go. But who likes to stand there naked for 30-plus minutes waiting for them to absorb? Here are some popular ones that cut down on the waiting time: Clarins Self Tanning Instant Gel (you do not need to wait to get dressed with this one); Model Co. Tan Translucent Airbrush In A Can (you can spray it on and not have to touch your skin); and St. Tropez Whipped Bronze Self Tanning Mousse (starts working in 60 seconds!). Another option is to try a Mystic Tanning session (available at Beach Bum Tanning). You step into a Mystic Tanning booth for less than a minute, are sprayed with a tinted self-tanner, towel off any excess and get dressed. The tint may wash off later in the shower, but the self-tanner remains and continues to work on the skin. If you are pregnant, you should consult with your doctor before using self-tanner or having a Mystic Tanning session, since the "jury is still out" on this.

4. TREAT YOUR FEET TO A PEDICURE. Nothing will ruin your sexy summer sandals more than chipped or cracked toenails and rough looking heels. So get the skin on your feet set for summer by getting a professional pedicure… and go for the "spa" kind. They tend to be more hydrating to the skin, so the results last longer.

DEBRA RUBIN-ROBERTS is the founder of Mommy Makeup… for Chic Moms on-the-go! She is a professional makeup artist, Prescriptives' "Analyst of the Year"; and a New York City mom with a 3-year-old daughter.  It was after she gave birth that she discovered she needed to shorten and simplify her daily beauty routine — leading her to create Mommy Makeup. For more info, go to www.mommymakeup.com, or call (877) MOMMY98.