Whether you're juggling meetings or you're on carpool duty, it is all too easy to forget to stop and eat midday. What you might not realize is that lunch is important - a perfect chance to pencil in some much needed "me time" or do something healthy for yourself. Quit trying to power through the day. Instead, indulge in a mini-break daily. We've got eight reasons to love your lunch (just for starters).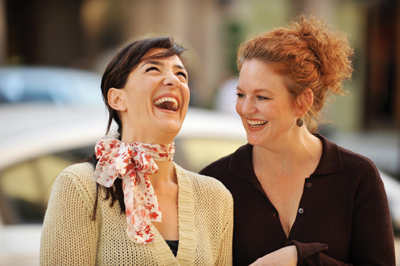 Get out.
While it might be tempting to skip break time, it sets a bad precedent. Eating in front of your desk at work, or standing over the kitchen sink while the kids play a few feet away? Nope, that doesn't count. Gobbling your food down without even tasting it merely brings on the 3:30pm munchies because your brain barely had a chance to process that you ate. Get some fresh air, and savor what you put in your mouth.
Grab some pretty glassware.
It's depressing eating out of a Styrofoam carton or chugging juice straight from your child's sippy cup. Invest in a nice plate, glass, and mug for your home or office to make everyday lunches feel special.
Skip the microwaveable meals.
Sometimes even a good sandwich can feel boring. Don't be so traditional! Grab some crackers and a few different kinds of cheeses and make yourself a modified cheese platter. It will take all your self control not to add a glass of wine.
Walk it off.
Not feeling especially hungry? Use the time to power-walk around the perimeter of your office or around the neighborhood. Twenty or 30 minutes will get your blood pumping and help increase your concentration when you get back to the kids or back to your desk.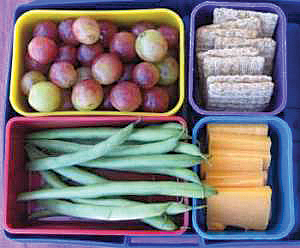 Pack it in style.
Forget tin foil or those boring plastic containers that your mom used - pick up something to stash your lunch in that helps to keep it chilled and separated. Pre-portioned food can help you manage weight and save money on pricey take-out. Perfect for you or the kids.
This brightly colored Bento box keeps foods separated, and dividers are made of silicone, so you can use them to bake. ($24.99, www.laptoplunches.com or Whole Foods stores).
Steal some screen time.
So you love Cougar Town or enjoy daytime soap operas but rarely make the time to watch your Tivo-ed episodes? Take your half hour and laugh along with your favorite sitcom. It will help boost your mood no matter what went on that morning. Check out www.hulu.com; or, if your job sets limits on your web browsing, download your favorite series to your iPod.
Catch up with girlfriends.
Connecting before work or the kids' school day is usually out of the question, and the end of the day is often chock full of soccer practice, homework, and errands. Lunch is a perfect time to get together. Whether you're eating, taking an exercise class, or just talking on the phone, it will help keep your bond strong and leave you feeling connected to the outside world.
Go window shopping.
If you finished lunch at your desk and realize late in the day you have some extra time, head out and pop in that store you always wanted to enter. It'll give you some style ideas or a head-start on gift-buying, and maybe even help you get to know people in the local community better.