Three years ago, Alison Bernstein gave birth to her first child and her first business idea, a real estate company that would help families looking to leave the city for the surrounding 'burbs.  Now, three kids (with a fourth on the way) later, her idea is taking root. 
Suburban Jungle Realty Group
, her newly launched real estate firm, focuses on families who are considering moving to Westchester, New Jersey, Long Island and Connecticut.  And it's useful to parents already in the 'burbs who are thinking of moving to an unfamiliar suburb.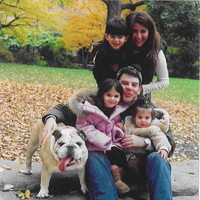 Bernstein herself made the move from Manhattan to Westport, CT, and she knows how difficult it is to figure out what neighborhood is best, particularly, she says, "when each community is so different."  Her service, which is free, has local mommy bloggers offering a firsthand perspective on a neighborhood, the "Inside Scoop".
  Suburban Jungle lets parents and prospective parents easily compare statistics like average home prices, spending on schools and high school graduation rates.  But the company takes comparisons to the next step, with a consultant who meets families and sets up appointments with local brokers in different communities. There are also events where families can meet suburban brokers and learn about different neighborhoods, commuting options and schools.
   One huge benefit of the service is the consolidation of information about an assortment of communities.  Bernstein explains, "When you go to a broker in Rye, the broker touts Rye.  But you want to know what else is out there; the broker in Rye doesn't make money if you look at Scarsdale." Suburban Jungle has an advocate in each town. "There's a lot to learn about each community," Bernstein says. "With Suburban Jungle, no one area is pushed to the exclusion of others.
   "We try to capture what living in each town is about," she says.  Some areas are more laid back; some have more working moms, others have more stay-at-home moms. Bernstein wants to help families make an educated choice.
   The company also helps arrange elementary and high school tours, and recommends that families checking out a community attend such local events as a library storytime or toddler gym class to get a better sense of the parents in the area and "see if it's a good fit."  Bernstein says that most brokers just cite SAT scores at the local high school to indicate a school system's success, but she provides more detailed information about the classroom experience from preschool on up.
   Bernstein is already planning to expand the service to Rockland County.
   To find out more about Suburban Jungle Realty Group, go to
www.SuburbanJungleRealty.com
or call (800) 239-0873.