Some kids scream for ice cream; others scream for the thrill of an amusement park ride. Whether you are searching for looping rollercoasters, gentle water rides, or something in between, there is plenty to excite an entire family at these nearby amusement parks.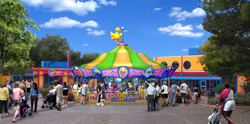 Adventureland
2245 Route 110 Farmingdale, Long Island
www.adventureland.us; (631) 694-6868
Hours: Open March-October; various weekday times, open noon weekends.
Price: FREE admission. Single tickets, $1 (3-5 tickets per ride). Pay One Price bracelet (P.O.P.), 48" and over, $23; under 48", $19.99.
Open since 1962, there are rollercoasters; family, kiddie and water rides; and games. The Birthday Party Special package entitles party to one hour of unlimited riding in outdoor amusement park.
Astroland
1000 Surf Ave., Brooklyn
www.astroland.com; (718) 372-0275
Hours: Open daily June-September at noon
Prices: P.O.P. wristbands, $25.99 Monday-Friday only; kiddie rides, $2.50 each.
"Home of the World Famous Cyclone." There are rollercoasters; family, kiddie and water rides; games, three arcades and two restaurants.
Dutch Wonderland
2249 Lincoln Highway East, Lancaster, PA
www.dutchwonderland.com; (866) FUNatDW
Hours: Open daily June 7-August 24, 10am-8:30pm
Prices: Ages 3 and up, $29.95; 60-69, $24.95; 70 and over, $17.95; 2 and under, FREE.
Featuring 30 rides, including two kid-friendly coasters, water rides, and a merry-go-round. Additions for 2008 include two live stage shows, Thomas Friends and Beyond the Castle Walls, and new water-play elements at Duke's Lagoon. Thomas Friendsis scheduled for at least four performances daily during the regular Park season.
Dorney Park & Wildwater Kingdom
3830 Dorney Park Road, Allentown, PA
www.dorneypark.com; (610) 395-3724
Hours: 10am-10pm (certain days in summer close at 7:30pm)
Price: $35.90; seniors and kids over 3 but under 48" and 62 and over, $18; 2 and under FREE.
New for 2008, Voodoo, is a U-shaped, 704-foot rollercoaster. There are also now designated smoking areas to keep the rest of the parks smoke-free.
Hershey Park
100 W. Hersheypark Drive, Hershey, PA
www.hersheypa.com; (800) Hershey
Hours: 10am-10pm, later on some weekends.
Price: Regular (ages 9-54) $47.95; senior or junior (ages 3-8) $28.95; senior+ (70+) $19.95.
Hershey Park debuts its 11th roller coaster, Fahrenheit, this season, and Howler is a new family ride. Guests will be treated to a fireworks display every Saturday night through August 30, weather permitting.
Lake Compounce
822 Lake Avenue, Bristol, CT
www.lakecompounce.com; (860) 583-3300
Hours: Opens 9am or 11am; closes 4pm, 8pm or 10pm on different days.
Price: Regular (52" and taller) $33.95; junior (under 52") $24.95; senior (over 60 years) $17.95; 3 years and under FREE. After 5pm, $17.95 for all.
Water park, a few rollercoasters and kiddieland for ages 3-10.
Land of Make Believe
354 Great Meadows Road - Route 611, Hope, NJ
www.lomb.com; (908) 459-9000
Hours: 10am-6pm.
Price: $20; ages 2-18, $22; seniors 62+, $18.
This low-tech park geared to families, not teens, has the new Free Fallin', a plunging thrill ride.
Mountain Creek Waterpark
200 Route 94, Vernon, NJ
www.mountaincreekwaterpark.com; (973) 827-2000
Hours: Weekends only through mid-June; beginning June 23, 10am-6pm (opens/closes later certain days).
Price: Over 48", $32.99; under 48" and seniors, $22.99.
This wild water park has 'extreme thrills' and 'wild rides' for those over 48 inches; the 'just for kids' area has sprays, slides, a Fishing Village and a water play fort.
Playland Park
Playland Parkway, Rye, NY
www.ryeplayland.org; (914) 813-7010
Hours: Vary. Check the website.
Admission: FREE. Rides are $2-$4 each; 6-Hour Fun Band (6 hours of unlimited rides on day of purchase), $35.
There's a separate Kiddyland for kids under 36", more than 50 rides and attractions for children and adults, and free entertainment.
Quassy Amusement Park
2132 Middlebury Road, Middlebury, CT
www.quassy.com; (203) 758-2913
Hours: Vary. Check the website.
Price: Pay-one-price: adults $21, seniors and kids under 45" $17. Individual tickets $3, book of 12 tickets $27; each ride is one ticket.
The "Galleon" Pirate Ship has dropped anchor as Quassy celebrates "100 Years Of Fun" this season. Fun Slide, a three-lane family slide, has also been added.
Sesame Place
100 Sesame Rd. Langhorne, PA
www.sesameplace.com; (215) 752-7070
Hours: 10am-8pm.
Price: $47.50, seniors 55+ $39.50, kids under 2 FREE.
Rides, water slides, colorful shows and furry friends. New in 2008 is the Sunny Day Carousel.
Six Flags Great Adventure
1 Six Flags Boulevard, Jackson, NJ
www.sixflags.com/greatAdventure/index.aspx; (732) 928-1821
Hours: Open 10:30am, close times vary.
Price: $59.99; junior (under 54"), $29.99. 3-park, which includes Wild Safari and Hurricane Harbor water park, $84.99; 48.99 for juniors.
This season debuts some new attractions. The Dark Knight Coaster is a thrill ride featuring Batman and The Joker; and Glow in the Park is a musical nighttime light parade. Fly Me To The Moon – 3D is a ride stimulation based on the new animated movie that brings the excitement of Apollo 11 and the first walk on the moon.
Splish Splash
2549 Splish Splash Drive, Calverton, NY
www.splishsplashlongisland.com; (631) 727-3600
Hours: 9:30am or 10am-6pm or 7pm.
Price: Adults 34.99; under 48" tall, seniors 62+ and handicap, $25.99; children 3 and under, FREE.
Ninety-six exciting acres of rides and water slides for all ages.
Victorian Gardens
Wollman Rink, Central Park, NYC
www.victoriangardensnyc.com; (212) 982-2229
Hours: Vary. Check website.
Price: $6.50 weekdays, $7.50 weekends, plus $2-$3 for rides and games. Unlimited rides $12 weekdays, $14 weekends. Children under 36" inches, FREE.
Big thrills for small kids, plus you're in Central park. This season, get ready to hammer rodents back into their holes in the new game, Whac A Mole. Live performances every Friday-Sunday all season.
Zoom Flume
91 Shady Glen Rd, East Durham, NY
www.zoomflume.com; (800) 888-3586
Hours: June 27-August 10, weekdays, 10am-6pm; weekends till 7pm. August 11-September 1, 10am-6pm.
Price: $23.95; ages 7 and under $19.95; spectator pass $12.95; infants FREE.
Featuring safe and fun water slides, the Lagoon Activity Pool and a lazy river.