A Timeless Tale
Disney's Beauty and the Beast will be released for a limited time this fall on Blu-ray and DVD, allowing parents to introduce a new generation of kids to this classic tale.
In 1991, it was the 30th film released in the Walt Disney Animated Classics series. That same year, it became the first animated feature film to be nominated for the Academy Award® for Best Picture, and won two Oscars® for Best Original Song and Best Original Score. Next, it earned three Golden Globes® for Best Motion Picture, Best Original Score, and Best Original Song (1992), and two Grammy Awards (1993). A few years later, the film earned another first, as the first Disney animated film to inspire a Broadway stage production of the same name. And, on October 5, Beauty and the Beast will join Disney's Diamond Collection when it's released for a limited time in Blu-ray Hi-Def.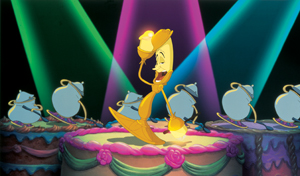 Unavailable since 2003, this classic movie claims the honor of Disney's most requested film. According to representatives from Walt Disney Studios Home Entertainment, the film's Blu-ray transformation will "reveal the magic, music, and majesty of the film as never before experienced," with state-of-the-art picture restoration, 7.1 Digital Surround Sound, and hours of additional viewing experiences, including behind-the-scenes features, deleted scenes, enhanced music tracks, and immersive games.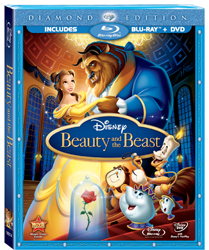 The Blu-ray version will be followed on November 23 by the limited release of a 2-Disc standard definition DVD.
The re-release is an opportunity for viewers to experience the magic of this timeless tale in a fully restored format. Disney lovers will also have the chance to meet (or get re-acquainted with) the film's loveable characters-including the independent and clever heroine, Belle, and her tormented prince; Lumiere, the passionate and hospitable candelabra; Cogsworth, the tightly-wound mantel clock who functions as head of the household; and the bubbly and motherly Mrs. Potts, voiced by six-time Golden Globe® award winner Angela Lansbury.
For more information on the film, visit www.disneydvd.disney.go.com/beauty-and-the-beast.html.