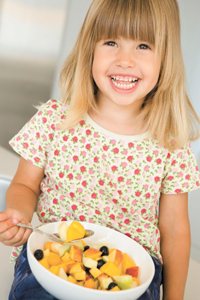 Healthy habits start at home. Here is a countdown of tips for the New Year to keep you and your family healthy at the start of this new decade, and for decades to come.
10. Start 2010 off right, right from the very start: Eat breakfast. A healthy breakfast provides energy and nutrients for the day ahead at work or school. An added bonus: People who eat breakfast are more effective at losing and keeping extra weight off.
9. Get more vitamin D. The American Academy of Pediatrics recently doubled their recommendation for vitamin D intake to 400 IU. There is emerging evidence linking it to heart health for adults, too. Food sources include salmon, tuna, eggs, fortified milk and orange juice.
8. Make menu planning a team effort. Talking through a few meal options (all healthy, of course) with the kids and incorporating their input gives them more ownership of mealtime. And the more involved they are, the more likely they are to be interested and to try new foods.
7. Drink less sugar. Eight out of ten kids and two out of three adults in the U.S. drink a sugar sweetened drink every day. Kids are in the process of developing their taste preferences, so training taste buds to prefer less sweet flavors early on is smart. Offer water, sparkling water with a bit of 100 percent juice, or low fat, no-sugar-added rice, soy, almond, oat, or even regular cow's milk.
6. Take the stress out of mealtime. You pick the food that goes on the table, so make it healthy and go for variety. Let kids choose what and how much to eat from your offerings. Don't over accommodate picky eaters-a lot of the fuss is about their asserting their independence. They won't starve and will learn to be flexible.
5. Try, try again with veggies. We're biologically programmed to avoid bitter tastes because it used to warn us about harmful substances. Unfortunately, a lot of vegetables have a bitter element to them, even though we know they aren't poisonous. That means kids might not like veggies right away, but keep offering them, and kids will develop a familiarity and maybe even a preference for them.
4. Let kids help in the kitchen. Kids are more likely to get excited about what's on the table if they've had a part in creating it. You might be surprised how eager they are to try a pureed tofu and chives veggie dip if they're the ones who mixed it.
3. Say no to "kids' food." Children aren't born instinctively wanting chicken fingers or French fries. They learn food habits, so it is possible to steer clear of typical kids' menu items. Remember that the healthful foods you provide are what "kids' food" should be.
2. Offer diversity. Create meals with a variety of fruits, vegetables, lean proteins and whole grains. Exposing kids early on to a range of healthy foods promotes acceptance and helps develop a savvy palate.
1. Be a hero! Your kids look up to you and will imitate your healthy habits. That's a great reason for the whole family to eat right, together.
For additional guidance, seek out a local pediatric nutritionist in New York City through the Greater New York Dietetic Association at www.GNYDA.org.
Maggie Moon, MS, RD is a freelance nutrition writer and registered dietitian based in New York City, and is Corporate Nutritionist for NYC grocer, FreshDirect.