Related: books 4 our school challenge winners, local nyc schools win books, free books for school,



Parents, faculty, and PTA members from across the New York City area worked together to win new books from the "Books 4 Our School" campaign co-sponsored by the Brooke Jackman Foundation and NYMetroParents.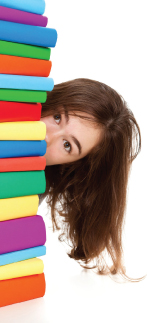 To support children's literacy, NYMetroParents and the Brooke Jackman Foundation, a nonprofit in New York City, teamed up to help stock shelves of school libraries throughout the five NYC boroughs and Westchester, Rockland, Nassau, Suffolk, and Fairfield counties through the first-ever "Books 4 Our School" challenge.
Throughout all of April, parents, faculty, PTA members, local community members, and many more demonstrated their commitment to children's literacy by working within their neighborhoods to garner the most votes for their children's school. The schools with the most votes each won 75-100 new books for their library while another 10 qualifying schools were selected at random.
A well-deserved shout-out: Front-runner P.S. 144Q Col Jeromus Remsen of Forest Hills in Queens surpassed all other entrants by a wide margin, securing more than 200 votes. The school offers extracurricular activities like Student Read-Alouds and Book-of-the-Month, staying true to its mission of "preparing youngsters for life through literacy."
The winning schools, listed alphabetically, are:

A Child's Garden, Fairfield, CT

Easter Seals Project Explore, Valhalla

Lee F. Jackson School, White Plains

Mrs. Bee's Learn & Play, LLC, Stamford, CT

Norwood Elementary School, Port Jefferson Station

Paul J. Bellew Academy, West Islip

P.S. 115Q - The Glen Oaks School, Floral Park

P.S. 139 - The Rego Park School, Rego Park

P.S. 144Q Col Jeromus Remsen, Forest Hills

P.S. 15 - The Patrick F Daly School, Brooklyn

P.S. 290 - Manhattan New School, Manhattan

P.S. 314 - Muscota NewSchool, Manhattan

P.S. 84 - Jose De Diego School, Brooklyn

P.S./M.S. 114 - The Belle Harbor School, Belle Harbor

Setauket Elementary School, East Setauket

St. Elizabeth Ann Seton Regional School, Bellmore

Thiells Elementary School, Thiells

Upper Nyack ElementarySchool, Nyack

Wake-Eden Christian Academy, Bronx

William O. Schaefer Elementary, Tappan

Hundreds of parents were the first to know about the "Books 4 Our School" challenge through NYMetroParents's free newsletter. To be the first to know about future initiatives and opportunities like this one, get on the list at nymetroparents.com/newsletter.
---
Get Your FREE Indoor Activity eGuide!
---
More Local News - Westchester County Articles
Your Driver Is Here Offers Car Service for Minors
Clay Art Center Begins Saturday Drop-In Class
The Milestone School Begins Weekly Capoeira Class
JCC of Harrison Offers New Early Childhood Programs
Westchester's Ridge Hill Welcomes Santa to Town at North Pole Adventure

Be a good fellow parent and share this with a friend who would be interested
Local Local News - Westchester County Sponsors
See Our Local News - Westchester County Directory