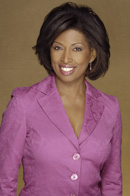 One of the most recognizable and respected broadcast journalists in the New York-New Jersey metropolitan area, Brenda Blackmon has had her share of accolades and honors, from a trio of Emmys, to a stack of Associated Press awards, to two honorary doctorate degrees - and in March of 2006, she was chosen one of The Network Journal's "25 Most Influential Black Women in Business."
Still, the road to success for this magna cum laude graduate of Fairleigh Dickinson University had its share of challenges along the way, including Blackmon's need to face down racial barriers and snubs during her early career, and her greatest personal challenge: supporting her only daughter Kelly through her battle with lupus.
Kelly was diagnosed with the autoimmune disease in 2004 while in college, and was fortunate that her lupus at that time was not life threatening. That changed, however, when, as a new bride in 2007, Kelly found herself on the brink of death: comatose a hospital bed in the ICU, facing the shut down of every one of her major organs. She remained hospitalized seven and a half weeks - a period that Brenda acknowledges as the worst time of her life.
"The doctors said 'no hope' - words no mother ever wants to hear. But we asked people around the world to pray for her and not lose hope and have faith," says Blackmon. "They did and God listened. The doctors called her a miracle."
Today, after serious rehab and loving support from her mother and husband, Kelly is doing well. As for her mom, in 2008 Brenda Blackmon created The Kelly Fund for Lupus, Inc. (thekellyfundforlupus.org), a proactive, nonprofit organization with the following mission statement: "[To] support, serve and educate both those affected by lupus and the general public, with particular emphasis toward women in minority communities, by promoting awareness and understanding of the disease in an effort to improve treatment and diagnosis while searching for the cause and cure."
The Facts:
At work: Co-anchor of My9 WWOR-TV's 11pm newscast.
At home: Divorced; daughter Kelly, 25.
Q. What was Kelly's favorite activity while she was growing up?
BB: Dance classes, ballet - since she was old enough to tiptoe. From age 2, she always went to The Academy in Nashville, where she loved to dress in frilly costumes and do recitals.
Q. What was the most important lesson you tried to impart to her?
BB: Pray every day. The power that prayer has on problems big and small. It's a lesson she learned, and we often talk about its impact on her life, still.
Q. Besides you, who had the greatest influence on Kelly while she was growing up?
BB: Grandma was the biggest influence - both grandmas. Kelly had separate names for them and they passed their experiences on to her. Their love was given freely and unconditionally. And oh, how they spoiled her! They both stressed the importance of education and giving back when you have been given so much, and Kelly embraced that and made them both proud.
Q. Looking back, what was the most memorable family outing you shared?
BB: Traveling abroad to Euro Disney. I surprised her and her cousins at the end of the school year when she was 9. We stayed in an apartment, we learned to ride the subway, we saw the Mona Lisa and the great sites of Paris together. She finally understood what all those French lessons were about! And she discovered that people are nice everywhere when you try and speak the language.