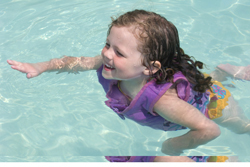 During the winter season, it's not easy to make sure that children get the exercise they need. Swimming lessons are a great way to keep them fit, happy, and comfortable. And contrary to popular belief, getting wet during a swim lesson does not lead to an increased risk of getting sick. So for your child's wellbeing — and for yours — take them to a swimming pool this season.
     A lot of children however, are scared of the water.  Yet it is vitally important that children get used to swimming from a young age. Swimming lessons give children confidence and help build self esteem. But most importantly they establish integral safety guidelines in a child's mind that will keep them safe at the pool or the beach.  While your child may have no interest in being the next Michael Phelps, being comfortable and safe in and around water is a key part of her development.
     "Learning water awareness at an early age is a fundamental first step," says Jim Spiers, founder of Swim Jim in Manhattan.  "It calms the nerves of the child, and, of course, the parents as well."  Spiers believes that swimming is "the perfect indoor activity. There are physical benefits, such as better coordination and gross motor skills, and emotional benefits, like increased socialization and decreased anxiety."
   Getting started early is key. There are swimming programs for children as young as 6 months. Instructors start with songs and games that put very young children at ease near the water.
At about  "2 1/2 to 3 years old they can start to learn the basics of swimming: kicking and floating," says Joshua Friedrich, aquatics director of the Rockland County YMCA. "But from 6 months to 3 years old they can get acclimated to the water with a parent by dunking and blowing bubbles."
   At around 6 years old children can begin to swim competitively. "Before that," says Friedrich, "their balance and stokes are off. Their body can't do what is expected for swimming. Competitively, they have to be able to keep up and do a full lap or two."   Swimming programs generally discourage racing at this age, but will sometimes have a swim meet or other event where there are no losers and everybody ends up with a ribbon. 
    And unlike a lot of other sports that children may take up, swimming is a lifelong skill. Whether you are 5 or 50, swimming has great benefits, from keeping in shape to stress relief.