When visitors make their own stuffed animal at the Build-A-Bear Workshop, they place a heart inside with the stuffing to bring their new furry friend to life. On March 7, the Build-A-Bear Workshop showed that it, too, has a heart when it introduced its new "Cause for Celebration" parties, which will benefit St. Jude Children's Research Hospital®, the nation's top-ranked children's cancer hospital.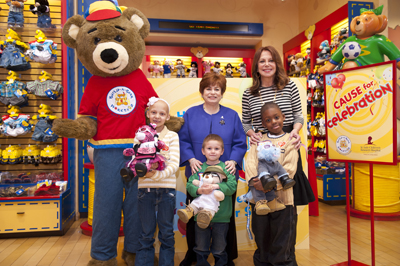 Marlo Thomas and Maxine Clark, Build-A-Bear Workshop founder and chief executive, pose with Bearemy and St. Jude patients Ella, Alejandro, and Cameron at the "Cause for Celebration" launch party on March 7.
During a celebration at the Fifth Avenue store, which was attended by special guest Marlo Thomas, daughter of St. Jude founder Danny Thomas, along with several young patients from St. Jude, the Build-A-Bear Workshop Foundation donated $15,000 to St. Jude and announced that Build-A-Bear stores nationwide will now offer "Cause for Celebration" parties to guests who make a $10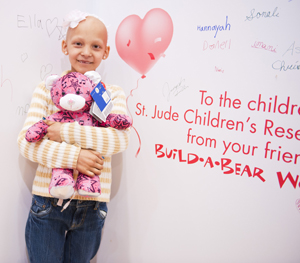 donation when they book a party. The entire $10 will go to St. Jude to support the hospital's lifesaving research and cutting-edge medical treatment. Additionally, birthday girls and boys can request donations for the hospital in lieu of gifts and can create a fundraising webpage to collect online donations for St. Jude as part of their celebration.
For every "Cause for Celebration" party held in stores, Build-A-Bear will give a child at St. Jude a special celebration gift package - including a personalized card from the guests who attended the store party and a $10 gift card - which will be presented at the completion of the child's hospital stay or when s/he reaches a special milestone.
For more information or to book a party, visit www.buildabear.com.