Most of us think of the Triborough Bridge as a necessary evil, but there was a time when it was truly celebrated. Now, for its 70th anniversary, it is being feted anew at the New York Transit Museum.
The Triborough Bridge: Robert Moses and the Automobile Age
, a new exhibit, puts the bridge in its historical context.
Robert Moses, who shaped the roadways throughout the New York City region, never knew how to drive. But he envisioned highways for the leisure class; one project involved roads to Jones Beach (and what became Robert Moses State Park). The Triborough Bridge, which helped get drivers to Long Island, also allowed Long Island farmers to get their produce out to a bigger market. The Triborough was also the first city bridge designed exclusively for cars; the bridges that preceded it were for subways and horse-drawn carriages.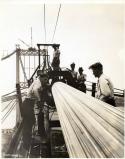 Historical photographs show workers at the construction site without hard hats or protective clothing. And if you examine the film of the bridge dedication ceremony, you will notice that many people simply walked across — they didn't own cars.
The Triborough Bridge is a misnomer: it is actually three bridges, a viaduct, two islands, and 14 miles of approach roads. Amazingly, the construction, which started in 1929, came in under budget and under schedule. The toll, when the bridge first opened, was 25 cents.
Artifacts from the Bridge & Tunnel Authority include scale models; one model is a duplicate of the one made for the World's Fair panorama. The old photographs of the street life depict a very different scene from today. Budding engineers may be interested in the cross section diagrams of the bridge. The bridge was redesigned to save money — changing from a Gothic design to Art Deco.
The transit museum, which is celebrating its 30th anniversary, holds weekly children's programs. Though these are more limited in the summer, Hands-on History will be held August 26 and 27 from 2-4pm. Kids can examine subway switches and controls. Also, on August 5 and 6, kids can learn about "Trolleys in the Street".
Info:
Where: The corner of Boerum Place and Schermerhorn Street
When: Tuesday-Friday 10am-4 pm; Saturday and Sunday, noon-5pm.
How much: Adults, $5; seniors and children 3–17, $3
For more info: (718) 694-1600; http://mta.info/mta/museum