It's hard to picture the 61-year-old Carly Simon as middle-aged. Somehow, she'll always be that '70s girl with the sultry voice who set the standard for sexy album covers, the talented singer/songwriter who has always spoken her mind and advocated for change.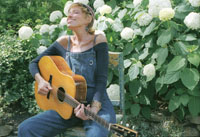 On January 2, Columbia Records is releasing her latest — a lullaby album. This doesn't mean, however, that Carly has become a grandmother or that she feels she needs an image change.

"I don't even want to think about becoming a grandmother!" she insists, revealing that the new CD was never her idea. She wanted to do a rock 'n roll album with Booker T and the MGs. But her record company would have none of it, claiming her name is "synonymous with lullabies."

"Whatever that means," she remarks, adding: "I was disappointed because I was so looking forward to doing the album with Booker T. But I ended up playing the company game," which, she acknowledges, "never ends."

For almost 40 years, her voice has been stellar and her life original, creative, and marked by survival. There have been the lights in her life — chart-topping hit singles, an Academy Award for songwriting — and the darks — a well-publicized divorce from first husband James Taylor, her diagnosis of breast cancer. And through it all, a personality that sometimes threatens to come undone. "Ben always says I wear my nervous system on the outside," she says, referring to her son. "And it's true — I don't take things lightly. I'm disturbed by the world."

But content to get back to the subject of lullabies, she brightens when she talks about this transition. "With the record company insisting I do this album, it wasn't exactly a vote of confidence. But I had a great A&R (Artist & Repertoire) guy, Jay Landers. I trusted him, and I started getting into it. I first have to know that I have somebody who believes in me and what I can do. I had my list of songs I wanted to include, and he had his. Jay told me, 'Don't sing anything to wake the baby.' I disagreed. So we had a lot of constructive sparring going on!"

The result is Into White, a collection of both classics and original material, the title of the album taken from a Cat Stevens '70s song. It's a lovely album — "better than lovely," Carly believes, now happy that she has produced a new collection that's "part classic, part departure."

Her trademark dusky voice probably won't wake the baby, but this album is far from quiet and boring. Sweet, gentle, soothing and beautiful are probably better words to describe her renditions of classics like "All I Have To Do Is Dream", "Blackbird", "Oh! Susannah", and "Scarborough Fair", which she mixes with James Taylor's "You Can Close Your Eyes" and her own "Love of My Life" and "Quiet Evening".

Carly's two children, Sally, 31, and Ben, 28, sing backup vocals on their dad, James Taylor's, song. Both have followed in the footsteps of the parents who were dubbed "The Royal Couple of Rock" when they appeared together on the cover of Rolling Stone after their marriage in 1972. Ben is a full-time singer/songwriter, now a healthy grown son after an operation removed one of his kidneys at age 3. This was one of Carly's darkest hours. "I was not calm," she remembers. "And right after Ben had his operation, I went on tour — and collapsed. I was very thrown by it all."

Sally, who's married, sings and composes, "and does a lot of other things, like writing and knitting. She is endlessly creative," reports her mom. When she talks about her children, Carly's voice exudes warmth.

The Taylor children have been raised by parents whose work and private lives have been well publicized. Carly still won't own up to which one of her numerous lovers inspired her to write "You're So Vain", and she readily acknowledges her anxious approach to life. "I can put on a happy face, but only for three minutes," she confesses. And James Taylor makes no secret of his battle with depression and heroin addiction. Her children have reacted, says Carly, "by pulling back — Sally more so than Ben.

"Ben is an artistic person who doesn't have a choice about it. He is a lot like me, and James. It's hard for him not to wear his heart on his sleeve."

Sally, she says, is a lot harder, but insists that the word come with quotation marks. "She has learned to be. But she is also incredibly soft; she is a peach, who can reach deep into her heart when she needs to," says her mom.

While grandmotherhood can wait "until it's the right time for Sally (and I'm sure once she's pregnant, I'll change my mind completely)," parenting her children has been a sustaining life force.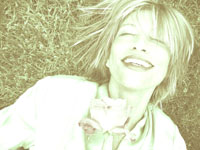 Carly comes from a musically gifted family. Her father, Richard Simon, who co-founded Simon & Schuster, played the piano, while her mom, Andrea, sang. Their three daughters also loved to sing. Joanna went on to become an opera singer. Despite the fact that Carly did not enjoy performing live, and rarely does it to this day (perhaps, she suggests, because "I had a very bad stammer as a child"), Carly and her sister, Lucy, became the Simon Sisters. They performed their folk music in coffeehouses and small clubs, before Lucy moved on to full-time parenting, and Carly went solo.

They were raised in the family homes — one in Stamford and one in Riverdale — "where I loved having a lawn and cutting flowers from the garden and putting them in my room," Carly says, and where she believes her preference for the countryside was established. Even when Ben was attending The Calhoun School and Carly was raising him the city, taking him to the Natural History Museum and to play ball in Central Park (Sally was off at boarding school), "I always wanted to get out of the city," Carly confesses. After decades of traveling back and forth from her home on Martha's Vineyard to New York City, she is now a full-time Vineyard resident, as are her children. Her second husband, Jim Hart, whom she married in 1987, is a commuter. He is head of the Greenwich Village Chamber of Commerce, and works in insurance, "but he is also a poet," his artistic wife hastens to add.

Carly has written six children's books and the libretto for the family opera, Romulus Hunt, which was commissioned by The Metropolitan Opera and which she says is still "the farthest I've ever stretched." Still, she muses, she wishes her writing had progressed to short stories and novels. She is currently working on a play.

But much of her time now is spent advocating for the release of a family friend, young singer/songwriter John Forte. Forte was Ben's schoolmate, sentenced to 14 years on drug-related charges, a verdict that came after entrapment and, Carly insists, was racially motivated. "His cause has nearly been the end of me," she declares. "There is so much sorrow and I often have the feeling that I can't go on with it. But I am this man's lifeline."