"Peter Pan" is a two-week-only holiday run at The Theater at Madison Square Garden this December. Get your tickets now because the magic of Peter Pan and Tinkerbell shouldn't be missed! (And get a $15 discount too! Read on...)



Peter Pan Prologue (Voice Over)
"Stars are beautiful, but they may not take an active part in anything, they must just look on forever. The older ones have become glassy-eyed and seldom speak. But the little ones still wonder. They are not really friendly to Peter Pan, who has a mischievous way of sneaking up behind them and trying to blow them out; but they are so fond of fun that they were on his side tonight, and anxious to get the grownups out of the way. As soon as Mr. and Mrs. Darling were out of the house, the smallest of the stars in the Milky Way screamed out . . .'Now, Peter'!"
It may only be a two-week window, but the dates to see Cathy Rigby as Peter Pan at The Theater at Madison Square Garden are primo, overlapping prime-time family outings for the holiday season's big three: Hanukkah, Christmas, and Kwanza.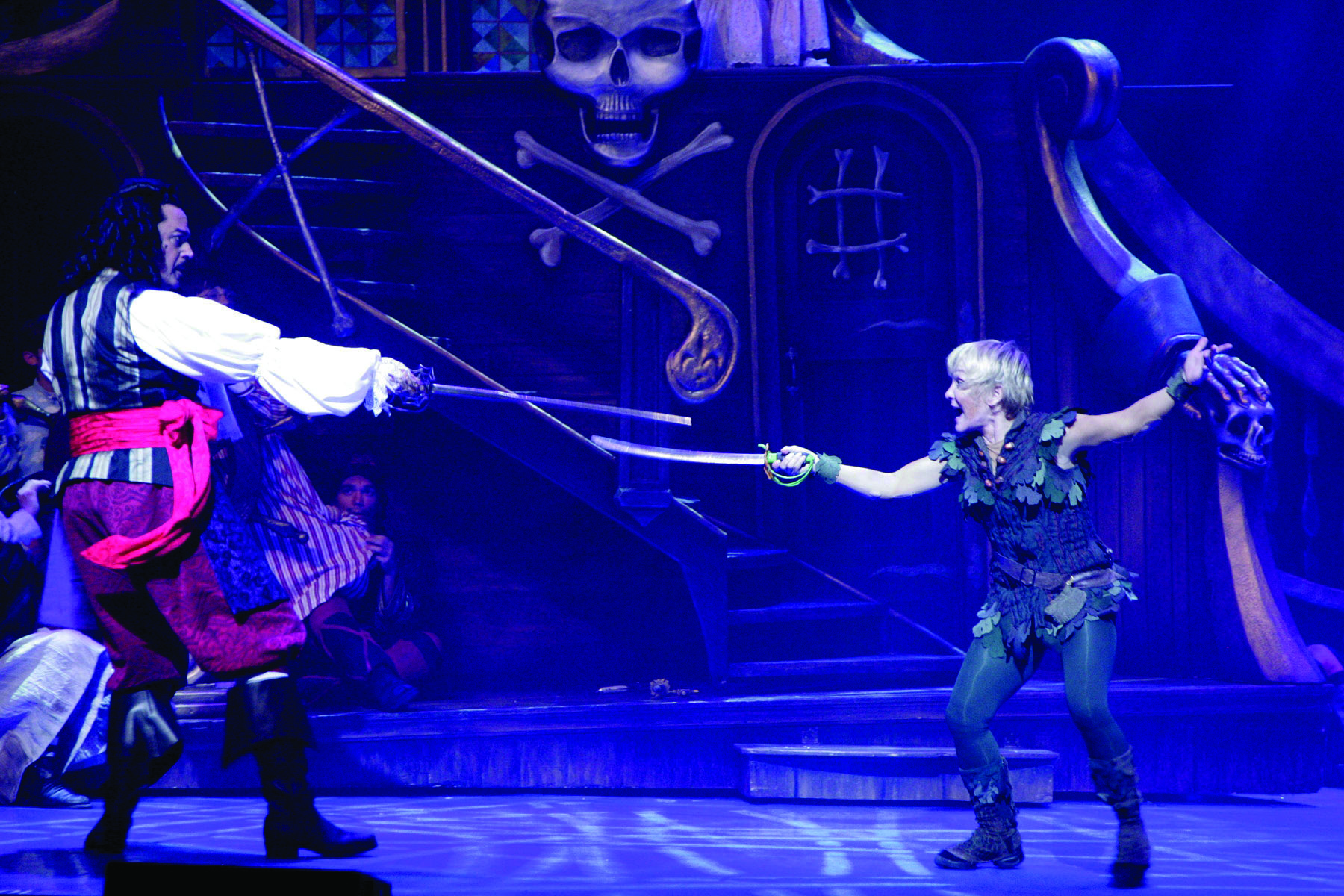 If you think we're jumping the gun a bit by delivering the Pan-Rigby lowdown a month in advance, keep in mind that tickets for this beloved musical featuring the Olympic gymnast-in what maybe one of her last performances as the puckish boy who refused to grow up-are pretty much guaranteed to fly out of the box office without any help from Tinkerbell's fairy dust. (Unlike past Decembers, Broadway won't be serving up any super-sized holiday shows like White Christmas, The Grinch, or Elf this year. So clearly Peter Pan is destined to be the wild card must-see in a season ruled by traditional fare such as Radio City's Christmas Spectacular and Lincoln Center's Nutcracker, pretty much the only other big family draws on the 2011 menu.)
The songs from Peter Pan are unforgettable-and contagious. Guaranteed, even if you thought you'd forgotten them, you'll be singing (or at least humming) along. Just to jog your memory, here are some highlights: "I've Gotta Crow," "I'm Flying," "Wend," "I Won't Grow Up," and the lullaby, "Tender Shepherd."

And so, in keeping with the sage (albeit timeworn) advice regarding early birds and worms, I offer up the following website links for scoring tickets before the sell-out rush:
www.theateratmsg.com or www.radiocity.com/events/cathy-rigby-is-peter-pan-1211.html

Flying High
In a 21st-century theatrical arena where meteoric flyers have become the "in" thing, it's Peter Pan's trailblazing legacy that has made it possible for characters like Spider-Man, Mary Poppins, and Cirque du Soleil daredevils to soar above the proscenium, flabbergasting the socks off theatergoers with airborne feats of derring-do.

And yet, it's this musical, introduced in the mid-1950s, that has managed to spark the imaginations of Boomers, their offspring, and their offspring's offspring for more than half a century.

Over this time period, only three actresses have ushered thousands of children to Never Land via Broadway: Mary Martin, Sandy Duncan, and Cathy Rigby, with Rigby holding the record for recurring Broadway appearances: 1990, 1991, 1998, and 1999.

Considering her ability to marry her legendary athleticism and acting skills with her love for the character of Peter, it's no wonder Rigby's return to New York is being celebrated with a brand new production. Look for enchanting new sets, costumes, re-orchestrations and staging alongside some innovative aerodynamic bells and whistles. Plus the handpicked supporting cast has built-in kid-appeal, featuring Tony-nominee Tom Hewitt (The Rocky Horror Show), who already established his Captain Hook/Mr. Darling alter-ego(s) opposite Rigby's Pan during a 2009 run in Branson, Missouri.

The Magic of the Role
As for Rigby, like Peter himself, playing the role that's defined her post-gymnastic career (she retired at 19) never gets old. Nor do her memories of the show.

"The first person I ever saw play Peter was Sandy Duncan, and of course she was wonderful," Rigby recalls, adding that this was a special Broadway outing for her and her son "when he was little."

"And as I watched it and fell in love with it, I remember thinking that a show with flying and dancing would be right up my alley...that this is a role I would love to try."

The fact that Peter was endlessly mischievous and daring only added to her attraction to the character. "He was always right out there with his feelings-had no trouble bragging and saw life as an ongoing adventure," she says. "So naturally, when the opportunity came to play this part I was so happy to have the chance to do it...and to continue to do it all this time."
Peter Pan Trivia
From printed page to the Broadway stage
The first stage adaptation of J.M Barrie's classic children's story was mounted December 27, 1904 at London's Duke of York Theatre.
The success of the initial production pretty much ensured its popularity as an annual Christmas event for Londoners for decades to come.
Edwin Lester (founder of the Los Angeles Civic Light Opera), obtained the American rights to Peter Pan and adapted it from the Barrie book as "a play with music" as a showcase for Mary Martin.
The original score featured music by Mark Charlap and lyrics by Carolyn Leigh.
After a lukewarm reception in West Coast previews, Jerome Robbins, the show's director, pulled out the big Broadway guns, signing on lyricists Comden and Green (On the Town; Bells are Ringing) and composer Jule Styne (Funny Girl; Gypsy) to create additional songs, including the signature number, "Never Never Land."
The version we've come to know and love debuted on Broadway in 1954 starring Ms. Martin, who won a Tony for her performance and reprised the role of Peter on TV three times: twice live in black and white (preserved on kinescope) and in a popular color version in 1960 that was broadcast during the '60s and '70s.
Both Sandy Duncan (1979 revival) and Cathy Rigby (1990 revival) received Tony nominations for their portrayals of Peter. Rigby's second (1998) Broadway revival was telecastin 2000 in front of a live theater audience.

All the Details

Where: The Theater at Madison Square Garden, 4 Penn Plaza (between 31st and 33rd Streets)

When:
Wednesday, 12/14: 7pm
Thursday, 12/15: 11am & 7pm
Friday, 12/16: 7pm
Saturday, 12/17: 2 & 7pm
Sunday, 12/18: 1 & 6pm
Tuesday, 12/20: 7pm
Wednesday, 12/21: 2 & 7pm
Thursday, 12/22: 2 & 7pm
Friday, 12/23: 2 & 7pm
Saturday, 12/24: 1pm
Tuesday, 12/27: 2 & 7pm
Wednesday, 12/28: 2 & 7pm
Thursday, 12/29: 2 & 7pm
Friday, 12/30: 2 & 7pm
Tickets: $35-$99; available at: www.theateratmsg.com or
www.radiocity.com/events/cathy-rigby-is-peter-pan-1211.html
*Special Discount: Save $15 on tickets with offer code NYMP
Visit theateratmsg.com/nymp (case sensitive), go to the Theater at MSG Box Office, or call Ticketmaster at 866-858-0008


8 ticket limit per order. Offer valid on select seats for select performances through December 24, 2011. Service charges apply to phone and internet orders. All sales are final - no refunds or exchanges. Offer may be revoked or modified at any time without notice. Offer subject to availability. Not valid on previously purchased tickets. Other restrictions may apply. Offer expires Saturday, December 24, 2011. Tickets for people with disabilities also available through the Disabled Services Department at 212-465-6034. ©2011 Stephen Youll and ©2011 MSG Holdings, L.P. All rights reserved.