Related: consuelos, kelly ripa, lever 2000, soap, Ugly Betty, Lifetime, oxygen ,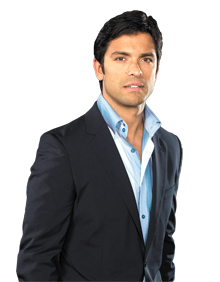 Yes, he's over-the-top handsome and talented – no news flash there – but Spanish-born actor Mark Consuelos has recently added "family spokesperson" to his resume. He is now working with Lever 2000 on the company's Make Every Touch Count effort, a timely campaign that encourages families to proclaim their closeness through a photo contest. And, for the record, the competition benefits the Boys & Girls Clubs of America, an organization dedicated to providing "safe places and positive programs for kids to help them develop close personal bonds."

"It is more important than ever to celebrate family closeness and reflect on what is really important in life," says Consuelos. Make Every Touch Count invites parents to submit a photo "showing how your family embraces the power of touch," he explains.

As a devoted father or three, Consuelos was drawn to Lever 2000's outreach concept after being introduced to the results of a study by the company revealing that the increased economic stress facing families these days was substantially alleviated by closeness — physical affection in particular. The company's deodorant soap is described as leaving skin "soft and touchable," making Lever 2000 a natural for encouraging tactile shows of affection. And the prizes offered are impressive. The grand prize consists of a professional photo shoot, an appearance in a Lever 2000 ad, and a dining set from the BHG Furniture Collection. Ten runners-up will take home a digital camera. (For details, visit www.lever2000.com; the contest runs through July 22).

Observes Consuelos, "In our family, we know how important it is to make time to cuddle with the kids. One thing I always do is make sure I am around to tuck my kids in at night and give them one last kiss before they fall asleep."

The Facts
At work: TV and film actor. Recent projects include ABC's Ugly Betty (Detective Averamo) and Oxygen network's movie of the week, Husband for Hire. Upcoming: Lifetime Movie Network films Killer Hair and Hostile Makeover, based on the Crime of Fashion mystery book series by Ellen Byerrum.
At home: Manhattan. Father of three: sons Michael, 12, and Joaquin, 6, and daughter Lola, 8; wife: Kelly Ripa.

Q. What is your favorite activity with your children?
MC: Spending time on our boat during the summer because there is nowhere for them to run. They'd have to swim to get away from us! In the winter we all love to ski. We just started learning as a family last year and can't get enough.

Q. What is the most important lesson you try to impart to your children?
MC: Work hard and always try your best. My parents instilled these values in me, and I think it's important to pass them on to my kids.

Q. Who was your greatest child-raising influence, and why?
MC: My parents because I lived with them and they raised me.

Q. What is your approach to disciplining your children?
MC: Firm, fair, and always following through. Once you say no, it's no.

Q. What was a memorable family outing?
MC: Our trip out to Arizona and the Grand Canyon last summer. We loved the Pink Jeep Tour in Sedona. They take you on a tour through the red rocks in a jeep and then set up a barbeque at sunset. The kids also loved the Goldfield Ghost Town. Five of us in a minivan for two weeks. Priceless!




---
Get Your FREE Indoor Activity eGuide!
---
More Celebrity Parents Articles
Celebrity Parents: Gossip Girl's Kelly Rutherford
Celebrity Parent Jennie Garth: From Beverly Hills 90210 Teen to Veggie Queen
Katherine Paterson Gives Advice on Children's Books
Jessica Hecht: Stage and Screen Actress, Mother of Two
Sen. Kirsten E. Gillibrand: Mom and Children's Health Care Advocate

Be a good fellow parent and share this with a friend who would be interested
Local Celebrity Parents Sponsors
See Our Celebrity Parents Directory