Related: children, kids, book, writer, story, McNally Jackson Books, author,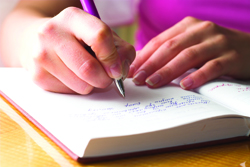 Calling all aspiring children's book writers! McNally Jackson Books is holding a Children's Story-Writing Contest. Submissions should be a maximum of 350 words geared towards children ages 3-8. Illustrations welcome, but not required. Include name, phone number, and email address. Entries will be read by a blind panel. Deadline February 9; winners will be notified by February 15, and have their stories read during an Authors Showcase in the McNally Jackson café on February 21. Email stories to [email protected] or leave two printed copies in a sealed envelope at their front register at 52 Prince Street, between Lafayette and Mulberry Streets. For more info: www.mcnallyjackson.com.
---
Get Your FREE Indoor Activity eGuide!
---
More Education Articles
How to Prevent a Homework Meltdown
Literacy Resources in the New York Metro Area
Literacy Resources in Nassau County, Long Island
Literacy Resources in Suffolk County, Long Island
Literacy Resources in Queens

Be a good fellow parent and share this with a friend who would be interested
Local Education Sponsors
See Our Education Directory