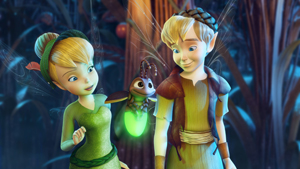 The second film in the Tinker Bell series welcomes viewers back to Pixie Hollow - a world where tadpoles blow the best bubbles, fireflies are a girl's best friends, and fairies bring the change of seasons to the world.
Tinker Bell and the Lost Treasure, released on Disney Blu-rayTM and DVD on October 27, follows Disney's tiniest and most beloved fairy on her biggest adventure yet - with a little help from her friends, of course.
"I was very interested in making an adventure film," says Director Klay Hall, an ex-motor cross racer who still rides in his free time. The film has all the magic of the first, Tinker Bell: A Fairy's Tale, with twice the action. While the other fairies are busy bringing autumn to the mainland, Tink's quest for a magic mirror takes her on a chaotic hot air balloon ride, across the path of two bullying - but sensitive - trolls, and into the uncharted area north of Neverland.
Tink's biggest help on her new adventures is Terence, her good-hearted but clumsy best friend. "We wanted to introduce some boys into the franchise," Hall explains. But developing Terence's character wasn't easy. Hall and the team, including Producer Sean Lurie, struggled to find a balance between strength and compassion. "Klay and I have heard that girls don't like pushovers," Lurie jokes. "Terence is strong when he needs to be," Hall says. "He's also very compassionate, quick to forgive, and admits when he's wrong. He's a really good role model."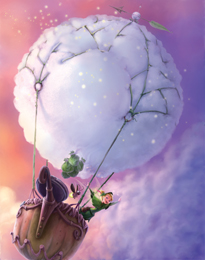 Tinker Bell, on the other hand, from the top of her high blonde bun to the tips of her pointy green shoes, is every bit the feisty character she was in Disney's classic Peter Pan film - just a bit more vocal. "We have a lot of respect for the first film," Hall says of Peter Pan. Before they started the project, Hall and the creative team captured frames of Tinker Bell's expressions and attitudes in Peter Pan, studied how she acted in the film, and had many conversations about her personality.
The filmmakers recognized Tink's icon status, and also came to realize that a large part of her appeal is how easy it is for young audiences to relate to her. "We spent a lot of time thinking about what makes the Tinker Bell character so popular," Lurie says. "Part of it is that she's not perfect. She gets frustrated and turns red when she's angry, and that's what people respond to."
Hall agrees that there's something about Tinker Bell that captivates her viewers. "She's just a 5-inch-high fairy, but she has a mind of her own. She's strong-willed, but also funny and compassionate. She's a classic Disney character."
While they concede that the Tinker Bell series may appeal more to girls, Lurie and Hall think Tinker Bell and the Lost Treasure has something for everyone. A true test of this occurred during production when Hall ran some scenes of the film by his 12- and 15-year-old sons. "Even the 15-year-old weighed in on some parts and said 'Whoa, Dad, that's really cool,'" Hall recalls.
"We didn't want to make this a film only for 5-year-olds," Hall explains. "My main objective was to entertain the whole family - to tell and embrace a story we can all relate to, from the littlest to the oldest."
That's why, in classic Disney style, the film wraps up an action packed adventure with an important message to its viewers:
The greatest treasures are not gold, nor jewels, nor works of art.
They cannot be held in your hands; they're held within your heart.
For worldly things will fade away, as seasons come and go,
But the treasure of true friendship will never lose its glow.
"The heart of Tinker Bell and the Lost Treasure is that friendship is more important than things," Lurie explains. "It's the greatest treasure of all."
About Director Klay Hall and Producer Sean Lurie
Personal: Hall and Lurie were both born in California, at St. Joseph's Hospital in Burbank, across the street from Walt Disney Studios. Both are married and currently live in Los Angeles. Hall has two sons, ages 12 and 15. Lurie also has two sons, ages 6 and 4.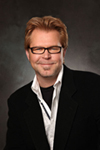 Professional: Hall graduated from the Character Animation program at the California Institute of the Arts, where he had a Disney scholarship. He has since had a full career in animation that includes his Emmy Award-nominated work on The Simpsons. He rejoined the ranks of the Walt Disney Company as a director for DisneyToon Studios and is developing a top secret animated film for the studio.
After "falling into animation" about two decades ago, Lurie served as production manager on The Rugrats Movie and coproducer on the Oscar- and Golden Globe-nominated The Wild Thornberrys Movie. Now on board with the Walt Disney Company, Lurie will next produce Tinker Bell: A Winter Story, the fourth film in the Tinker Bell series, due out in 2011.
Kids: Print Out and Color Tink Yourself!