For a city known to be big and sprawling, Dallas is surprisingly easy to navigate. Despite the "Live Large. Think Big." motto of its Convention & Visitors Bureau, its attractions tend to be clustered. So you can see a few sights and call it a day.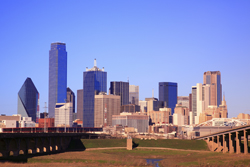 Shopping has an appeal all its own in this part of Texas. I'd like to think what attracted my teenage daughters to Galleria Dallas was the idea of a bit of exercise.  No need for mall walking here — there's an ice skating rink on the premises.  But it was the 200-plus shops, many on the luxury scale, that really interested them. The Galleria rink has extensive hours, and it you stay at the Westin, right in the Galleria, you can take a quick spin. Another downtown hotel/shopping complex is the Westin, connected to Plaza of the Americas, also sporting an indoor ice skating rink.  And a trip to the Highland Park Village mall might qualify as educational: This National Historic Landmark was the nation's first shopping center, and remains current, with many high-end boutiques.
   My husband, a history buff, convinced my kids that the one place they had to see was The Sixth Floor Museum at Dealey Plaza.  This museum, which delves into details of President Kennedy's history, assassination, and legacy, is housed in the purported location of shooter Lee Harvey Oswald.  The museum relies on news footage, voice recordings and photographs to tell the story; its multi-media presentation resonates well with kids.  There's also a worthwhile audio tour, with a special version geared towards ages 6-12.
   I thought everybody in Dallas drove, but we walked to several destinations at the recommendation of a docent at The Sixth Floor Museum. One was the West End Historic district, which has outdoor cafes and the Dallas World Aquarium.  This huge aquarium (OK, some stuff is oversized here) has a new rainforest exhibit, Orinoco-Secrets of the River, featuring animal and plant life of Venezuela.  The 'canopy' tour has sloths, howler monkeys and many colorful birds; the 'understory' features crocs, piranhas and poison dart frogs. The aquarium also has living coral reef ecosystems, sharks and an eight-story exhibit on the Mundo Maya, focusing on the coast and rainforest of Central America.
   Afterwards, we walked to the Dallas Arts District, heading to The Dallas Museum of Art, known for its ancient-through-contemporary art collections and extensive family programming.  The museum is connected to The Nasher Sculpture Center, which has a huge garden. The museum's glass ceiling makes even the galleries appear to be outside.
   There is another museum area, Fair Park, a National Historic Landmark with nine museums.  The Museum of Nature and Science, the result of last year's merger of the Dallas Children's Museum, the Museum of Natural History and The Science Place, truly espouses Dallas's living large motto.  It has an 'urban farm' with a supermarket, wildlife dioramas, dinosaurs, an IMAX theater and a planetarium.  It alone can occupy your family for days.
Info:
Westin Hotels:  www.starwoodhotels.com
Galleria Dallas:  ice skating is $7, plus $3 to rent skates. (972) 392-3361; www.galleriarink.com
The Sixth Floor Museum: open daily 9am-6pm.  Summer hours:  10am-6pm Tuesday-Friday, 10am-8pm Saturday, noon-6pm Sunday and Monday. Adults $10; seniors and ages 6-19, $9; 5 and under, free.  Audio tours $3.50 each. www.jfk.org
The Dallas World Aquarium: open daily 10am-5pm. Adults  $15.95; children 3-12, $8.95; 2 and under, free. www.dwazoo.com
The Dallas Museum of Art: open Tuesday-Sunday 11am-5pm, till 9pm on Thursdays (and free from 5-9pm).  Adults $10, seniors $7; students $5; children under 12, free. www.dallasmuseumofart.org
The Nasher Sculpture Center: same hours and admission as above. www.nashersculpturecenter.org
The Museum of Nature and Science: open daily 9am-9pm.  Adults $8.50; seniors $7; children 3-12, $5; combo tickets with planetarium and IMAX available. www.natureandscience.org
For more info: www.visitdallas.com