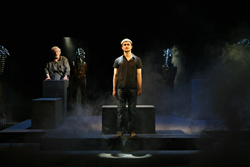 Daniel Radcliffe walks into an upstairs room at Sardi's looking like a typical New York teen: black jeans, long-sleeved navy tee, the suggestion of a beard and, for the record, no specs, round or otherwise. He offers no hint of his roots until he speaks, at which point his British accent charms the socks off of every Yank in the room. Harry Potter has arrived — sort of.
Radcliffe's afternoon appearance at the legendary Broadway restaurant is, in fact, strictly media-related (no young Potter groupies milling about), with the subject matter far from limited to the 19-year-old actor's onscreen Harry Potter persona. This series of interviews — mostly by TV types with camera crews in tow — is also focused on Radcliffe's official reason for being in New York: to star as Alan Strang, an emotionally disturbed teenager seeking psychiatric redemption, in the superb Broadway revival of Equus.
"I've never really trained or studied acting, so you run on instinct," he says, acknowledging that he's grown more secure playing Alan since the show opened in February 2007 at London's Gielgud Theatre.
The role, which requires Radcliffe to appear nude at one point, may seem an unusually daring choice for someone so strongly identified with a kid-lit hero, but he shows no sign of discomfort onstage; his performance is spellbinding.
"You rehearse and rehearse and understand what you're saying and why you're saying it," he continues. "You understand your relationships with the other characters and your own character. I don't think at this stage I need to do too much more because I don't know what else works for me yet."
Whatever he's doing, he's doing it well, receiving glowing reviews for his performance both in London and here in New York, where the play opened this past November. Moving from one interview set up to another, Radcliffe is at ease, swigging from a bottle of water between responses, using gestures liberally to put various points across, and genuinely seeming to enjoy answering whatever questions he's asked — even if he's hearing them for the umpteenth time. He is, in short, nothing like the multitudes of Hollywood teen stars whose shenanigans make for constant YouTube fodder.
According to Radcliffe, there's a reason for this: kid film actors in the U.K. are kids first and actors second. There is no built-in sense of entitlement. "In England, child actors are treated like children," he says, "while in the States you see 10-year-olds treated as stars."
Richard Griffiths, who plays Harry's horrible Uncle Vernon Dursley in the Potter films, costars with Radcliffe in Equus as the psychiatrist seeking to diffuse Alan's emotional demons. And because of their history working together on screen, they have an effortless chemistry on stage.
Before making the leap from movies to theater, not only did Radcliffe tap into Griffiths' expertise ("He's a bit of a Broadway legend since winning a Tony for History Boys"), he also received advice from many senior Potter films cast members, including Imelda Staunton (the cloyingly nasty Dolores Umbridge in Harry Potter and the Order of the Phoenix) and Alan Rickman (Professor Snape), a veteran of numerous Broadway shows, who saw Equus in London and told Radcliffe that he needn't be afraid of American audiences.
"He explained how welcoming the Broadway community would be," Radcliffe says, "and they certainly have been."
Daniel Radcliffe/Harry Potter Trivia
• In addition to being close with his best-friend costars, Emma Watson (Hermoine) and Rupert Grint (Ron), as well as Gary Oldman who plays Sirius Black, Radcliffe also maintains close ties with several behind-the-scenes Potter people (hairdresser, stunt double, etc.), most of whom have worked with him since the first film (released in 2001), Harry Potter and the Sorcerer's Stone. 
• His favorite Potter book — and film — is the fifth: Harry Potter and the Order of the Phoenix.
• The sixth film, Harry Potter and the Half-Blood Prince, is (tentatively) set for release in the U.S. on July 17, 2009.
• The day after Equus ends its limited run on February 8, Radcliffe will be on a plane back to the U.K. On February 15, he'll begin shooting the two-part film version of J.K. Rowling's final Potter book, Harry Potter and the Deathly Hallows. 
A Few Words About Equus
While Equus is not suited to young children (it is both sexual and centers on an act of blinding of six horses), it should not be ruled out for sophisticated adolescents. In fact, if you were comfortable with your teen seeing Spring Awakening, this production would be appropriate. Plus, because teenagers today have grown up watching the Potter films, they'll appreciate the opportunity to see Radcliffe taking on a role close in age to their own.
If, however, your kids are too young, do see Equus on your own, if only for the thrill of a brilliant night of theater. And, of course, when they're old enough, you can always fill them in on what it was like to see their movie idol live on Broadway — far outside the Harry Potter box set.
Equus is playing through February 8 at the Broadhurst Theatre, 235 W. 44th Street. For reservations, call 212-239-6200 or visit www.EquusOnBroadway.com.