DISNEY RELEASES 'JAKE AND THE NEVER LAND PIRATES' DVD AND SOUNDTRACK
Related:
jake and the never land pirates yo ho mateys away
,
jake and the never land pirates cd
,
jake and the never land pirates dvd
,
Disney releases "Jake and the Never Land Pirates: Yo Ho, Mateys Away!" on DVD, including seven adventure-filled episodes from the series, along with a new album featuring 18 swashbuckling songs by The Never Land Pirate Band.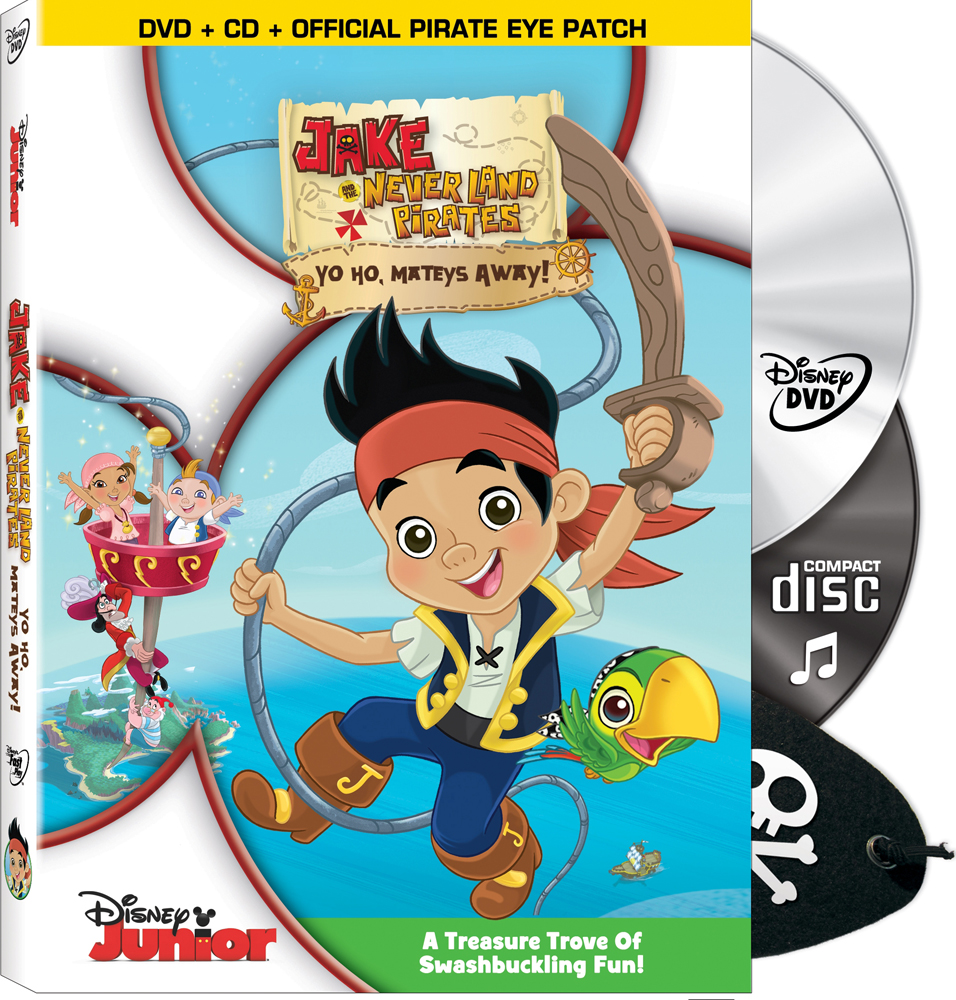 A new soundtrack and DVD inspired by Disney Junior's #1 series, Jack and the Never Land Pirates, set sail this fall.
About the DVD
A music-­filled, interactive treasure hunt, the series introduces a crew of kid pirates -- leader Jake and pals Izzy and Cubby -- and follows their Never Land adventures as they work to outwit two infamous characters, the one and only Captain Hook and Smee, from Disney's classic "Peter Pan." Every episode features the animated Sharky and Bones characters as they pop up throughout to perform original pirate ditties, and each episode concludes with a live action music video featuring The Never Land Pirate Band.
About the Soundtrack
Written and performed by Loren Hoskins and Kevin Hendrickson, a.k.a. Sharky and Bones of The Never Land Pirate Band, the album features 18 swashbuckling tracks, downloadable activities and games to plan the perfect pirate party, a Sing-­Along version of the show's theme song, and a bonus track from a future episode. The deluxe edition includes a pirate bandana.
The album features a variety of songs that kids and parents can enjoy together. Songs include the kooky, comical "Hot Lava," "Aw, Coconuts," "Pirate Password," and the arrrgh-rated "Talk Like a Pirate." Some songs refer to characters in the show, while others capture the island spirit of Never Land. All songs can be heard in episodes of the show.
Preview the soundtrack here.
The DVD and CD combo pack are available at Disney.com ($14.99).
---
Get Your FREE Indoor Activity eGuide!
---
More PRODUCTS Articles
Holiday Fashions for Boys and Girls
Photographer Behind Humans of New York Releases Children's Book
New Book Encourages Kids to Give Up Halloween Candy
Runnin' Wild Kids Shoes Owner Opens Toy Store
Top 10 Audiobooks for Halloween Season