Disney goes out on a limb — or, maybe a fin — by tinkering with its phenomenally successful movie, The Little Mermaid, but the Broadway version should please both fanatical devotees of the animated version and neophytes.  Most importantly, it will also appeal to the chaperones who will have to accompany the young Mermaid fans.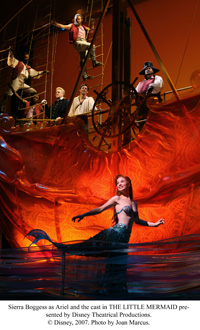 The company could have rested on its gills and presented a live version of the film (as it did with Beauty and the Beast), but it has taken the riskier and more satisfying Lion King route and re-imagined the musical for the stage.  Much of the original source material is retained, including the Alan Menken/Howard Ashman songs, "Part of Your World", "Kiss the Girl", and "Under the Sea". Glenn Slater has added additional songs, like the extremely catchy "She's in Love", and the comic "Positoovity" sung by the sea gulls.
   Purists will note that the Disney movie is not the original source; it is Hans Christian Andersen's story, and Disney took liberties with the tale, particularly with the happy ending.  But the basic outline — girl meets boy, girl loses boy — remains.  Ariel, the mermaid of the title, is a strong character, even if she has to spend a good deal of the time mute. She does get to rescue Prince Eric, and she vanquishes Ursula, the sea witch.
   Colorblind casting has become commonplace, but The Little Mermaid also uses a refreshing variety of body types.  When you bring a star-struck young girl to the theater, it's nice for her to see realistic bodies onstage.
   The staging has unusual demands — half the action is supposed to take place underwater.  The director, Francesa Zambello, choreographer Stephen Mear and scenic designer, Geroge Tsypin, have done an inspired job, with 'mer-people' gliding on Heelys and managing to dance gracefully.  The scenery colorfully captures the underwater scenes, and Disney magic conveys the action of falling underwater and swimming up to the surface.
   The show is recommended for ages 6 and up.  On the day I saw it, there were many younger audience members, some of whom cried during the storm and witch scenes.  But many boys were in evidence; Ariel's friend, Flounder, is portrayed by a rotating cast of young boys. The show is not just for young princesses.
Info:
 Where: Lunt-Fontanne Theatre, 205 West 46th Street
 When:  Tuesday-Saturday, 8pm, Wednesday and Saturday, 2pm matinees, Sunday, 3pm
 How much:  $51.50-$121.50
 For more info: www.disneyonbroadway.com