Update your Easter recipe repertoire this year with these two delicious dishes full of healthy ingredients and kid-pleasing decorations. Plus, see our tips on how to get your kids involved in the kitchen.
Spiced Carrot Cupcakes With Lemony Cream Cheese Icing

Eat your vegetables for dessert! This updated take on classic carrot cake includes whole wheat flour and substitutes a carrot purée for some of the usual oil. Makes 12-15.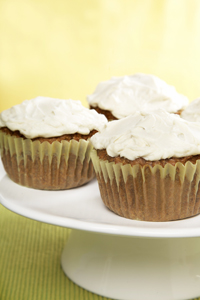 For the Carrot Cupcakes:
1/2 cup all-purpose flour
1 cup whole wheat flour
1 teaspoon baking soda
1/4 teaspoon salt
1 1/2 teaspoons ground cinnamon
1 teaspoon ground ginger
1/2 teaspoon grated nutmeg
2/3 cup vegetable oil
1 4-ounce jar carrot purée (carrot baby food) or applesauce
1 cup firmly packed brown sugar
2 large eggs
1/2 teaspoon vanilla extract
1 1/2 cups fresh carrots, finely grated
1/3 cup golden raisins (optional)
1/3 cup walnuts, finely chopped (optional)
12 paper or foil baking cups/pan liners
For the Lemony Cream Cheese Icing:
8 oz. Neufchâtel or reduced fat cream cheese, softened
3-4 tablespoons powdered sugar, or to taste
2 tablespoons lemon juice
1 teaspoon fresh lemon zest (optional)
1/2 cup chopped walnuts (optional garnish)
Make the Cupcakes:
1. Preheat oven to 350°F and line a 12-cup muffin tin with paper or foil liners.
2. In a mixing bowl, combine both flours with the baking soda, salt, and spices.
3. In another bowl, whisk together the oil, carrot purée (or apple sauce), sugar, eggs, and vanilla extract. Beat in the flour mixture until just combined. Add carrots, raisins, and chopped nuts (if using), stirring until just combined.
4. Fill the muffin tins about 2/3 full with batter and bake in middle of oven until a tester toothpick comes out clean, about 18 minutes.
5. Turn cupcakes out onto a rack and cool completely before icing with the lemony cream cheese icing.
Make the Icing:
1. In a mixing bowl, beat together the Neufchâtel or reduced fat cream cheese, powdered sugar, lemon juice, and lemon zest (if using) until smooth.
2. Spread the icing over the cupcakes and sprinkle on the chopped walnuts (if desired).
Kids in the Kitchen:
Get kids involved in mixing the batter and icing, filling the muffin cups, and frosting the cooled cupcakes.
Since the walnut pieces are an optional garnish, they can be included on half the cupcakes and omitted on the other half.