Registered dietician Lorraine Danowski offers advice on how to prepare healthy meals and snacks for your family - fast!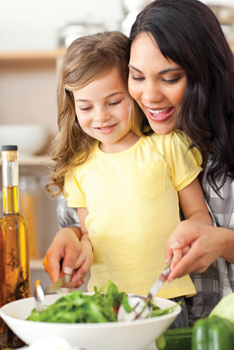 Registered dietician Lorraine Danowski says the biggest challenge she hears from her clients is getting a healthy dinner on the table when they're busy with after-school activities and a hectic family lifestyle. "You have to plan to really be successful when it comes to losing or maintaining weight, or just having better health - there's no easy way around it," she says.
Menu Prep
On Sunday evenings, look at the week's schedule of activities and commitments and plan a menu for each night. Knowing what you're going to cook will take the stress out of dinner time and allow you to control what your children are eating.
You can also cook additional meals or extra servings of vegetables ahead of time and reheat them throughout the week. Leftover chicken? Add it to a salad, soup, or pair it with different side dishes.
Fish (wild types are best), homemade whole-wheat pizza with grilled chicken and veggies, or even mac and cheese with lowfat milk and cheese and less butter are good options if you know you won't have a lot of time to prepare dinner. "Even a sandwich is better than stopping at a fast food restaurant because you're out of time," explains Danowski, who is also a clinical instructor for the dietetic internship program for the department of family medicine at University Hospital and Medical Center at Stony Brook.
Convenience vs. Control
Prepared foods or pre-packaged items may be convenient but are filled with sodium, preservatives, and mystery ingredients. "There are some convenience products that everybody uses, but that doesn't build a super-healthy diet," Danowski says. Make your own chicken fingers, lean hamburgers, or baked French fries at home so you can control the ingredients, how they're prepared, and best of all, the flavor.
Meals during the day can also be tough if your child rushes out the door in the morning or purchases lunch from the school cafeteria. "The only way to ensure your kids are eating healthy is if you prepare their meals yourself," she says. For breakfast, make a whole grain waffle with fresh fruit and yogurt without a lot of added sugar on the side. Breakfast bars with lots of fiber and protein can be convenient - just be sure to read labels and avoid tons of sugar, high-fructose corn syrup, and trans fats. For lunch, pack a sandwich and cut up fruit in advance, or pack raw veggies and lowfat dip or hummus as a side.
The Great Vegetable Challenge
Marne Gabay, a Manhattan mom of two, says she struggles every night to get her son to eat his vegetables. "I've given up. He'll take a bite of a carrot and if there's a speck of parsley, he won't even touch it." Gabay says she's successfully concealed vegetables in meatballs, and her son will eat fruit, though his favorite foods are chicken, pasta, and pizza. "I'm hoping his taste buds will change and one day he'll grow out of it," she says.
If your kids cringe at the sight of green on their plates too, continue having them try different varieties of vegetables, starting first with the types they already like. Offering an array of flavors and textures may help them to discover new favorites. "I always tell my kids they don't have to eat it if they don't like it, but they have to at least taste it," Danowski says.
According to a study published in Journal of the American Dietetic Association in 2009, children were more likely to eat vegetables when they participated in activities like gardening and snack preparation. So let your kids help with food prep and cooking and they'll be more likely to sample new foods and develop a fuller appreciation for their food.
Finding alternatives to foods your children already eat - such as spinach ravioli, or tomato sauce with vegetables - is another good path. Pureeing vegetables into foods (à la The Sneaky Chef) might help, but Danowski advises against it. "At an early age, kids have to learn that vegetables are considered part of the meal to be healthy and get used to the fact that this is what makes a well balanced plate."
Out and About
Between activities, appointments, and homework, the after-school rush can be particularly challenging. Arm yourself with snacks.
"It's really important that we actually do the grocery shopping, not just run into fast food restaurants because of lack of preparation," says Candace Cameron Bure, actress and mom of three, who is well known for her role as D.J. Tanner on the '80s sitcom Full House. Cameron Bure recently helped to celebrate the 30th anniversary of the iconic juice box, and says that she always has fruit, granola bars, nuts, and of course, juice, available when her family is on the go.
"It's important that I feed my children healthy, nutritious snacks." She looks for options that are convenient, easy, and really healthy.
Snacks with protein will have your kids feeling satisfied until dinner. Apples with real peanut butter, lowfat cheese with whole grain crackers, yogurt (the low-sugar varieties), and plenty of water should be stand-bys. If your kids are at home after school, putting out cut-up fruit or vegetables can prevent them from reaching for chips or cookies. "If it's accessible, they're more likely to eat it," Danowski says.
Last Resort
But what happens if you forget snacks and the drive-thru is your only option? "It's very hard to
consistently pick the lowfat options," Danowski says. French fries are tempting, portion sizes are always too large, and salad dressings are fattening. Yet if you're in a bind, she suggests yogurt, fresh fruit, or a grilled chicken sandwich without the mayo. And she advises you take the moment to learn your lesson and not leave the house again without healthy snacks. "If you're prepared, then you don't have to settle."
Now that you've got the healthy diet down, get moving! Find activities for families in your area in our Online Calendar.