Consider these money matters if you are thinking about adding to your family.
Joshua Blau, a certified public accountant living in Manhattan, never expected to have a large family. With two children, ages 6 and 4, he and his wife thought that a third child would complete their family. That's when they got an unexpected surprise. They were pregnant - with triplets. In months, the family of four would become a family of seven.
Almost immediately, the expecting parents began to wonder how they would handle the pressure of having so many more kids. Their biggest fear haunted them: Would they be able to afford to give their children everything they needed, let alone the things they wanted?
"Finances are the biggest issue we face," says Blau, whose major struggle is paying for each of his children to attend private school. "I make a good living, but I am not a Wall Street person. We pay an obscene amount of money for what most would say is an okay apartment - but we love it here. We love the culture, the food, the people. But I sometimes feel that the pressure of making a living in the city with five kids is almost too much."
Blau's struggles aren't unusual, says Susan L. Hirshman, a former managing director at JPM Private Wealth Management in New York City and the author of Does This Make My Assets Look Fat?: A Woman's Guide to Finding Financial Empowerment and Success, released in September. There are ways to alleviate some of the financial pressure parents face.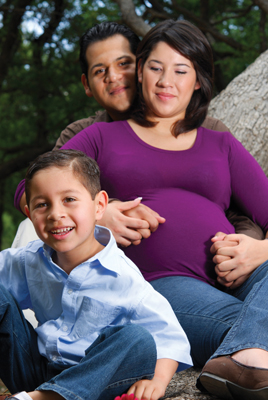 First Thing's First
When planning for children, Hirshman reminds parents to focus on four categories during their children's first few years: the costs associated with the birth, bringing home the baby, daily personal items like bottles, pacifiers, diaper bags and child monitors, and the additional expenses including formula, diapers, and toiletries.
"To plan for a child, you have to be aware of your budget, and see where you will reduce your expenses to make up for the additional ones," Hirshman advises. "The number-one goal is not to get into credit card debt. After that, the goals become having an emergency fund and protecting for the unexpected. Next you have to save for retirement, and then for the baby's college education."
The most pressing costs are the ones related to the baby's arrival. Medical costs associated with a child's birth - from doctors' visits to delivery without complications - can hit $10,000. Insurance companies will cover a large portion of the bills, but there are still deductibles, co-pays, out-of-network expenses, and caps.
Little Babies, Big Bills
As parents prepare their home for a baby's arrival, there are often items that can be used for more than one child. These items include expenses like car seats, furniture, and bath essentials. Personal items like diaper bags, bottles, and pacifiers can also be used again.
Parents who plan to reuse furniture should be sure the items still meet safety guidelines and have not been recalled. The U.S. Consumer Product and Safety Commission lists all recalls on its website, www.cpsc.gov.
If parents need to buy items, they should make sure they meet the Juvenile Products Manufacturers Association's guidelines. The JPMA certifies items in 20 categories every year to make sure they are safe for children. For items that are not certified, parents can check Consumer Reports or the latest edition of Baby Bargains by Denise Fields and Alan Fields for recommendations and reviews.
Of House and Home
Hirshman also cautions that parents should factor in loss of income if a working mother doesn't get enough maternity leave to match the amount of time she will spend at home. And once moms head back to work, childcare costs can skyrocket. Full-time daycare in Manhattan, according to a Runzheimer survey, cost the most per month of any U.S. city, with a $1,125 price tag. Then there are grocery bills and housing expenses, which will grow as your children age. Blau estimates that his family spends $600 per week on groceries and have considered moving to a larger apartment or another area altogether.
"It is important to think about what you want for your children," Blau says. "The city can be very competitive, and that's a trap."
The Blau family, however, is determined to stay in Manhattan, in their doorman building with the familiar bakeries and cheap restaurants they love, which means there are fewer impulse purchases, expensive meals out, and vacations. There are also a lot of daily sacrifices, such as choosing less expensive sports to participate in, or, when the children are able, working as camp counselors.
"We as human beings have a certain amount of control, but it's very easy to get upset about what can't be controlled, and that leads to a miserable existence," Blau says. "Often in life you can't plan, so you have to be willing to embrace what life hands you."