This May and June, bring the family on a day trip to the Bronx Zoo and experience "Animal Tales Extravaganza," a wildly good time filled with special, kid-friendly events and activities.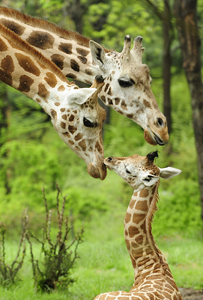 This spring, the Wildlife Conservation Society's Bronx Zoo hosts Animal Tales Extravaganza, a weekend program featuring a full schedule of live family entertainment. Each weekend in May and June, families are invited to the zoo for live music, interactive attractions, author appearances, readings, crafts, and more.
Throughout each day of the Extravaganza, at 11am, 1pm, and 3pm, several children's authors will host readings at the Asia Plaza Theater. Kids will be able to meet the authors of their favorite books, such as Panda and Polar Bear and Roly Poly Pangolin, then settle in for a special story time. On Sunday, May 30, there will be a special guest reading for Memorial Day: the newly crowned Miss USA (who will be chosen May 16) will read Nubs: The True Story of a Mutt, a Marine and a Miracle by Brian Dennis, Mary Nethery, and Kirby Larson.
Children can enjoy another interactive experience with their literature by walking through the larger-than-life pages of real books like The Very Hungry Caterpillar by Eric Carle, Alphabet by Matthew Van Fleet, Wild About Books by Judy Sierra, and the newly released Moon Bear by Brenda Z. Guiberson. These walk-through experiences will be set up at different locations around the zoo, allowing for plenty of exploration in between. Afterward, if inspiration strikes, kids can make their own "animal tale" book and "animal tail" bookmark to take home.
The highlight of each day will take place at the New York Life's Main Stage on Astor Court, which will present live entertainment by top-rated children's entertainers like Aaron Nigel Smith, Dave Grover & Grover's Gang, and Jasmine, winner of Radio Disney's "Next Big Thing."
Info Box

What: Animal Tales Extravaganza
Where: Bronx Zoo, 2300 Southern Boulevard, Bronx
When: Saturdays and Sundays throughout May and June
Who: All ages
How much: $11-$15 admission
For more information: 718-220-5100 or www.bronxzoo.com