Beaches Turks & Caicos Resort Villages & Spa is a family-friendly haven in the Caribbean.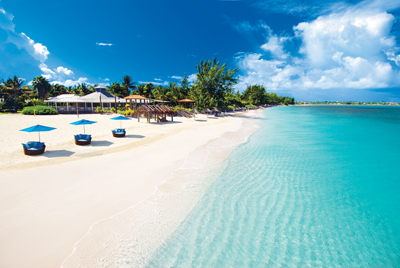 Caribbean-wise, Turks & Caicos may not be as well known as say, Jamaica or Puerto Rico or Barbados, which automatically gives it a sort of semi-exotic cache; "been-there-done-that" is simply not part of the Turks & Caicos lexicon...yet.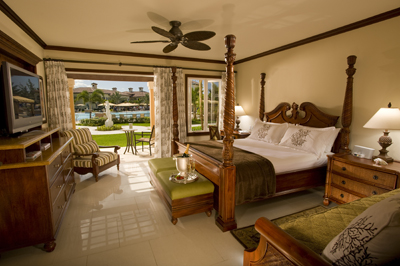 Located in Grace Bay in Providenciales, T&C's vacation cred is growing steadily thanks to its reputation as a first-rate scuba diving haven (one of the top 10 in the world), and, perhaps more surprisingly, a most excellent family-friendly getaway - the latter getting a boost and a half from the Beaches Turks & Caicos Resort Villages & Spa.
A fascinating microcosm of kid attractions and adult R&R, the 615-room Beaches offers an all-inclusive experience spread throughout a trio of architecturally diverse villages. Expanded to the tune of $125 million two years ago, this easy-to-navigate resort has a 45,000-square-foot
waterpark; a 12-mile long powder-white sand beach; six pools (all with swim-up bars); 16 restaurants; a variety of kid camps; an outstanding scuba program; and a spa. Plus, it boasts one of the most accommodating staffs (representing 42 nationalities!) in the Caribbean.
The Italian Village
With its oceanfront views and special details like a kids' sitting area in the lobby, the Italian Village is Beaches' most upscale enclave (even offering exclusive Butler Service in their top tier suites). Here parents get their own bedroom and sitting area while kids have a separate space all to themselves (bunk beds plus a trundle bed and Xbox 360® video game console). And to keep up with larger families, they also have suites that comfortably house up to 12. Already a celebrity draw, the Italian Village has welcomed a number of NBA and NFL players and their families.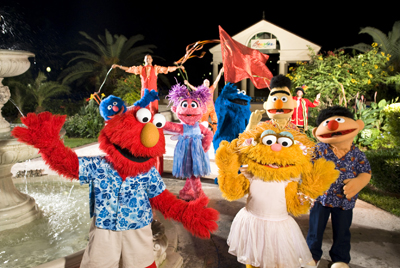 The Caribbean Village
This village most represents the idyllic spirit of sun, sand, and traditional island ambiance. Close to the beach and seaside tropical gardens, this section of the resort is where many kid activities, including a Sesame Street characters parade, originate. The rooms and suites feature island décor and four-poster mahogany beds. Most suites accommodate five, and cribs and rollaways are available in all room categories.
The French Village
Home to the Red Lane® Spa, outdoor performance space, tennis courts, the French Village boasts the resort's most elegant gardens, clearly embracing its inspiration, Versailles. Notably, the village's Le Petit Café is where everyone, including hotel manager Adrian Whitehead, gravitates in the a.m. for amazing French pastries and coffee. Hint: Since this is an all-inclusive, feel free to order some extras "to go."
All in the Family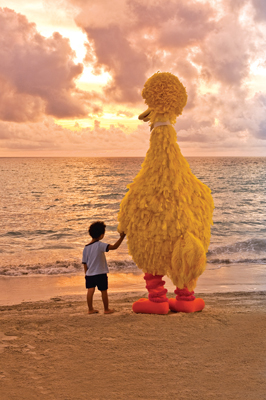 Last fall, Beaches Resorts hitched its ever-rising star to Sesame Street, the end result being an ever-present collection of familiar characters and Sesame Street activities, from "Elmocizing" workouts, cookie-baking with Cookie Monster, and dancing with Zoe, to a high-spirited parade led by Big Bird that culminates in a gleeful stage show. Other camp activities include pool games, arts and crafts, outdoor games, pirate bingo, face painting, treasure hunts, ice cream parties, and nature walks. Inside info: For die-hard Sesame Street fans, you can even arrange for a favorite character to tuck your kiddies in and read them a bedtime story!
Variety rules for the 8 and up crowd with tennis lessons, pajama parties, team soccer, lots of beach, pool, and waterpark action, dodge ball, talent and fashion shows, board games, mini-disco events, and Tie & Dye parties.
Even your teens and tweens will be happily in the mix. Beaches, it seems, has gone all out to ensure eye-rolling is kept to a minimum with enticements like their Scratch DJ Academy (scratching, mixing, mock battle of the DJs); the Xbox 360® Game Garage (a maze of metallic kiosks with 32-inch plasma screens and the latest games); Liquid, the Resort's under-21 aqua-themed dance club; and "Trench Town," the ultimate teen hangout with high-tech attractions like electronic basketball, laser hockey, giant flat-screen TVs, a state-of-the-art sound system - as well as plenty of space to simply stretch out, talk, text, and tweet.
Also at your disposal: Ultra Nannies catering to the ultra-young: 0 to 11 months.
Sensational Scuba
A magnet for divers (and diver wannabes), Turks & Caicos, with 19 dive sites, has a scuba ally in Beaches. While other destinations charge as much as $1,500 for dive excursions, here these outings are complimentary and include equipment from masks to tanks, twin diesel custom-built boats, and guidance from Professional Association of Dive Instructors (PADI)-certified staff. Meanwhile, kids 8 years and older can take their first plunge in the Bubblemaker Program, and there's a secondary Seal Team. Also available for those 10 and up: an intensive four-day course that comes with the title "National Geographic Diver."
Treasures of All Kinds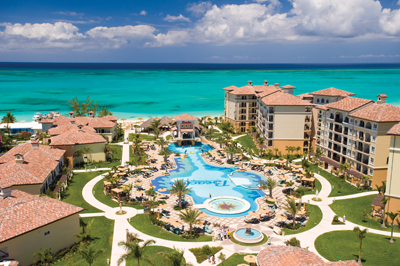 A wonderfully unique resort offering, the Martha Stewart Crafts Studio is a hands-on workshop where parents and kids come together and unleash their inner artists. Taught by talented staffers schooled in Martha's most popular crafting techniques, classes in glittering, scrapbooking, punch & stencil fashion, and postcards are no-pressure fun - and net some amazing gifts and souvenirs. ($12 for the postcard class; $15 for all others.)
Want to see your little ones cut loose at the picnic to end all picnics? Then the Treasure Beach Party, a beach blast of a dinner, is a must. Rows of family-style tables invite guests to socialize after trolling the many food booths serving up both intriguing Caribbean dishes and American faves (guaranteed to appeal to even the most "unadventurous" eaters). And fun is a constant with a tossing game for the very small (with Sesame Street-themed prizes), endless rum-laced punch for the not-so-young, and an eclectically magical stage show with music, dancing and kid participation.
For some wet and wild fun, head to the resort's water park, now a staggering 10 times larger than its first incarnation. This aquatic playground has seven new slides (for a total of nine), a mind-boggling surf simulator, water cannons, cranks, and spray features, plus a 650-foot lazy river.
Dining options include a diverse collection of eateries spanning a cavalcade of dining options (at Beaches T&C they're known as the "Sweet 16"), from a '50s-style diner and British pub to French, Italian, Southwestern, and Japanese cuisine. Naturally, seafood and Caribbean specialties are part of the mix, as are brick-oven pizzas and a Chocolate Extravaganza buffet.
For further info about Beaches Turks & Caicos Resort Villages & Spa, including in-room amenities, special rates, and Beaches Rewards Club, visit www.beaches.com.
Also see: Warm Weather Vacations for Families