Fencing, a sport your child very well may have never heard of until the 2012 Olympics, is a perfect way to harness a child's focus.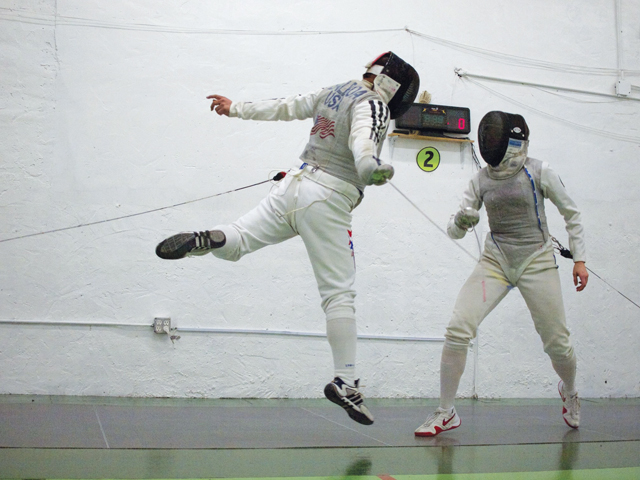 Before the London Olympics, few Americans would have heard of Mariel Zagunis. Entering the games, she had two Olympic gold medals, two world championship titles, and three consecutive Junior World Cup Championship titles—quite an array of accomplishments for any athlete. But, as a highly decorated competitor in fencing, a sport that doesn't dominate the television market like football, basketball, or baseball, the former University of Notre Dame standout is probably most well known for carrying the American flag during the opening ceremony at the Olympic games.
It's unfortunate that the sport only gets national attention every few years, say the coaches, athletes, and parents who participate in fencing and have experienced its benefits—especially because, for many children, the Olympics are their only chance to watch top athletes perform. That's why, on his eighth birthday, Matthew Catalanotto sat glued to the television watching the Olympic coverage. A Westchester resident who has been fencing for one year, Matthew knows few others who are interested in his sport. All of the children he trains with and competes against are friends from fencing camp or the places he takes lessons or has attended camp.
Even getting Matthew, who has always been interested in sword fights and has a home filled with Nerf swords or light sabers, connected to a fencing coach was a challenge. Toni-Lynn Catalanotto, Matthew's mother, received a coupon for fencing lessons from Manhattan Fencing Academy for a one-time camp. Once it was obvious that a one-time camp wouldn't be enough to keep her son entertained, she had to fire off several emails before finding the right coach for her son.
"I was excited for him when he decided that he wanted to get involved with fencing," recalls Toni-Lynn, who thought she'd have to wait until her son was 12 to enroll him in fencing lessons. "Of course it was a sport that I knew nothing about, and I'm still learning as I go along."
That's common, says Jean Goto, a former All-American fencer at the University of Pennsylvania who coaches at the YMCA in Greenwich, CT and teaches various classes in Fairfield County and the NYC area. Goto coaches children ages 5 and older, but says that most children become interested in her classes around age 8.
"There seem to be a lot more local tournaments now than when I was growing up," says Groto, whose classes are still predominantly male.
But parents don't need to understand the complexities of the sport to enjoy it or support their children's participation. Like any sport, fencing builds stamina, strength, coordination, and self-confidence, says Anatoly Belilovsky, M.D., the medical director of Belilovsky Pediatrics in Brooklyn.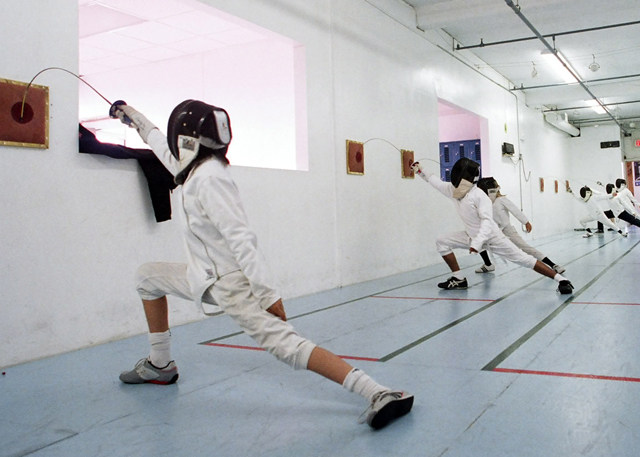 "Unlike other martial arts, fencing is carried out at a distance, allowing children to participate without the discomfort of having their personal space invaded," Dr. Belilovsky says. "Masks are opaque enough that they need not worry about being embarrassed by facial expressions or being intimidated by the 'war faces' of others."
And, unlike some sports that require sheer athleticism, such as basketball, or that benefit athletes with a certain build, like football, successful fencers have to rely on both their physical and tactical abilities. Children need and will ultimately develop better body awareness through fencing, too.
"They have to stand a certain way and use their arms and hands a certain way," Goto says. "They also have to be able to tell how far they are away from someone else."
In addition to the physical benefits, children learn critical thinking, comprehension, and concentration skills. Like singles tennis, there are no coaches or teammates for athletes to rely on. Instead, children must pay attention to their coach's advice beforehand and then figure out different ways to beat their opponents on their own. They also must understand the different attacks and defenses they have at hand and strategize.
Despite the presence of weapons, injuries are rare, Dr. Belilovsky says. The most common injuries in fencing include bruises and strains or muscle injuries that come from not warming up or cooling down properly.
The benefits are well worth the risks, Toni-Lynn Catalanotto says. Once children have dedicated themselves to the sport, they will learn responsibility and how to care for their uniforms and equipment.
In addition to shoes and gloves, there are masks, chest protectors, jackets, and weapons. And, although many would assume that this would make the sport much more expensive than others, children can usually get basic gear for around $200. Additional equipment can cost up to $700 total.
"Matthew takes great pride in his equipment, all the way down to his shoes," says Toni-Lynn, whose son carries his equipment to and from the car without being asked. "Matthew has turned into a young man with lots of pride, not only in his sport of fencing, but in other aspects of life."
Want to know learn about fencing from a champion? Read our interview with Tim Morehouse, three-time Olympian and silver-medalist originally from Riverdale in the Bronx.